New York, August 11, 2017 | Read on Web | Please Visit Daily News Horoscope Area
Today is Friday, Aug. 11, 2017
Hebrew date is 19 Av 5777
Islamic date is 19 Zul-Qi'dah 1438
Mayan Tzolk'in Day is 8 Ix
Mayan Long Count is 13.0.4.12.14
Julian Day is 2457977
Today's Birthdays: Christiaan Eijkman (1858-1930), Stancho Belkovski (1891-1962), Edgar Zilsel (1891-1944), Eiji Yoshikawa (1892-1962), Louise Bogan (1897-1970), Angus Wilson (1913-1991), Aaron Klug (1926), Peter Eisenman (1932), Andre Dubus (1936-1999), Anna Massey (1937-2011), Ian McDiarmid (1944), Steve Wozniak (1950), Joe Jackson (1954), Richie Ramone (1957), Viola Davis (1965), Sophie Okonedo (1968), Ben Gibbard (1976), Pavel 183 (1983-2013).
"Stupidity always accompanies evil. Or evil, stupidity."
-- Louise Bogan
---
Of Nuclear Bombs and Reasoning Dear Friend and Reader: Yesterday, I was poking around the pages of The Onion, when I found this article: Historians Admit To Inventing Ancient Greeks. It featured a photo of two scholarly-looking pundits, and began: "WASHINGTON -- A group of leading historians held a press conference Monday at the National Geographic Society to announce they had 'entirely fabricated' ancient Greece, a culture long thought to be the intellectual basis of Western civilization."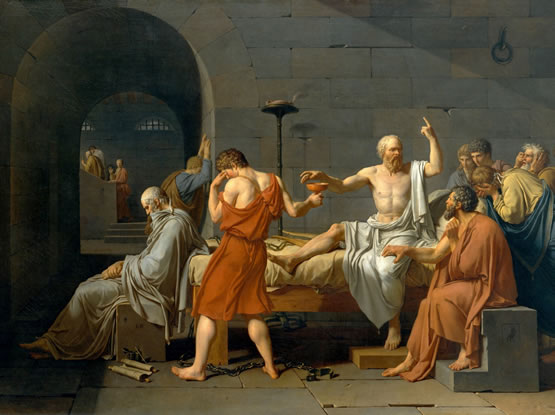 The Death of Socrates, by Jacques-Louis David (1787).

Without wasting a single moment, I posted this to Facebook. Andrew McLuhan, our resident media theorist, responded quickly: "I dunno...a little too on the nose to be funny?" The article continued: "The group acknowledged that the idea of a sophisticated, flourishing society existing in Greece more than two millennia ago was a complete fiction created by a team of some two dozen historians, anthropologists, and classicists who worked nonstop between 1971 and 1974 to forge 'Greek' documents and artifacts." I thought it was so funny because it was kind of true: history is largely a fictional contrivance. Who really knows what was going on in 500 BC? Who told the current historians? Other historians! Who told them? Other historians! Who the heck knows what was really going on? It sounds like "turtles all the way down." Read more...
---
Moon Phase: Moon is in Full phase and enters Disseminating (waning gibbous) phase today at 5:39 am PDT / 8:39 am EDT (12:38:55 UTC).
Next New Moon is in Leo on Aug. 21 at 11:30 am PDT / 2:30 pm EDT (18:30:06 UTC).
Next Full Moon is in Pisces on Sep. 6 at 12:03 am PDT / 3:03 am EDT (07:02:43 UTC).
Moon Sign: Moon is in Aries and enters Taurus on Aug. 13 at 3:39 am PDT / 6:39 am EDT (10:39:38 UTC).
Sun Degree: 19-20 Leo.
Planetary Stations and Sign Changes
Huya stations direct at 10:00 pm Aug. 10 PDT / 1:00 am EDT (04:59:42 UTC). Moon enters Aries at 10:22 pm Aug. 10 PDT / 2:22 am EDT (05:21:48 UTC).
Interesting Selected Aspects | Data by Serennu
-- Mars trine Great Attractor at 7:47 am PDT / 10:47 am EDT (14:47:22 UTC).
-- Mercury conjunct Vesta at 10:42 am PDT / 1:42 pm EDT (17:41:48 UTC).
-- Mars square Mors-Somnus at 8:54 pm PDT / 11:54 pm EDT (03:53:41 Aug. 12 UTC).
Subscribe to Planet Waves -- sign up here | Visit Our Website at this link
If Your Birthday is Aug. 11
(The Day of Validation) | Leo Birthday Reading | All Other Signs
One by one, remove the obstacles from your path -- and don't put any new ones in your way. Habitually removing stumbling blocks from your path really is the key to happiness. Avoid needless delays, make no excuses, and remember that you cannot really sacrifice yourself for anyone. Your happiness and success will spill over into the lives around you.
Written in the Planets
On its way to stationing retrograde tomorrow, Mercury makes a conjunction to the asteroid Vesta in Virgo today. The themes of service, 'atypical' intimate relationships and holding space for transformation (especially sexual) are coming through. With Mercury slow and powerful right now, allow yourself to grasp the potential potency of these ideas in your life. Notice if you feel called to hold space for your own sexual healing -- or that of another -- in some way. Since Mercury is stormy, this calls for specificity in communication, and patience if anything goes off course in any part of your life. Look for the silver linings and inconvenient lessons.
"I have just listened to your Part 1 and Part 2 readings and I am amazed at how accurate it has been. Like you have a telescope watching me shed a skin and transform into a totally changed person in the last 10 years."
-- Pauline Jones

Aries (March 20-April 19) -- The Moon in your sign today and tomorrow will lift you out of any mental or emotional bog that was holding you down. At a certain point you must leave your doubts behind, and now is an excellent time to do so. Stand your full height and recognize the gifts you offer to the world. Taurus (April 19-May 20) -- This will be an interesting weekend, though it's unlikely to go according to Plan A. Make sure you know your bare minimum priorities to ensure you're accomplishing what you need to, and focus on that first. Even this may be a challenge, though a little effort will go a long way. Gemini (May 20-June 21) -- If you're well nourished, you'll feel more abundant. Eating a snack before you go grocery shopping can save you lots of money; now you can apply that principle to the rest of your life. Make sure your basic necessities are fulfilled and you'll feel like you have many more options in life. Cancer (June 21-July 22) -- You may have an opportunity to connect your professional aspirations to your talent to your income -- a perfect situation. Yet you'll need to take the steps. You must be the one who asserts your intentions and your willingness to do the job. Stand up and stand out; fortune favors the bold. Leo (July 22-Aug. 23) -- Today's astrology will provide you with a whole new outlook, considerably more positive than what you've experienced the past few days. You need your independence, which involves recognizing that people really do have the ability to take care of themselves. You don't have to do it all. Virgo (Aug. 23-Sep. 22) -- As a Virgo, you came to this planet to serve the Earth and serve humanity. There are those who would argue that there's no such thing, and it's left to charities way too often. You must stand up for what is right. There's a reason that you know the truth, and that's to act on it. Libra (Sep. 22-Oct. 23) -- People may be more forthcoming or assertive today and this weekend, which I suggest you welcome. Give others the space to be interested in you. You are interesting, you're attractive and you take care of yourself; people notice you, which is indeed a reflection on you. It's OK to say yes. Scorpio (Oct. 23-Nov. 22) -- If you've recently been inspired by an idea, you'll have plenty of energy to manifest it in some form. This might be a project of some sort, or a new approach to your work responsibilities. One role you play in life is to be the 'inner child' in a room full of adults. Sagittarius (Nov. 22-Dec. 22) -- If a professional situation does not unfold according to plan during the next 48 hours, take a detached view of the situation. Whatever information comes out will provide you with the missing keys to a more productive approach. Only when you spot the glitch in the system can you fix it. Capricorn (Dec. 22-Jan. 20) -- Compassion is about honoring how other people feel. It would only be about you because you're the one recognizing someone else's situation. Keep an open heart with everyone. You're not doing them any favors, really; you're doing yourself the huge favor of being open and available to life. Aquarius (Jan. 20-Feb. 19) -- Mercury is about to station retrograde in the sector of your chart addressing shared finances, agreements and contracts. Something deserves a closer look, and you must take nothing for granted. The generous and noble side of your nature must yield to the fact-checker in you. Run the numbers carefully. Pisces (Feb. 19-March 20) -- Notice that someone you may consider unavailable is likely to be open and willing. This is not exactly a hot romance, though it's likely to be something better: an experience of true devotion, with all possibilities open, and without the clutter of attachment. You will recognize this person because they recognize you.

August Monthly Horoscopes and Publishing Schedule Notes



Your extended monthly horoscopes for August were published on Thursday, July 27. We published your extended monthly horoscopes for July on Thursday, June 22. Your extended monthly horoscopes for June were published on Thursday, May 25. Note, the August horoscope is based on the total solar eclipse of Aug. 21. This is the one to clip and save for posterity.

---
---