New York, July 31, 2017 | Read on Web | Please Visit Daily News Horoscope Area
Today is Monday, July 31, 2017
Hebrew date is 8 Av 5777
Islamic date is 8 Zul-Qi'dah 1438
Mayan Tzolk'in Day is 10 Ak'b'al
Mayan Long Count is 13.0.4.12.3
Julian Day is 2457966
Today's Birthdays: Alessandro Algardi (1598-1654), Vasily Sleptsov (1836-1878), Peter Rosegger (1843-1918), Ignacio Cervantes (1847-1905), Mary Vaux Walcott (1860-1940), Whitney Young (1921-1971), Stephanie Kwolek (1923-2014), Peter Nichols (1927), Don Murray (1929), John Searle (1932), Susan Flannery (1939), Geraldine Chaplin (1944), Ian Beck (1947), Richard Griffiths (1947-2013), Faye Kellerman (1952), Stanley Jordan (1959), Wesley Snipes (1962), J.K. Rowling (1965), Dean Cain (1966), Ahmad Adbarpour (1970), Will Champion (1978), Jeff DaRosa (1982), Jessica Williams (1989).
"The Potter books in general are a prolonged argument for tolerance, a prolonged plea for an end to bigotry, and I think it's one of the reasons that some people don't like the books, but I think that it's a very healthy message to pass on to younger people that you should question authority and you should not assume that the establishment or the press tells you all of the truth."
-- J.K. Rowling
---
Lunar Eclipse Preparation: Organizing to Shine Dear Friend and Reader: In one week and one day, we'll experience the first of two eclipses: the Aug. 7 Aquarius Full Moon and partial lunar eclipse. That will open the door to the Aug. 21 total solar eclipse in Leo. These are the key midyear events; so you'll want to notice whatever happens in your life this week, and the coinciding astrology, and use it to prepare yourself and get pointed in a direction that's best for you.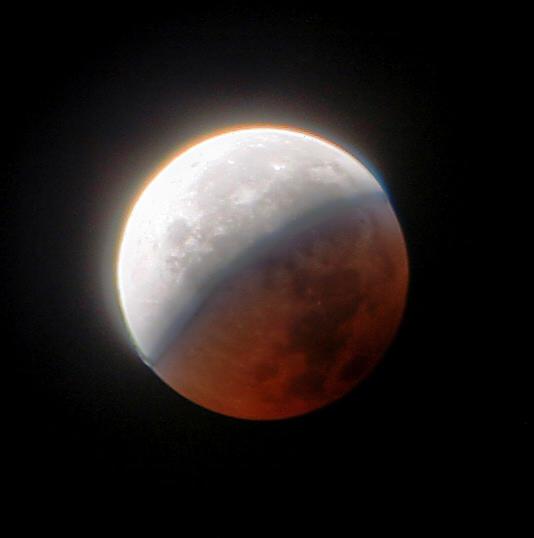 Partial lunar eclipse from 2007. Photo by Steve Ryan.

Consider for a moment the Sabian symbols for the Full Moon eclipse degrees (the Sabians are a series of channeled symbols for each zodiac degree). For the Sun at 16 Leo, we get: "The storm ended, all nature rejoices in brilliant sunshine," with the keynote, "The surge of life and love after a major crisis."< Meanwhile, the symbol for the Moon at 16 Aquarius reads: "A big businessman at his desk," with the keynote, "The ability to organize the many aspects of an enterprise involving a large group of human beings." This pair of symbols, taken together, seem to speak of both the new space that opens up between eclipses for vibrant change and growth, and the clear need to get organized (within oneself and with others) to facilitate that. If you've felt a little too overcommitted, distracted or overwhelmed with self-doubt to begin getting focused on your desired trajectory, it's possible that the inherent energy peak of the Full Moon and partial lunar eclipse might come with some tension or sense of deadlock. As that comes to a head, it could offer some useful clarity. Before we get there, on Monday, Venus enters Cancer. This brings Venus into the Moon's home sign -- a more instinctual, sensitive, emotional and perhaps even subconscious role compared to how its energy expressed in Gemini. Notice if your inner tides feel more cyclical; pay attention to how you feel about your sense of 'security' and about things like family. Read more...
---
Moon Phase: Moon is in First Quarter phase and enters Waxing Gibbous phase on Aug. 3 at 10:42 am PDT / 1:42 pm EDT (17:42:00 UTC).
Next Full Moon is in Aquarius on Aug. 7 at 11:10 am PDT / 2:10 pm EDT (18:10:33 UTC).
Next New Moon is in Leo on Aug. 21 at 11:30 am PDT / 2:30 pm EDT (18:30:06 UTC).
Moon Sign: Moon is in Scorpio and enters Sagittarius on Aug. 1 at 5:01 am PDT / 8:01 am EDT (12:01:12 UTC).
Sun Degree: 9-10 Leo.
Planetary Stations and Sign Changes
Venus enters Cancer at 7:54 am PDT / 10:54 am EDT (14:53:42 UTC).
Interesting Selected Aspects | Data by Serennu
-- Mercury square Child at 12:14 am PDT / 3:14 am EDT (07:14:18 UTC).
-- Venus opposite Orius at 10:44 am PDT / 1:44 pm EDT (17:43:57 UTC).
-- Venus sextile Rhiphonos at 12:31 pm PDT / 3:31 pm EDT (19:30:54 UTC).
Subscribe to Planet Waves -- sign up here | Visit Our Website at this link
If Your Birthday is July 31
(The Day of the Human Portrait) | Leo Birthday Reading | All Other Signs
The only change that matters is what happens inside you. External circumstances have only limited value or impact. Your inner reality is the one you live with from moment to moment every day of your life. The most significant changes you experience will be on the deepest emotional level, which will bring growth, maturity and confidence.
Written in the Planets
Venus enters Cancer today; this may bring up themes of caring, nurturing and empathy, within relationships and beyond. In particular, this transit would seem to ask how far we can expand our spheres of compassion or love. This might simply mean someone outside of your immediate milieu is in need of help you can best provide. Another possibility is that a close friend or family member could open up your understanding of a specific issue on a wider scale. Whatever the permutation, a growth opportunity such as this is usually well worth taking.
"Ah Eric -- just listened to your reading. I was moved to tears by your closing words. Your passion, deep care and love always shine through; and you have the gift of all great teachers, of making one feel that one is being personally addressed, respected and taken care of."
-- Liz Glanville

Aries (March 20-April 19) -- Bono once said, "You don't know if it's fear or desire." Let's say that desire comes with fear, and that fear conceals desire. They are so closely related as to be inseparable. Be daunted by neither; allow yourself to feel everything you feel, and let that invite you deeper into yourself. Taurus (April 19-May 20) -- Someone may be pushing your patience, though you have plenty. You also have the benefit of being able to see the way that your needs and desires don't actually conflict with those of anyone else. You can afford to be helpful, and to offer yourself in service. You'll feel good for doing so. Gemini (May 20-June 21) -- Over the past few days, you've been through a series of events that will soon fade to memory. Yet what you must remember is what you learned, and what that revealed about your true nature. Your consciousness has reached another level, which you can dial in anytime you want. Cancer (June 21-July 22) -- Our world is currently obsessed by money, which is considered the most glamorous thing of all. You cannot allow yourself to fall for this, for many reasons. One is that it will hurt you financially. Take an entirely pragmatic approach to your resources. Do nothing just for show. Leo (July 22-Aug. 23) -- If you feel a strong calling to help someone, start with a method that does not require you to give them money. Help them directly, offer something you have, or introduce them to someone they need to know. You may end up writing a check, but save that for last. Virgo (Aug. 23-Sep. 22) -- Holding space means providing an opening for something to happen. You might silence the room so someone can speak; you might stand guard over a fragile person, so they can get a moment of healing. You are currently serving as a protective influence. That's both a responsibility and a privilege. Libra (Sep. 22-Oct. 23) -- When you're in a position of authority, it's helpful to have a moral compass. Well, that's an understatement -- particularly in our current age of power that answers to nobody. Your life has been a study in ethics the past few weeks, and you're about to put that learning to good use. Scorpio (Oct. 23-Nov. 22) -- It's often said that there are two sides to the story, though sometimes one is correct and one is not. Give yourself space to be wrong about something; give other people space to be wrong. The world is swimming in uncertainty at the moment, and it's essential to keep an open mind. Sagittarius (Nov. 22-Dec. 22) -- If a partner seems distant, don't take it personally. They're going through a transition and reevaluating certain factors of their life that are difficult to talk about. If you give them some space for a few days, the kind of space you need from time to time, they're more likely to open up. Capricorn (Dec. 22-Jan. 20) -- You can ease your way out of any public relations situation you might be in. In general, say less, not more. And consider carefully how anything you might say will be interpreted by others. As an evil genius correctly suggested, "It's not what you say, it's what people hear." Aquarius (Jan. 20-Feb. 19) -- You're at a turning point between the past and the future. Yet this is largely a mental thing, since the past exists in memory and the future hasn't happened yet, at least in our cosmic time zone. Therefore, all you can do is live in the present moment, which is more daring than it seems. Pisces (Feb. 19-March 20) -- You must pace yourself. You know how long things take, and that you're more efficient when you're fed and well-rested. It's also essential that you keep a balance between work and play. You have plenty of responsibility at the moment, though you need to do what makes you feel good.

August Monthly Horoscopes and Publishing Schedule Notes



We published your extended monthly horoscopes for August on Thursday, July 27. Your extended monthly horoscopes for July were published on Thursday, June 22. Note, the August horoscope is based on the total solar eclipse of Aug. 21. This is the one to clip and save for posterity.

---
---