New York, July 28, 2017 | Read on Web | Please Visit Daily News Horoscope Area
Today is Friday, July 28, 2017
Hebrew date is 5 Av 5777
Islamic date is 5 Zul-Qi'dah 1438
Mayan Tzolk'in Day is 7 Ajaw
Mayan Long Count is 13.0.4.12.0
Julian Day is 2457963
Today's Birthdays: Judith Leyster (1609-1660), Gerard Manley Hopkins (1857-1889), Beatrix Potter (1866-1943), Lucy Burns (1879-1966), Stefan Filipkiewicz (1879-1944), Marcel Duchamp (1887-1968), Albert Namatjira (1902-1959), Shirley Ann Grau (1929), Richard Wright (1943), Jim Davis (1945), Sally Struthers (1947), Simon Kirke (1949), Terry Fox (1958-1981), Lori Loughlin (1964), Dustin Milligan (1985).
"I remember I used to half believe and wholly play with fairies when I was a child. What heaven can be more real than to retain the spirit-world of childhood, tempered and balanced by knowledge and common-sense?"
-- Beatrix Potter
---
The Fulcrum, the Venturi and the Cycle of Fire Dear Friend and Reader: We're now in the final weeks before the total solar eclipse of Aug. 21, 2017. For those who are uncertain of whether astrology has any validity, this is a good time to pay attention. Eclipses are one of the very best laboratory-of-life ways to observe astrology. You would just need to associate what you notice with the eclipses. A solar eclipse is an exact alignment of the Moon and the Sun, at the New Moon. Usually at the New Moon, the Moon will pass a little above or below the Sun, from our viewpoint on Earth. There is a shadow cast, but it extends into space, and we don't see it. When a solar eclipse happens, the Moon's shadow is cast on the Earth.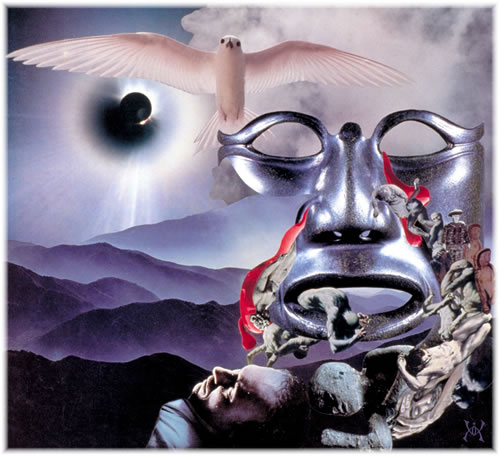 "Eclipse" by Via Keller, the original Planet Waves artist.

It may sound like superstition to "believe" that this might "mean" something, though I suggest going beyond both belief and meaning, and observing what's actually happening. See if you notice the acceleration effect of an eclipse, even set amidst our light-speed world. Notice the sense of unusual pressure that people are not readily admitting to. Feel the sensation that change is imminent. Notice the strange events that are not easily explained. One distinction of this eclipse is that the shadow is cast not just on Earth but also directly over the United States, touching both coasts and peaking over Missouri. This has never happened in American history; neither have many other things we're seeing happen, or have witnessed the past two years. The path of totality extends from south of Portland, Oregon, to Charleston, South Carolina. The rest of the country on either side of the path of totality will experience a partial solar eclipse. Another factor making this eclipse a distinctly American event is that it comes within one degree of the ascendant of Donald Trump's natal chart. This is extremely unlikely, but it's happening. Any eclipse in Leo (the sign of royalty) would raise concerns about the president or the king of a nation. Align an eclipse directly with the well-timed chart of the president-who-would-be-king, and you know something is up. Neither he nor his presidency will be the same on the other side of this event, yet it is we who must deal with the results of that. Read more...
---
Moon Phase: Moon is in Waxing Crescent and enters First Quarter phase on July 30 at 8:23 am PDT / 11:23 am EDT (15:23:01 UTC).
Next Full Moon is in Aquarius on Aug. 7 at 11:10 am PDT / 2:10 pm EDT (18:10:33 UTC).
Next New Moon is in Leo on Aug. 21 at 11:30 am PDT / 2:30 pm EDT (18:30:06 UTC).
Moon Sign: Moon is in Libra and enters Scorpio on July 29-30 at 5:23 pm PDT / 8:23 pm EDT (00:22:53 UTC).
Sun Degree: 6-7 Leo.
Planetary Stations and Sign Changes
No changes today.
Interesting Selected Aspects | Data by Serennu
-- Venus trine Rhadamanthus at 7:47 am PDT / 10:47 am EDT (14:47:14 UTC).
-- Venus opposite Pholus at 11:49 am PDT / 2:49 pm EDT (18:49:27 UTC), and the Galactic Core at 7:25 pm PDT / 10:25 pm EDT (02:24:49 July 29 UTC).
-- Sun opposite Crantor at 3:24 pm PDT / 6:24 pm EDT (22:23:52 UTC).
Subscribe to Planet Waves -- sign up here | Visit Our Website at this link
If Your Birthday is July 28
(The Day of the Winner) | Leo Birthday Reading | All Other Signs
Mars and the Sun aligning on your anniversary says you must assert yourself and make a point of going for what you want. This is not trendy, though you will find happiness by standing apart from the crowd and rising above the fear that's consuming the planet. You are one of the courageous and the sincere. Claim your space in the world.
Written in the Planets
What do you do when your pleasure-seeking comes face-to-face with its unintended consequences? On the other side of the coin, if your soul's growth or dharma has a single ultimate trajectory, yet you have two or more sets of values that you're living by, how do you negotiate between those two sides? As Venus in Gemini opposes the centaur Pholus and the Galactic Core in Sagittarius today, you may feel like you have to make a choice. Consider what it might mean if you choose a path of integration.
"Ah Eric -- just listened to your reading. I was moved to tears by your closing words. Your passion, deep care and love always shine through; and you have the gift of all great teachers, of making one feel that one is being personally addressed, respected and taken care of."
-- Liz Glanville

Aries (March 20-April 19) -- Today's rare combination of factors has you at your most adventurous, curious and loving. So take advantage of that, and let someone lure you into some creative or passionate experiment. It's true that we live in scary times, though it remains true that fortune favors the bold. Taurus (April 19-May 20) -- True, it's in your basic nature to avoid offending people, and to be sensitive to protocol. That means you can trust your boundaries, even when you push things a little, or express your deeper sentiments. You cannot control the responses of others, though you also cannot be ruled by them. Gemini (May 20-June 21) -- You possess a rare kind of wisdom at the moment, though it would be wise to keep your experience inward for a while. Imagine that you're being instructed by the cosmos in how your deepest intelligence comes from your feelings, your body and your senses rather than your mind. Cancer (June 21-July 22) -- It takes more than luck to make money -- it takes determination, and a good idea. At the moment you have both going for you, so don't let anything get in your way. However, while you're busy, make sure you're grateful every day for food to eat and a roof over your head. Leo (July 22-Aug. 23) -- Today's Sun-Mars conjunction in your sign is an invitation to stand at your full height, speak in a clear voice and be the person you are. If you feel like you're pushing boundaries or pressing buttons, you're taking the right approach. People need to move over and make room for you. Virgo (Aug. 23-Sep. 22) -- You may be in a sensitive spot with a boss, or as one. First, focus on preventing things from going out of control. Once that's your objective, it will be pretty easy to figure out a way to manage things. Then, remember that people's feelings are on the line, and respond accordingly. Libra (Sep. 22-Oct. 23) -- Both Venus, your ruling planet, and Mars, the planet that signifies your relationships, are in the spotlight this weekend. Choose the right person to spend this time with -- someone with whom you feel some simpatico, who is flexible, and who truly appreciates playing with you. Scorpio (Oct. 23-Nov. 22) -- You will get better results from charm and persuasion than from forcing anyone to obey your will. Fortunately, you're at your most charismatic these days, and you know what you want. Others are not feeling as confident or as brassy as you, so please go easy on them. Sagittarius (Nov. 22-Dec. 22) -- Yours is considered the most adventurous sign of the zodiac, and the adventure angle of your chart is on fire at the moment. Use this energy well; don't squander it on bungee jumping. Use your courage and your resources and do something interesting. A partner might be interested. Capricorn (Dec. 22-Jan. 20) -- You may need to make a bold financial move, something with an uncertain outcome that may involve another person's resources. You'll need to trust your intelligence and your experience and make the best decision you can. Make sure you have all the information you need. Aquarius (Jan. 20-Feb. 19) -- A partner or loved one is doing you a favor by pushing you out of your familiar zone and getting you to expand your horizons. You need a wider and more expansive life. If someone is offering you such an opportunity, or the chance to take any steps in that direction, consider it well. Pisces (Feb. 19-March 20) -- You seem to be teetering on the question of whether you can trust existence. Even if this surfaces as minor issues, such as will your air conditioner last the summer, they're metaphors for much larger matters. Trust goes beyond reasoning. It's a choice you make with no justification at all.

Monthly Horoscopes and Publishing Schedule Notes



Your extended monthly horoscopes for July were published on Thursday, June 22.  Please note: we normally publish the extended monthly horoscope on the first Thursday after the Sun has entered a new sign.

---
---