New York, July 24, 2017 | Read on Web | Please Visit Daily News Horoscope Area
Today is Monday, July 24, 2017
Hebrew date is 1 Av 5777
Islamic date is 1 Zul-Qi'dah 1438
Mayan Tzolk'in Day is 3 k'ib'
Mayan Long Count is 13.0.4.11.16
Julian Day is 2457960
Today's Birthdays: Christina von Stommeln (1242-1312), Vladimir Borovikovsky (1757-1825), Alexandre Dumas (1802-1870), Alphonse Mucha (1860-1939), Alice Ball (1892-1916), Robert Graves (1895-1985), Amelia Earhart (1897-1937), Zelda Fitzgerald (1900-1948), Essie Summers (1912-1998), Billy Taylor (1921-2010), Ruth Buzzi (1936), Lynda Carter (1951), Tadashi Kawabata (1953), Jennifer Lopez (1969), Torte Wilson (1975), Rose Byrne (1979), Summer Glau (1981), Anna Paquin (1982), Natalie Tran (1986).
"The most difficult thing is the decision to act. The rest is merely tenacity. The fears are paper tigers. You can do anything you decide to do. You can act to change and control your life and the procedure. The process is its own reward."
-- Amelia Earhart
---
True Value Dear Friend and Reader: As we begin moving onward and outward from today's Leo New Moon, the astrology seems to be setting us up to consider matters of the head and the heart. Where do they intersect, and where do they seem at odds with one another? What can one teach the other, and vice versa? The centerpiece of the week is the conjunction between the Sun and Mars in Leo, exact Wednesday at 8:57 pm EDT (00:57 UTC Thursday).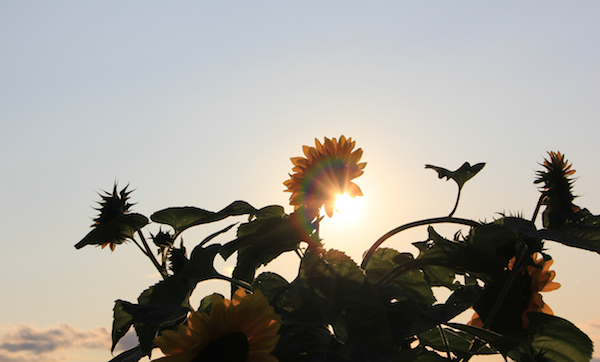 Photo by Amanda Painter.

This certainly brings the heart into the equation; though it does so in a very expressive Mars style, rather than in the more receptive mode of Venus. Sun-Mars conjunctions (especially in a sign like Leo) are about getting active to feel good: start a project, especially something you identify with closely, and get creative. If you're feeling insecure about something, find a constructive outlet (especially anything physical) to help channel those emotions and buffer against recklessness. There is the potential here to get a little caught up in the energy and not notice how much you're putting out there. Read more...
---
Moon Phase: Moon is in New phase and enters Waxing Crescent phase on July 26 at 12:44 pm PDT / 3:44 pm EDT (19:43:42 UTC).
Next Full Moon is in Aquarius on Aug. 7 at 11:10 am PDT / 2:10 pm EDT (18:10:33 UTC).
Next New Moon is in Leo on Aug. 21 at 11:30 am PDT / 2:30 pm EDT (18:30:06 UTC).
Moon Sign: Moon is in Cancer and enters Leo today at 1:33 am PDT / 4:33 am EDT (08:33:28 UTC).
Sun Degree: 2-3 Leo.
Planetary Stations and Sign Changes
Varuna enters Leo at 2:39 am PDT / 5:39 am EDT (09:38:51 UTC).
Mercury enters shadow phase at 8:14 am PDT / 11:14 am EDT (15:14:36 UTC).
Interesting Selected Aspects | Data by Serennu
-- Venus opposite Saturn at 7:54 am PDT / 10:54 am EDT (14:53:41 UTC).
-- Venus square Borasisi at 9:22 am PDT / 12:22 pm EDT (16:22:08 UTC).
-- Mercury trine Uranus at 9:32 am PDT / 12:32 pm EDT (16:32:34 UTC).
-- Ceres opposite Juno at 12:19 pm PDT / 3:19 pm EDT (19:19:16 UTC).
Subscribe to Planet Waves -- sign up here | Visit Our Website at this link
If Your Birthday is July 24
(The Day of Exciting Instability) | Leo Birthday Reading | All Other Signs
You must give yourself freedom to be yourself. You'll know you're really doing that because you notice the extent to which you've felt hemmed in, and like you cannot really say what's on your mind. Push the edge; stretch your limits; take extra license to be what some might call 'inappropriate', especially if that means gutsy and determined.
Written in the Planets
Mercury enters shadow phase today, which means it's now in the area of the zodiac it will cover again during its retrograde in August. Themes of the next couple weeks or so are likely to turn up again as everything builds to the approaching eclipse. Notice any developments; if possible, keep a record so that you can refer to these events later. If something you're working on appears to slow down or peter out, try to remain patient: our current paradigm of universal immediacy makes the long game unfashionable, and a few weeks seem like months or years; but matters will take their course if you'll only let them.
"Ah Eric -- just listened to your reading. I was moved to tears by your closing words. Your passion, deep care and love always shine through; and you have the gift of all great teachers, of making one feel that one is being personally addressed, respected and taken care of."
-- Liz Glanville

Aries (March 20-April 19) -- Suddenly planets have entered your fellow fire sign Leo, which is giving you a boost to your confidence and your courage. Run with that, and exploit it for all it's worth. Just remember, the key to success as an Aries is to finish the things you begin. That will take patience and commitment. Taurus (April 19-May 20) -- You're ready to make big changes at home and with your family. You may have decided it's time to take an entirely new approach to the people you're close to. If you do that, be prepared for some blowback, which you'll need to work through without compromising your position. Gemini (May 20-June 21) -- When you actually get into your feelings, you run some risk of experiencing how potent they are. You also might experience resistance or tension as more dramatic. However, if you keep your center, you can use this energy to your benefit. Go toward your feelings rather than away from them. Cancer (June 21-July 22) -- Now is the time to invest energy in improving your financial status. Mars and the Sun are working together, and are providing you plenty of motivation to succeed. This is all depending on you feeling good about yourself, who you are and what you do. Keep that a top priority. Leo (July 22-Aug. 23) -- The Sun and Mars in your sign are something of a best-case scenario. Today, they are also joined by the Moon and Mercury. There's a big convention in your sign. What you need to do is to stay cool. Don't rush decisions. Think on things overnight. Drink as much water as you can guzzle. Virgo (Aug. 23-Sep. 22) -- If you're dreaming that you can be a person of influence, your dreams are correct. Yet you will need to take steps to fulfill your vision. With you, careful thought must precede action. Give your plan a few days, and remember there's a difference between thinking and overthinking. Libra (Sep. 22-Oct. 23) -- You are done trying to be popular -- and you're likely to see how much damage that's done to your confidence. With the Sun and Mars moving through Leo, a sign closely allied to yours, you can afford to be bold and brassy, and not give a toss what others think. Remember: no regrets! Scorpio (Oct. 23-Nov. 22) -- The Sun and Mars are moving across the mighty midheaven angle of your solar chart. This will increase your visibility, and also your need to be entirely responsible to yourself and your superior officers -- in that order. You must act at all times as if you're the one holding the bag. Sagittarius (Nov. 22-Dec. 22) -- You may get a glimpse into the future this week, at a problem that may arise later in the summer. If you can spot it, you'll be able to nip it in the bud and not have to deal with it again. You'll recognize it because it seems out of context or out of place within your current life. Capricorn (Dec. 22-Jan. 20) -- You still seem to be uncertain what you want, which is why it's so difficult to have. One thing to ask yourself is: are you building your future, or are you still invested in your past? One way to tell is that the future has an unfamiliar, uncertain feeling, while the past seems tidy and secure. Aquarius (Jan. 20-Feb. 19) -- When people feel more passionate than you do, that has a way of making you nervous. But you may as well get used to someone feeling passionate about you, whether or not you think you deserve the attention. As long as it's positive and friendly, you are in safe territory. Pisces (Feb. 19-March 20) -- The emphasis of your life is taking you deeper into work-related activities, though much of it is what you would do for fun anyway. You'll still need to keep some balance in your days. Every day, do something unrelated to a responsibility. Give yourself a moment of pure indulgence.

Monthly Horoscopes and Publishing Schedule Notes



Your extended monthly horoscopes for July were published on Thursday, June 22.  Please note: we normally publish the extended monthly horoscope on the first Thursday after the Sun has entered a new sign.

---
---