New York, April 9, 2017 | View as Webpage | Pre-order Your Spring Reading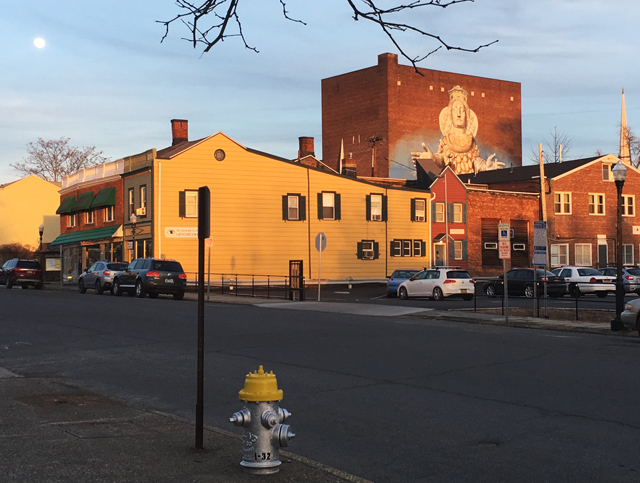 Portrait of Artemis, an artifact of the O+ Festival several years ago, looms above uptown Kingston. The artist is Andy Milford,

also known as Gaia

. To the left is Artemis herself, in Libra, heading for Full Moon.

Artemis on the Rise



Dear Friend of Planet Waves:

Tonight before writing this, your Monday letter, my canine cousins and I took a walk around the block, one of those unusually wide blocks due to a feature in the landscape; and we got to walk through some interesting places. It was a perfect evening, just as Mercury had stationed retrograde in spring-like Taurus.

We walked to the edge of the neighborhood. I turned back around and noticed the Libra Moon rising, and then a representation of the goddess Artemis peering down from above the neighborhood.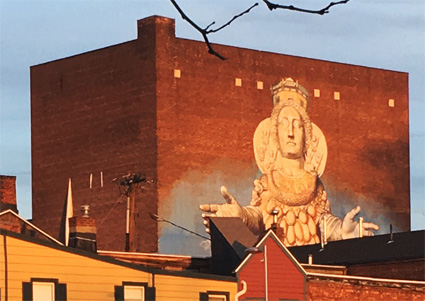 Detail of 'Artemis rising from the quarry', on the back wall of BSP, by

Gaia Andrew Pisacane

. The building originated as a Vaudeville house, became a movie theater, and ended up a furniture store, and is now a rock club and multi-purpose space, managed by Trevor Dunworth, in Kingston.

You can't really see the perspective in this photo, but that building Artemis is painted onto is a six-story canvas, a daunting structure for a small town.

Local Christians were not thrilled that a heathen matriarch adorned their town; the artists (one called Gaia, and his sponsors) got their way. We all must live with the Moon, which reaches exact full phase in Libra Tuesday at 2:08 am EDT (06:08 UTC).

Currently in Libra, Luna is heading for a conjunction to Jupiter tomorrow. The Sun, for its part, is about to pass through the still-very-close Uranus-Eris conjunction. That holds a sustained peak for 48 hours beginning Wednesday morning. It's a proving moment for Uranus-Eris. Faster-moving Uranus is now pulling ahead of Eris, and this is the last conjunction from the Sun with the two so close to exactly conjunct.

Remember, though, that this is the beginning of a new Uranus-Eris cycle, which hints at why we sometimes see the most potent manifestations of these majestic and unusual conjunctions in the years following. What will we do with this potential?

Here's the question that many people are wondering and that everyone should be wondering. Will enough potentially conscious, loving people wake up to facilitate society taking action? You know, in time to reverse any damage at all, be it social, environmental or military? Or are we going to be the next generation of lemmings to hand over our power and our lives?

Perhaps this is a question too big for society itself, though we might wonder why. Even so, it's not too big for you. The choice to adopt some sane principles to guide one's life, and to take hold of that personal-collective intersection in one's life, is an individual choice. Yes, you're conditioned by your environment not to be aware, not to care and not to think that your choice matters -- though that does not erase the fact that your choice is all that matters.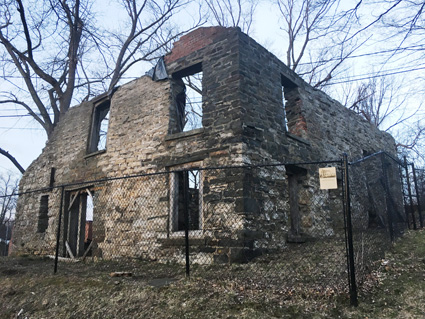 Ruins of Louw-Bogardus house on Frog Alley, Kingston. The site of a mill at the northwest bastion of something called the Stockade, it was built in 1676 by Pieter Cornelissen Louw. The relic is preserved by the Friends of Historic Kingston as of 1976. The city is dotted with stone houses from the Dutch and early British eras.

Use this link

for a larger view.

Who you think you are, what you do with your time and energy, how you spend your money, how you raise your children, how you engage in relationships, and the challenge of doing the right thing -- that's ALL up to you.

Meanwhile, we are now in the last week of Venus retrograde. That's significant on its own, and also because Venus is approaching its exact conjunction with Chiron, now in the final and perhaps most significant seasons of its eight-year trip across Pisces.

At the heart of what ails so many people is an emotional matter, which takes many forms: the struggle to feel safe; in particular, safe enough to be vulnerable enough to love and be loved. I am figuring out that most people don't know how high-strung they are, how verging on frantic. All you need to do is relax a little more than the prevailing environment and you notice it.

This choice I was describing, the one about waking up to being loving enough to actually do something collectively about our collective problem -- Venus conjunct Chiron is a model of the healing process. It's a picture of 'something has to give'.

That something would be you. There's nothing else that can give, as far as you're concerned. The empathy, the kindness, the small willingness (as A Course in Miracles calls it) can only come from you. That's another way of saying, it's time to stop projecting this power outside ourselves.

Time to stop hiding or holding back passion, time to be friendly to one another, and time to let go of this seemingly frantic anxiety about going off-script and just being ourselves. As Thaddeus Golas put it so wittily, we're all there is. There's nobody in here but us chickens.

And that comes down to you. Baby, baby, baby, light the way.

with love,






I'm ready to begin work on the spring 2017 reading.

Revolution is in the air, but a little something seems to be missing: introspection. World events are certifiably insane. The electronic environment is sucking our time, our souls and our relationships down the digital drain.

Yet the same aspect that describes this -- the rare and rebellious Uranus-Eris conjunction -- also describes the potential for profound personal reinvention.

And that's what the 2017 spring reading is about: how to dial that in; how to create a vision for who you want to be; how to uncover who you are despite the massive distractions and anti-social conditioning of the digital environment.

Until a widespread social movement becomes the tide that raises all ships, those who are awakening must actively engage in inner exploration, self-understanding and relationship-for-truth.

The theme of this year's spring reading:

The revolution is within, and INVOLUTION is your guide. Consisting of 12 individual sign readings, recorded in studio-quality audio/video, you will love these readings. They will be available as YouTube presentations as well as downloadable audio for listening on your pod, tablet or as you drive.

Astrology is subversive literature. What's being subverted? Self-defeating thoughts, low self-esteem, fear, and negative influences. INVOLUTION will help you wage your inner revolution.

Each reading is designed for your Sun, Moon and rising signs. I will bring all of my astrological skills, psychological insight, worldly experience and full-strength creativity to this work. As you know, my astrology is upbeat and solution oriented, while being realistic and gritty.

Whatever sign you are, every sign's reading will provide an important element of story and evocative spiritual ideas. Your particular signs will contain more specific information about relationships and timing.

Two other points in this letter. First, we all know this is an extraordinary era astrologically. What we're living through today is not written about in any book. We're its pioneers in consciousness. For those tracking the astrology, I'll cover the Uranus-Eris conjunction; Neptune in Pisces; Saturn conjunct the Galactic Core; the ongoing influence of Venus retrograde; and Chiron's influence in late Pisces. All of that will get a refresher and review.



The Great American Eclipse of Aug. 21



Most significantly, I will focus on something new: the Great American Eclipse of Aug. 21, 2017. This happens in late Leo, and its path of totality will streak across Turtle Island, that is, the American continent from sea to shining sea.

I'll cover the public and political aspects of this event in my journalistic writing. INVOLUTION will provide the personal angle of the story.

Second, pricing will be on an early-bird-gets-the-best-rate basis. For the first 24 hours after this letter is sent (ending Monday, April 10 at 11:59 pm EDT), the price will be $29.29 for all 12 signs; then it will increase to $39.39 for all 12 signs, which will last one week. The price will continue to increase until the project is ready, estimated to be soon after Mercury stations direct on May 3.

This reading is included if you have a Backstage Pass or Galaxy Pass membership, though you may make a token contribution if you feel moved, which will sponsor snacks and coffee while I work.

Thank you for your business, for taking advantage of my work and for trusting me as your astrologer.

Here's how to sign up.

with love,



PS -- If you prefer to order by phone, call us at (877) 453-8265 or (206) 567-4455. We'll be happy to hear from you. If you get voicemail, we'll call you back within 24 hours -- and often within a few minutes. Thank you for your order!





Your Monthly Horoscopes -- and our Publishing Schedule Notes



We published your extended monthly horoscopes for April on Thursday, March 23. Your extended monthly horoscopes for March were published on Thursday, Feb. 23. Your Moonshine horoscope for the Aries New Moon was published on Thursday, March 30. We published your Moonshine horoscope for the Virgo Full Moon on Thursday, March 9. Please note: we normally publish the extended monthly horoscope on the first Friday after the Sun has entered a new sign.



Aries (March 20-April 19) -- This is the week to take stock of yourself. Your accounting process might range from an actual review of your bank and credit card balances, to an investigation of what you've learned so far this year. Life has been a whirlwind, especially for those born under your sign. Now, although time spins on, you have a moment to reflect. Pausing and looking back is not a luxury. There's vital information that you actually need, which is likely to respond only to your active inquiry. So keep your mind on and your curiosity busy, and start doing things like sorting out the mail, investigating what's found its way into your wallet, and making sure all your paperwork in the glove box is in order. Nobody else has an interest in these questions like you do -- and you will indeed be interested in what you find.


Taurus (April 19-May 20) -- A constellation of rare events influencing you and your relationships takes place this week, which may spark up your curiosity about the distant past. In particular, you're likely to make a series of discoveries centered around your emotional life that reveal why things were a certain way. While most people you know are content either to pave over the past or to dig in and camp out there, you can afford neither of those two seeming luxuries. What you need, though, you can afford: and that is peace of mind, based on resolving some lingering issues that have been gradually eroding your trust in yourself. This is because you're still blaming yourself for events that, though you may have had a hand in them, were really the product of everyone involved, and also of the much wider environment. You were involved -- but there was a heck of a lot more.

Gemini (May 20-June 21) -- Mercury stations retrograde Monday, signaling a self-discovery that may change your life. Learning something about who you are, or who you no longer are, and then acting on it, is one of the most dependable ways to grow and evolve. I suggest, though, that you allow this discovery process to extend all the way through the end of Mercury retrograde, on May 3. Take things gradually, and do something rare for our era: when you learn something, put it into the context of the other knowledge you're gaining. Keep your sense of context. Each day will bring new levels of understanding, and there's something special happening with your life purposes and sense of mission. This has been a challenging aspect of your life the past few years, but your purpose is not an aspect of your life; it's more like the thing itself. Feel carefully for what feels right, and what does not. Relevant information is on its way -- from inside you.

Cancer (June 21-July 22) -- It's been a wild and exciting ride for you professionally the past few months. And though you need a little R&R, the adventure is about to continue, as the Sun moves through the rather energized career and reputation angle of your chart. You may not feel like you can handle more responsibility, but just as the last few rounds have compelled you to reorganize and align your priorities, so too will events of the coming week. This really is the name of the tune: prioritization. Ask yourself what really matters, and break out the reasons why. Notice what you devote yourself to, without any special coaxing or prodding. There's something here about slipping into what you really know you want to do, for all the right reasons. Listen to the ideas of people you respect, and count the possibility that their dissent is a form of affirmation.

Leo (July 22-Aug. 23) -- Take any delays in your professional plans as an opportunity to rethink what you're doing. In these times, it's essential that you not be stuck in old or outdated plans. If the planets are any indication, you're craving work that comes with the human touch. Speaking of, you might set aside any intense activity in the professional realm and invest your time and energy into private matters. Close partners, especially anyone with whom you may share a bedroom, will appreciate your devotion to the most sensitive matters of relationship. Make yourself available, and express in words that you're open to conversations that have been eluding the relationship. Here's a suggestion -- make sure you're 100% sober; even a glass of wine can distort your emotions; and it's better to discuss sex anywhere but in bed (such as the kitchen table, or the living room).

Virgo (Aug. 23-Sep. 22) -- Relationship matters come into focus this week. While you may have one agenda, that thing known as 'the universe' may seem to have another. Your charts describe you trying to stabilize a situation, while they also describe a shakeup. Matters of finance and those of emotion need to be given equal emphasis. They should be treated separately, and also seen in the context of any common ground they share. The financial question may involve whether everyone is paying their fair share, or feels like they're being treated equitably. Are expenses being shared proportionally to income? Regarding the emotional piece, the question seems to involve some baggage from the past that's a holdover from previous relationships. Don't blame current partners for what others did to you -- and if you know someone's weakness, do your best not to be exceptionally sensitive. A mutual commitment to healing will go a long way toward that end.

Libra (Sep. 22-Oct. 23) -- Trust and vulnerability are the most important qualities of love. There are others, though they can only flow in a space of sincere openness. If you're working on your relationship, or your desire to be in one, this is the place to start. However, this is predicated on something else: being comfortable with yourself. Being close to another person is like seeing yourself through a magnifying glass. All of your traits and characteristics, the ones you like and the ones you don't, can be blown up to what seems like larger-than-life scale. You can start by being forgiving, in an even-handed way: that is, of yourself and of others. And you must be willing to do your own healing work; in other words, to attend to your known issues, and any you discover. This is not the usual way to conduct relationships, for a good reason: it takes actual awareness and work to live this way. However, the time has arrived.

Scorpio (Oct. 23-Nov. 22) -- Sex in our society remains a fascination, a curiosity, a source of pain, something to gossip about, something to exploit, a suspicious activity, something inappropriate or undesirable, or even something special. In other words, sex (as presented publicly, and often as experienced privately) is everything except normal. If you're going through a sexual awakening, I suggest you keep the 'normal' bit right where you can see it, experience it and talk about it openly. At first this may seem awkward, particularly with all the guilt, secrets and silence that are heaped around this most natural of human experiences. This is the first step in reclaiming your sexuality from various shades of ownership and expectation -- the very things that kill relationships, so it's a worthwhile cause. Just don't let any initial awkwardness stop you. Explore until sex emerges as what it really is: beautiful and ordinary.

Sagittarius (Nov. 22-Dec. 22) -- If you stay aware of your feelings, you'll be more in harmony with the world you live in. That's because the world around you is experienced, perceived and colored by your feelings. It matters less what they are and more that you experience yourself honestly. This will remove a barrier between you and everyone around you; that, in turn, will open up your potential and your options. Slow down the movie until you meet your experience on the level of a poet or mystic: in full color, soaking in your emotions. You may discover a key to life if you practice that kind of mindfulness over the next week or so, as the distinctly Sagittarian planet Chiron merges its energy with Venus. This is more than a sensory trip: it's about grounding in your existence: on a planet, next to a star, in a galaxy.

Capricorn (Dec. 22-Jan. 20) -- Though you crave expressing yourself, it's never quite easy. You seek perfection of your message and your ideas, though the lines seem to blur, and the colors and ideas melt into one another. Yet if you focus your mind and put your favorite creative tool into your hands (be it a pen, a camera, a paintbrush or a musical instrument) you may discover that your abilities are suddenly more accessible than ever. This is not an accident and it's not luck; it's about long preparation, and an alignment with your reality. This experience involves your relationship to the sign Pisces, where there's some truly unusual cosmic activity at the moment and through the week. Give yourself all the space and time you need, or that you can muster, because anything truly creative wants to find its own space and its own rhythm. And remember, never judge your own performance.

Aquarius (Jan. 20-Feb. 19) -- Don't always assume you're right. Though this may be annoying, you'll appreciate the exercise because you'll come closer to reality. It always helps you to be flexible. Structure and form, you have. An organized system of logic, you're aware of and you can use when you need to. Change is something you expect but then often resist, which is why being open-minded is so vital to your happiness and your wellbeing. The overarching theme of your charts at the moment is healing any residual issues (or an overt crisis) of self-esteem. You may never feel that you measure up. But the question, if you ask it, might be: who is doing the measuring? And what is the metric? Both logic and intuition would likely tell you that comparison is irrelevant, though you cannot 'not compare'; you can only live organically in your truth. Practice self-acceptance and you may make the pleasant discovery that it's easier to grow and change from there.

Pisces (Feb. 19-March 20) -- This is a momentous time in your life, though you may not know it. Of course, you might indeed be noticing how your inner world is opening up to you. You could be experiencing the activation of your potential. You may also be seeing your limits, and noticing how far you have to go, in order to have the life that you want. Don't be deceived by your doubts. Remember all those times when you turned out to be much closer to answers, to fulfillment and to breakthroughs than you thought you were. Remember the times you've given up, only to find that your desires were in fact alive and that existence was aware of you and responding to you. We're just days away from the meeting of Venus and Chiron in your birth sign, which is happening over the next week and cannot happen again until 2062 (in somewhat reduced form). Stay close to yourself, and close to your experiences, and close to what you want. Brush off your doubts, and remind yourself that you're alive.





---