New York, March 7, 2016 | View as Webpage | Order Your Vision Quest Reading




Total Eclipse in Pisces: The Great Unveiling



Stay tuned to Planet Waves for special coverage of the solar eclipse this week. I'm planning to dust off Planet Waves TV, and will have a special edition of Planet Waves FM that we release a little earlier in the day Tuesday.

Dear Friend and Reader:

Tuesday's total solar eclipse in Pisces is far beyond the ordinary: for an eclipse or any other astrological event. It's a centerpiece of what is by any measure a truly extraordinary time, and much of what's so, well, now about now involves Pisces.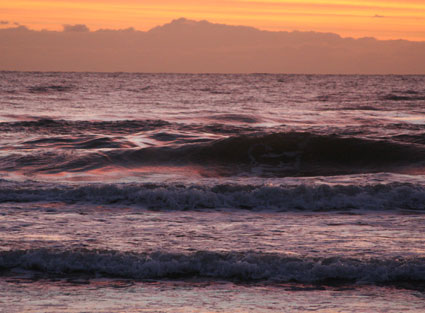 Mediterranean Sea, from a series called Daybreak in the Path of Annularity, in Valencia, Spain, 2005. Photo by Eric Francis.

By now I mean all of 2016 and well into 2017, the first new epoch after what I've been calling the 2012 era, that being 2011 to 2015. Notice the palpable change of feeling tone, the sense of unpredictability, the sense of uncertainty, the lack of any tangible grounding.

Eight years of Pluto in Capricorn has been like living in an earthquake zone, especially as Uranus in Aries has squared it seven times. To that we add living on a flood plain with a tsunami rolling in every week or so. But now, despite the seeming chaos (which is really change), a new kind of focus is available. Things that seemed utterly impossible are now within reach. It's no longer necessary to be driven madly in some direction, disconnected from purpose; indeed, purpose and action are now right within reach.

For Tuesday's eclipse, many planets are gathered in Pisces, including Mercury, Neptune, Chiron, the South Node of the Moon, the Moon itself, and the Sun. There are also lesser-known planets that I've been writing about: centaur Nessus, Borasisi and Manwe in the Kuiper Belt, and an asteroid called Memoria.

It's genuinely noteworthy that we are having all of this happen in Pisces with Neptune, the modern planet associated with this sign, right there. It's like Pisces itself is working at triple strength. The result is oceanic, vast and encompassing every dimension of life.

What is happening now is a sea-change that is more than just the daily turning of the tide. It seems to be referencing a phase of history that takes us back more than a generation. An ideology that has driven American society and indeed been an undercurrent in British and European culture has begun to dissolve. We are seeing it before our eyes. And the same astrology that is describing this series of events is also illustrating a quickening of the energy in our own lives.

There are people for whom this is just too much: too much change, pressure, confusion, chaos. There are people struggling, people lost in uncertainty, and some who feel like they are drowning. Even if you're doing pretty well, you have many days when you feel overwhelmed, because that's how life is right now.

If you're one of those folks who is really struggling, I suggest a few things. You might not need to tune out more; you might need to tune in more. That could start with tuning into yourself. All water is connected; and if you have a bathtub, you might fill it up, add some salt and slip in and feel the vibes.

Avoiding all the bad news of the world has a way of being its own trap. I think that it's essential to have some point of contact, some one issue you follow and understand. And/or, you might try opening up your aperture a little and allowing in more of something — music, art, conversation, ideas, an orgasm or three. If you are a practitioner of any sort of art, dive in.

We are talking about water energy here, and water is about going with the flow. It's also about riding with the wind, and keeping your hand on the rudder. It's better to direct movement consciously, but remember that here in the deep element, you move differently; it takes less energy to assert a change in direction effectively.

It takes a heck of a lot of energy to go against the tide.

For those who are riding this energy like the crest of a wave, I suggest following an idea given to me by a surfer one day when I was on the beach in Portland, Maine: Look where you want to be. When you're riding that wave, fix your eyes on your destination, and your movements combined with those of the wave will deliver you there.

This is astrology that calls for some solitary time, some inner inquiry and opening up of your introspective senses. Pisces delivers most of its information from within. There are several planets delivering vital themes in this eclipse. Borasisi is urging us to come out of denial. Chiron is also a specialist in this particular art.

Yet the planet of any sort — in this case an asteroid — that's the closest to the exact eclipse is called Memoria. One thing I've noticed as the Internet Age as progressed is that while more information and more facts are available, it's as if a kind of amnesia has set in. I know that Americans in particular have a lot of things they would rather forget about the past 20 years.

The message of this chart is that it's time to remember. Remember what? Start with the obvious. Start with what you're prefer to forget. But there is more, which is about remembering something of profound importance to you.

A solar eclipse in Pisces is the perfect image of an unveiling. The combination of factors now developing has the sensation of pulling back a curtain or a scrim. It's as if something is about to be revealed. Please pay attention.

Your horoscope for the week is below.

Lovingly,


---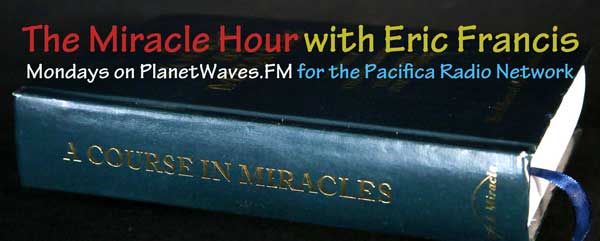 Miracle Hour Episode 5: Mind and Spirit: Clarification of Terms



Today's edition of The Miracle Hour covers the theme of mind and spirit. Haven't you ever sat around wondering what the difference is, and pondering whether it was your mind or your spirit that was trying to figure it out? This edition looks at the "clarification of terms" located at the back of the Manual for Teachers, and explores this interesting theme. Miracle Hour is distributed weekly to the Pacifica Radio Network and is a project of Planet Waves FM.


---



Are you born with your Sun, Moon or rising sign in Pisces?



Hello and welcome to our incredible Pisces moment. Last week I completed the reading for Pisces. There is so much happening in Pisces right now that I added an extra section. This is a series of four recordings, which look intimately at the themes that are likely to be arising in your life.

In the first section, I do a kind of guided meditation and overview of what makes this turning point so distinctive. This is likely to be a moment of culmination of many years of effort, crisis or delay. I take the territory gently. For the first half-hour session, I barely mention astrology.

Then in the second section I cover the vast array of planets in Pisces. I give enough detail to make it interesting to those with astrological literacy, but never so much that someone not trained will lose the narrative. This covers personal and relational matters.

In the third section I focus on the 10th house -- Sagittarius, which represents your professional aspirations. Saturn is making its once per 29 year visit to your career house. And Mars will soon be there, stationing retrograde and working its way back into Scorpio.

Finally in the fourth section, I cover one astrology afterthought: the Uranus-Eris conjunction -- and then I do a tarot reading for you.

You can binge listen, or listen to one section per night. You can download this and play it in your car or riding the bus or train. You can play it as you fall asleep and allow it to work on a deeper level. This is relevant, clear-headed and thoughtful astrology, accompanied by brand new music composed and performed by Gregory Schofield.

You will be very happy to have this information and point of view, to help you focus your efforts, heal your relationships, update your files and do whatever beautiful thing you're wanting to do.

You may sign up here for just $27.97. By the way -- there will be a Pisces conference call wherein you can speak with me personally, as I've had several requests. That will be included. Thank you for your participation in Planet Waves, and for trusting me as your astrologer.


---

Aries (March 20-April 19) -- Remember what you've learned the past few months because it will come in handy. You may feel set free from an emotional entanglement, which is offering you a sense of what freedom the future holds. Yet you need to be mindful all the time, and make sure that you don't recreate scenarios of the kind that you know are no longer right for you. I suggest you feel the wider, brighter, lighter space that you've entered -- that is, notice how good it is to have room to be yourself and to make some long overdue decisions. While you're doing this, be mindful of situations that remind you of the past you've evolved from. Listen carefully and respond to new messages and new ideas with your full awareness and attention. The future does not just happen. You stretch into it and work it until it fits beautifully.

Taurus (April 19-May 20) -- Keep your focus. It will be easy to feel mentally overwhelmed or to let your imagination run away with your mind. You have a lot happening right now, though only a few items on your agenda are of real importance. Therefore, think your thoughts, rather than letting them think you. Orient yourself on specific goals and objectives rather than on abstract concepts of what you want or what you're supposed to do. Work from a plan, even if it's something you sketch out in 10 words and a diagram on the back of an envelope. Whatever you may do, whatever your talent is, you would be wise to stick to your personal truth and to avoid playing to your audience. If you're true to yourself, you will make the impression on others that you want. Remember, the success you're seeking is not about perfection; it's about being real.

Gemini (May 20-June 21) -- Avoid power struggles at all costs this week. To do that, say little, and listen with rapt attention to what people around you are talking about -- especially those in authority. Statements you make can be taken the wrong way, or push emotional buttons in others that you didn't know existed. Save yourself the trouble, and keep your options open. Listening to people and actually hearing them will help you map out the psychology of your environment. Many changes are going on around you; and once you get the lay of the land, it will be easier for you to see your role, and to plan your timing and your moves. Those opportunities will come, sooner than you may think. You have the feeling something is in the air. Keep your sixth sense tuned in, and wait quietly like a kitty cat for the right moment to pounce.

Cancer (June 21-July 22) -- Think of this time in your life as a setup for developments in the mid- to long-range future. Plenty is happening, and you undoubtedly feel the sense of movement. Yet it's essential that you take the long view, and work with a larger sense of scale than you're accustomed to. The potential you feel is real. The diversity of your talents is authentic and rare indeed. Forget that the world is obsessed with results that it wants yesterday. Keep your perspective and remember that the thing you need the most now is good information. Let everything you learn, discover and observe factor into how you shape your concept of the future. You may not know how everything will manifest, or how your ideas will translate into reality; but the more you learn and focus on learning, the more clearly you will be able to see your opportunities.

Leo (July 22-Aug. 23) -- Proceed with caution on financial issues this week. Don't let anyone rush you into anything you're uncertain of, or don't understand well enough to explain clearly. Any nagging hint of doubt you may feel is worth listening to, and indicates there is some missing information. Few things of any real importance cannot wait a week or two. No person of any real significance would fail to respond to your need for clarity, especially if they are expecting you to make a commitment of any kind. If someone makes the case that you could lose an opportunity, you can be sure it's not an opportunity you would want, anyway. If you're looking for a real margin of safety that will help you get to the bottom of things, what you learn around the time of the Full Moon eclipse of March 23 will be golden.

Virgo (Aug. 23-Sep. 22) -- There's a lot happening in your environment. It may be confusing and you may wonder what your role is supposed to be. Here's what the planets are suggesting. Your presence is providing a balancing influence. You don't need to say anything or do anything; merely being in your environment is helping to keep things stable. The less you do the better, and you don't need to say much, either. Yet because you have what may be described as the most objective point of view of anyone involved, when you do offer your views or your opinion, it will be taken as a kind of oracle. That said, let people go through what they need to, in order to figure out that they really would benefit from the ideas of someone with a clear, intelligent mind. From this experience you are likely to discover a true gift you possess.

Libra (Sep. 22-Oct. 23) -- Your chart is the picture of where mind meets body. This is one way to understand your sensitivity, and it will help you access your deepest gifts. When you feel something, or think something, your body responds, and it can be profound. When you take care of your body and your environment, and when you make sure that you're feeling good, your life changes dependably and you're at your best. Now is the time to work this with relationships. The next couple of weeks present an opportunity to clear negativity from your life, take steps to feel better, and as a result, step into a lavishly productive and creative time. Cleaning your living and working space counts for double right now. Stretching out, drinking water and eating good food count for triple. Indulging art in any form gets quadruple life-improvement credit. Feeling good is a habit, and it's calling you now.

Scorpio (Oct. 23-Nov. 22) -- This is an abundantly inspired and erotic moment for you, though it's stretching all your boundaries, your limits and what you think of as your potential. Take the ride, and take it as far as you can. Whatever uneasy sense of risk you may be feeling will be replaced by a sense of quest and adventure, something you've often said you live for. The difference between the way you've lived until now and the way you can live beginning right now involves making flow and flexibility your most readily available modes. Where you feel stiff is the place to lean into. Where you feel frozen is what you want to melt. Existence is moved forward by the feeling of yes, and saying yes to yourself. The brainwashing of no, no, no has been pumped into our minds for decades now, but nothing of value was ever created that way.

Sagittarius (Nov. 22-Dec. 22) -- Pace yourself. Some things you want to do can happen fast. Others can and must take time. You need the wisdom to know the difference. When in doubt, avoid acting on emotional impulse. Said another way, the best thing you can do right now is to understand your motives. This will not take 10 years in psychoanalysis. Know when you're motivated by desire, by a creative impulse, by anger or by wanting to make something right. If you can keep those motives sorted out, you will have more energy and find yourself in less conflict. You seem to be keeping your most important goals in sight; you know you're going somewhere. The theme of the next few weeks will be tending to your inner needs and your emotional wellbeing. More than you need to accomplish something in the future, you need to resolve something from the past.

Capricorn (Dec. 22-Jan. 20) -- Friendship is more than a concept. It's something that you demonstrate. When someone is your friend, you're willing to go out of your way or inconvenience yourself. I suggest you translate your feelings into action any chance you get. The point is not reciprocation; in fact, that expectation has a way of detracting from the experience of demonstrating your loyalty just because you feel like it. I suggest you make a project of extending this to whatever you think of as your immediate community. Some of that will be physical and some will be in the online world. Make yourself a resource. Be strong for the people you care about, and understand their needs. Then be patient and notice who responds to you, who expresses gratitude, who offers you what they have. Let your mantra be, "Act as if to hold the world together."

Aquarius (Jan. 20-Feb. 19) -- You may be tempted to avoid your feelings or to translate everything into an idea, though you would be missing the beauty of the moment. You don't need to analyze or even ask the question 'why'. Rather, tune into your senses and see what they tell you. This is the best way to get your priorities in order, which itself is one of your highest priorities right now. Using your senses and your feelings will at least help you decide what you're not interested in at all, and what actually does mean something to you. Once you have everything that you know is irrelevant out of the way, then a little mindfulness and time management will help you refine your order of operations. One message is coming from your current solar chart: there may be something of genuine significance that you need to remember. You'll recognize it immediately.

Pisces (Feb. 19-March 20) -- On Tuesday, March 8, there is a total solar eclipse in your birth sign. These are rare, happening perhaps once or twice every decade. They tend to be 'before and after' moments: that is, in retrospect, you were living one kind of life before an eclipse, and another kind of life in the months and years after. Now would be an excellent time to tune in and make some adjustments. How would you characterize your existence for the past few years, or for however long it's been the way it is now? What do you want to change? Then, imagine your life the way that you want it to be. What is it that you want, what do you need, and most significantly, what is your vision for yourself? How does your life actually look, and feel, when it's the life that you want? Be bold, and be clear. Keep your vision in mind, so you can make the decisions that will lead you there, one choice at a time.