New York, November 4, 2014 | PW Homepage | Customer Service: Chelsea (206) 567-4455




Recovery and Discovery



Dear Friend and Reader:
 
Despite lacking the cuddly reputations enjoyed by most mammals, reptiles and amphibians are still integral members of the planet's ecosystems. And according to a study published in PLOS ONE and reported in Science Daily Oct. 28, the highly specialized Galapagos Islands ecosystem can now boast the recovery of endangered giant tortoises on the island of Espanola.
 

One thousand tortoises may not sound like a lot, but on the Galapagos island of Espanola, that counts as a hugely successful recovery. Photo by James P. Gibbs/SUNY-ESF

Feral goats brought to the island in the 19th century had ravaged the tortoises' food sources. The goats have since been eradicated, and 40 years ago captive-bred tortoises were re-introduced by the Galapagos National Park Service.
 
"The global population was down to just 15 tortoises by the 1960s," said James P. Gibbs, a professor of vertebrate conservation biology at the SUNY College of Environmental Science and Forestry and lead author of the study.

"Now there are some 1,000 tortoises breeding on their own. The population is secure. It's a rare example of how biologists and managers can collaborate to recover a species from the brink of extinction."
 
Meanwhile along the Mid-Atlantic coast of the U.S., biologists have confirmed the existence of a new species of leopard frog, reported Science Daily Oct. 29. Ecologist Carl Kauffeld first described the frog in a 1937 paper, but lacked the technology to prove it was in fact distinct from two similar species in the New York / New Jersey region.
 
Forty years after Kauffeld's death and nearly 80 years since his paper, Rutgers doctoral candidate Jeremy Feinberg and a team of scientists have confirmed that Feinberg came across the frog six years ago in the marshes of Staten Island, not far from the Statue of Liberty. Unlike Kauffeld, Feinberg and his team had the benefit of genetic testing and bioacoustic analysis -- plus volunteers from Connecticut to North Carolina, some with the North American Amphibian Monitoring Project, collected key data.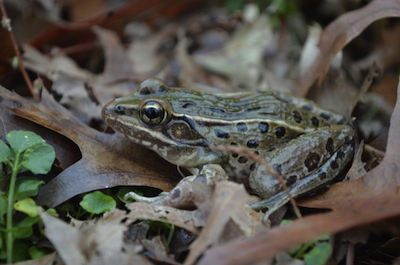 "I toad you so!" At least, we can imagine that's what Carl Kauffeld is saying now that researchers have confirmed his discovery. Photo by Brian R. Curry/Feinberg et al.; image reversed for this publication.

"If there is a single lesson to take from this study, it's that those who love nature and want to conserve it need to shut down their computers, get outside and study the plants and animals in their own backyards," said co-author Brad Shaffer, professor in UCLA's Department of Ecology and Evolutionary Biology.
 
Fittingly, Feinberg and his team have named the frog, which has been hiding in plain sight in New York City and across eight states, after Kauffeld: Rana kauffeldi. But you just call it the Atlantic Coast Leopard Frog.
 


Deforestation Debilitates the Amazon -- and Global Climate



Meanwhile the Amazon rainforest, which is home to more than 400 frog species, may be losing its ability to benefit the climate, The Guardian reported Friday. The study, by a leading expert in Brazil, suggests the cumulative effect of deforestation has possibly caused worsening droughts; the forest had helped to channel water inland.
 
The author, Antonio Nobre, said, "Studies more than 20 years ago predicted what is happening with lowering rainfall. Amazon deforestation is altering climate. It is no longer about models. It is about observation."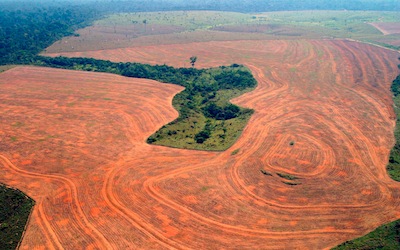 Area deforested by soybean farmers in Novo Progresso, Brazil, in 2004. Destruction of the world's largest rainforest increased by 29 percent in 2013 from the previous year, reversing what had been a downward trend. Photo by Alberto Cesar/Greenpeace.

Nobre is calling for the government to immediately increase efforts to halt deforestation and to replant trees. Recent satellite data, however, indicate an increase in deforestation activities, despite a downward trend dating to 2009. At this point, a burgeoning agribusiness lobby is making it harder to push through legislation that would create forest reserves.
 
"They have taken good action in the past," says Nobre. "I hope they will listen now."
 
One of the factors contributing to Brazil's deforestation is its dependence on hydroelectric power generated within the Amazon Basin, which requires trees to be cleared for power lines and other infrastructure.
 


Maybe When It's Dark We'll See What's Wrong?



Brazil is not the only area where dependence on electricity is problematic, and in fact blackouts are likely to become more commonplace worldwide in the near future as a result of the demand/supply imbalance, according to a new study published in Phys.org on Oct. 28.
 
The research, conducted by experts in architecture and sociology at the U.K.'s University of Lincoln, concluded that people are currently too dependent on electrical power, and noted that spare capacity for spikes in demand is being used up fast, with power usage still increasing sharply.
 
Sociologist Steve Matthewman further explained that privatization and resulting neglect of infrastructure are liable to lead to worldwide issues: "Single corporations can put their own interests ahead of the shared grid, and spare capacity is reduced in the name of cost saving."



Nuclear Fuel Chemical Leak Under Investigation



In response to a leak of uranium hexafluoride on Oct. 26 at a uranium conversion facility near Metropolis, Illinois, the Nuclear Regulatory Commission (NRC) has launched an investigation, reported Reuters Oct. 28.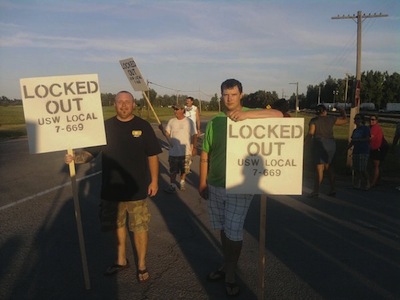 Photo of the picket line in front of the Metropolis Honeywell facility during the 2010-2011 union lockout. According to dclabor.org, the company has spent nearly six million dollars in the current election cycle. Photo by Stephenlach/Wikimedia Commons/USW Local 7-669.

Uranium hexafluoride, also known at UF6, is a radioactive substance that becomes chemically toxic when released into the air. The facility in question, operated by Honeywell International Inc., converts raw uranium into a nuclear fuel precursor using a chemical process; that fuel can then be used by nuclear reactors as well as nuclear weapons.

"At this point we're still in a fact-finding mode," said Roger Hannah, an NRC spokesman.

"We haven't come to any conclusions about whether processes weren't followed."
 
Honeywell confirmed last week that equipment failure was the cause of the release. The facility will remain closed pending the investigation outcome.
 
Some reports claim this "equipment failure" is linked to a labor dispute in which 135 union workers have been locked out of the facility following their contract's expiration, leaving less experienced workers (namely "[college-aged] students and interns training to be engineers," according to one resident) to operate the plant.
 


Depleted Uranium Use in Iraq Labeled Genocide



Use of depleted uranium weapons in Iraq by the U.S. and the U.K., beginning with the first Gulf War in 1991, has caused such severe effects that some are calling for it to be labeled genocide, according to Truthout reporter Dahr Jamail on Oct. 14. Depleted uranium is generally a byproduct of the production of enriched uranium for use in nuclear reactors and in the manufacture of nuclear weapons (see immediately previous item).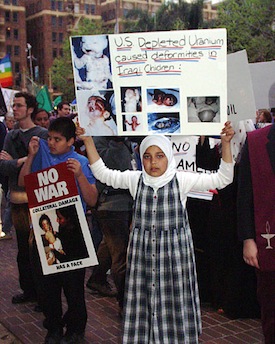 Photo of a March 2003 protest of the U.S. War in Iraq; studies of the increase in Iraqi birth defects were previously reported by The Guardian in 2010. Photo by Patty Mooney/Flickr.

Illnesses resulting from the attacks include new organ diseases not previously seen in the region, immune system deterioration, congenital birth defects, miscarriages, cancers and kidney failure. Lack of documentation may mean that known cases are underestimates.
 
Oncologist Dr Jawad Al-Ali said, "Iraqi people were victims of the aggression inflicted by the use of DU munitions by the American and British troops during these wars, and this is genocide."
 
Almost 10,000 rounds were used in the 2003 invasion. In response to the health crisis, Iraq recently called for a global treaty ban to all DU munitions.
 
The Center for Constitutional Rights in New York, on behalf of itself and Iraq Veterans Against the War, submitted in September a Freedom of Information Act request to the U.S. Department of Defense and the State Department, requesting the firing coordinates of the DU weapons used in Iraq.
 


Smile (or Not) -- You're on Candid Nuclear Plant Camera



Leaked photographs published by The Ecologist Oct. 27 reveal a potentially dangerous situation at Sellafield, a nuclear reprocessing site in Cumbria, England.
 
"Looking at the photos I am very disturbed at the degraded and run down condition of the structures and support services. There is a significant risk that the system could fail," nuclear expert John Large told The Ecologist.
 
The photographs, taken over a period of seven years and submitted by an anonymous source, show the dilapidated state of high-level nuclear storage ponds at the site that was abandoned almost 40 years ago. The exposed, open-air storage ponds, packed with spent fuel, are currently undergoing a lengthy decommissioning process.
 


And From the David vs. Goliath Files:



Organic farmer and senior U.S. senator from Montana Jon Tester has succeeded in getting the Governmental Accountability Office (GAO) to look into the process by which the USDA and FDA have authorized genetically modified (GMO) crops, according to an Oct. 28 story by the Alliance for Natural Health.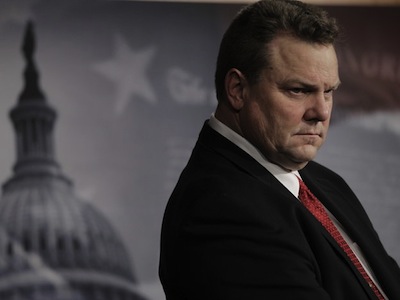 Sen. Jon Tester is getting testy about recent USDA and FDA approvals of GMO crops. Photo by Charles Dharapak.

Politico news service notes that in a 2013 letter to the GAO, Senator Tester asked government auditors to evaluate whether the "FDA has sufficient data to ensure the safety of genetically engineered foods," as well as other issues such as cross-pollination of conventional crops and the impact GMO products have on U.S. trade relationships with nations that ban the import of genetically altered food.  
 
Tester reportedly argues in the letter that the Coordinated Framework for Regulation of Biotechnology, which serves as the basis for regulating and approving genetically modified crops, has not been updated sufficiently over the last 30 years to guide lawmakers in assessing the latest developments in agricultural science.
 
Sounds like it's well past time to bring the Coordinated Framework (and much else) up to speed.
 
Yours & truly,



Amanda Painter and the ECO editorial team

You may forward Planet Waves Monsanto Eco to your friends. They can sign up for this free environmental newsletter from Planet Waves. View this edition as a webpage.

Planet Waves Monsanto Eco (ISSN 1933-9135) is published each Tuesday evening in Kingston, New York by Planet Waves, Inc. Publisher: Eric Francis Coppolino. Editor: Amanda Painter. Business Manager: Chelsea Bottinelli. Web Developer: Anatoly Ryzhenko. Research, Writing and Editing: Planet Waves Monsanto Eco is produced by a team consisting of Amy Elliott, Carol van Strum, Len Wallick and Chad Woodward.



Scorpio Birthday Reading Now Available for Pre-Order



Dear Friend and Reader:
 
If you're born under the sign Scorpio or have Scorpio rising (or have Scorpio loved ones), this is going to be an intriguing year, one of the most meaningful in a long time. Three planets enter your sign the same day, followed by a solar eclipse.
 
That is an exciting solar return -- a homecoming. In addition, Saturn finally makes its first moves out of your sign later in the year, and transitions into Sagittarius. This is a total change of energy and shift of emphasis.  

Your birthday reading is now available for pre-order for a reduced price.

I intend to make the reading available soon; it consists of two half-hour (plus) segments of astrology, plus astrology afterthoughts and what seems to be everyone's favorite -- a tarot reading using the Voyager deck by James Wanless.

Your reading includes two excellent extra features -- access to last year's reading, so you can check my work and check the progress of your life; and also a live call-in program so you can ask questions about what I cover and (to some extent) your own astrology.

If you're friends with a Scorpio, this reading makes a beautiful gift they'll use and truly love. All of my readings are recorded in studio-quality audio, and can be listened to on any computer or mobile device.

You can pre-order the reading now for $29.95.
 
Lovingly,


 
P.S. If you have not yet visited the new Planet Waves website, you can sign up for a complementary Introductory Membership here. This will give you access to many of our regular columnists and other features, and offers a glimpse of what a full subscribing membership offers.



To unsubscribe,

click here e Wiki

|

Friends

|

Editors Contact Us Copyright © 2013 by Planet Waves, Inc. All Rights Reserved. Other copyrights may apply.
Some images used under Fair Use or Share Alike attribution.