New York, October 21, 2014 | PW Homepage | Customer Service: Chelsea (206) 567-4455




The (Mostly) Good News Issue



Last month the governments of Nepal and India, in cooperation with the World Wildlife Federation (WWF), released a report showing that tigers are using forested corridors to pass between protected areas across the boundary between the two countries, reported The Times of India. The report, titled "Tigers of the Trans-boundary Terai Arc Landscape," details wild tigers and their prey as they move between Nepal and India.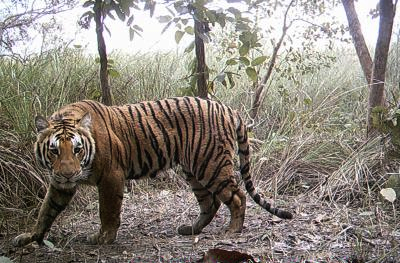 Bengal tiger (Panthera tigris tigris) caught on a camera trap in Nepal's Terai Arc Landscape as part of an estimate of tiger populations. Photo by the Government of Nepal.

Camera traps -- cameras that have been set to automatically take a picture when a large animal moves by -- documented 239 individual adult tigers across an area of more than 2,000 square miles, from November 2012 through June 2013. Called "landscape level conservation," the corridors provide critical links between protected areas, since wildlife do not observe lines drawn on maps.
 
The study's results were shared at the second Stocktaking Conference of The Global Tiger Recovery Program, hosted by Bangladesh and attended by 140 tiger experts from 20 countries. These tiger-range countries are involved in "TX2," an initiative with the goal of doubling tiger populations by 2022.
 
Said Dr. Barney Long, director of WWF's Species Conservation Program, "it shows that we must think and act beyond just islands of protected areas for tigers to truly thrive and have the space to double in number," adding, "landscape level conservation can result in dramatic recoveries for wild tigers."
 
Priorities for the next two years set at the Stocktaking Conference include: "professionalizing and investing in frontline staff, national tiger monitoring and assessment in all tiger habitats by 2016, improved transboundary collaboration and expanded capacity to tackle human-tiger conflict," according to the WWF.
 


'Citizen Scientists' and Snow Leopard Conservation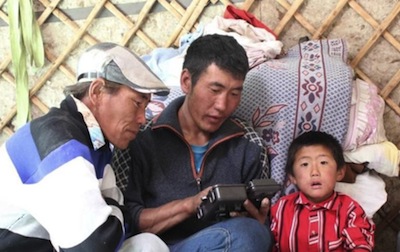 Local Mongolian citizens trained and equipped to collect basic data in their remote mountain home -- with perhaps a member of the next generation of 'citizen scientists'. Photo by WWF Mongolia.

In another ground-level conservation effort centered on big cats, WWF-Mongolia has trained eight local herders to conduct snow leopard surveys, and to use and maintain automated camera traps for monitoring the animals, the WWF reported in July.

The idea is that by involving the residents who know the area's harsh mountains best, they not only become more deeply invested in protecting the rare cats, but the WWF can help develop methods to reduce livestock kills.
 
"We never hunt the snow leopard, even if they attack our livestock," said Byambatsooj, a Mongolian herder and 'citizen scientist'.

He adds, "We are very happy for the involvement of local herder communities in this action. We are all obliged to care for and safeguard the camera traps placed on the mountain."
 
Far less is known about snow leopards than any other big cats, due to their elusive nature and inhospitable home.
 


Vultures Rebounding in India



South Asian vultures in India are making a comeback after facing extinction a decade ago, according to a study published in the journal Philosophical Transactions of the Royal Society B, reported Bird Life International Oct. 14.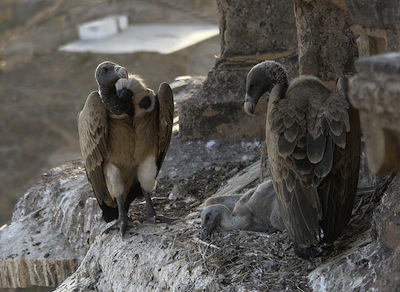 See? Vultures are people, too! A pair of South Asian vultures (Gyps indicus) care for a chick in their nest in Madhya Pradesh, India. Photo by Yann under Creative Commons license.


Since India banned the veterinary drug diclofenac in 2006, which is used to treat livestock, vulture populations are showing signs of recovery. Planet Waves reported last month on a related campaign to prevent similar decimation of vulture populations in Europe after diclofenac was approved for commercial use in Italy and Spain.
 
"We've come so far and this is turning into one of the biggest conservation success stories ever," said Dr. Toby Galligan, conservation scientist and co-author of the study.
 
While experts claim that six percent of livestock carcasses are still contaminated with the drug, the number of contaminated carcasses has been reduced by half since the ban.
 


The Bad News: EPA Approves Dow's Enlist Duo Herbicide



Following the approval of Dow AgroScience's GMO corn and soybeans last month by the U.S. Department of Agriculture, Reuters reported Oct. 15 that the Environmental Protection Agency (EPA) has given final approval for Dow's Enlist Duo herbicide (containing the Agent Orange ingredient 2,4-D, and glyphosate), which the new GMO crops were engineered to resist. (See Sept. 30 coverage by Planet Waves here.)
 
The EPA's approval comes with new restrictions in an attempt to prevent weed resistance -- including a paltry 30-foot "no-spray" buffer zone, banning use when wind speeds exceed 15 mph, and limiting its use to ground applications only.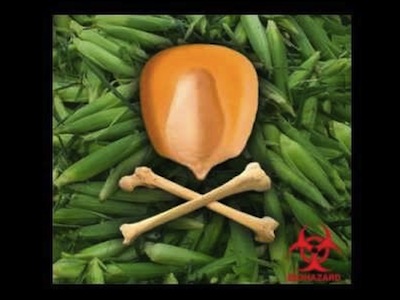 The EPA has approved Dow's latest chemical assault weapon for use against so-called 'superweeds' that have grown resistant to 'regular' poisons. Agent Orange did not get left behind after the Vietnam War; it's now heading for dinner plates.

The restrictions, however, miss some important points. Planet Waves researcher Carol Van Strum points out that the EPA approved this combination without any testing for the effects or synergistic impacts of the two chemicals combined (and no testing of the false-named 'inert' ingredients, which can be even more toxic than the 'active' ones and also react synergistically with them and with each other).

'Inert' does not mean chemically inert, but rather that a chemical does not act toward the stated purpose of the 'active' ingredients.
 
It's also worth noting that, as Van Strum writes, "the EPA's decision is based on a risk assessment that assumes that a certain number of deaths -- adults and children -- are 'negligible' and therefore 'acceptable.' Ask yourself whether your own cancer or your own child's birth defects are 'negligible.'"
 
Or, as Andrew Kimbrell, executive director for Center for Food Safety, put it: "EPA has turned its back on those it purports to protect -- the American people and our environment."
 


China Announces Logging Ban in Main State-Owned Forests



China has decided to try banning commercial logging in state-owned forests in the province of Heilongjiang, which borders Russia and provides much of the country's timber, The Guardian reported Oct. 17. The move is designed to help timber supplies recover and to usher in better forest management practices.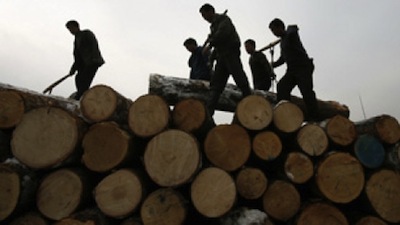 Workers pile logs at a lumber market in northeast China's Liaoning province in 2007. No word yet on whether the ban will unintentionally increase the country's imports of illegally logged timber. AP photo.


Two companies manage 18.45 million hectares (nearly 45.6 million acres) of forests in Heilongjiang, covering 39% of the entire province.
 
Some laid-off loggers "will become forest rangers and learn how to manage forests," said Sheng Weitong, a forestry expert and former advisor to China's cabinet-level state council, to chinadialogue.
 
Hou Yuanzhao, a researcher at the Chinese Academy of Forestry, added that, "A halt here means an end to the way China has been utilizing forestry resources since 1949."
 
Heilongjiang's forests help stabilize the ecology of northeastern China, a primary producer of rice -- meaning that recovery of the region's forests is key to far-reaching facets of China's economy and overall health. Key to the planet's health, however, will be China's ability to curb its appetite for wood. China's domestic timber industry accounts for only 40% of its demand for lumber -- both to satisfy the tastes of its growing middle class and the demands of foreign furniture and construction companies.
 


Burkina Faso's 'Re-Greening' Success



Farmers in the landlocked West African nation of Burkina Faso have "achieved striking progress" in reclaiming land formerly considered too infertile, according to Bloomberg News Oct. 9. Formerly known as Upper Volta, the vast majority of people in Burkina Faso are employed in agriculture.
 
In a September 2014 case study published by Britain's Overseas Development Institute, lead author Amanda Lenhardt noted how local dissemination of "a range of simple but sustainable agricultural techniques" for conserving water and restoration of arable land has not only produced enough additional food to feed its population but also "could hold key lessons for other countries."    
 
This is far from an overnight success; sustainable farming methods have been encouraged since the 1970s, both by the government and non-governmental organizations, aided by strong social and community networks, according to the study's authors.
 
Although more still needs to be done, the increased food crops have "enhanced food security for around 500,000 people." If one of Africa's poorest countries can "re-green" itself, what is taking the rest of the world so long?
 
Yours & truly,



Amanda Painter and the ECO editorial team

You may forward Planet Waves Monsanto Eco to your friends. They can sign up for this free environmental newsletter from Planet Waves. View this edition as a webpage.

Planet Waves Monsanto Eco (ISSN 1933-9135) is published each Tuesday evening in Kingston, New York by Planet Waves, Inc. Publisher: Eric Francis Coppolino. Editor: Amanda Painter. Business Manager: Chelsea Bottinelli. Web Developer: Anatoly Ryzhenko. Research, Writing and Editing: Planet Waves Monsanto Eco is produced by a team consisting of Amy Elliott, Carol van Strum, Len Wallick and Chad Woodward.




Scorpio Birthday Reading Now Available for Pre-Order



Dear Friend and Reader:
 
If you're born under the sign Scorpio or have Scorpio rising (or have Scorpio loved ones), this is going to be an intriguing year, one of the most meaningful in a long time. Three planets enter your sign the same day, followed by a solar eclipse.
 
That is an exciting solar return -- a homecoming. In addition, Saturn finally makes its first moves out of your sign later in the year, and transitions into Sagittarius. This is a total change of energy and shift of emphasis.  

Your birthday reading is now available for pre-order at the lowest price.

I intend to do the reading next week, which consists of two half-hour (plus) segments of astrology, plus astrology afterthoughts and what seems to be everyone's favorite -- a tarot reading using the Voyager deck by James Wanless.

Your reading includes two excellent extra features -- access to last year's reading, so you can check my work and check the progress of your life; and also a live call-in program so you can ask questions about what I cover and (to some extent) your own astrology.

If you're friends with a Scorpio, this reading makes a beautiful gift they'll use and truly love. All of my readings are recorded in studio-quality audio, and can be listened to on any computer or mobile device.

You can pre-order the reading now for $24.95, and I plan to have it ready for you by next week.
 
Lovingly,



 
P.S. If you have not yet visited the new Planet Waves website, you can sign up for a complementary Introductory Membership here. This will give you access to many of our regular columnists and other features, and offers a glimpse of what a full subscribing membership offers.



To unsubscribe,

click here e Wiki

|

Friends

|

Editors Contact Us Copyright © 2013 by Planet Waves, Inc. All Rights Reserved. Other copyrights may apply.
Some images used under Fair Use or Share Alike attribution.