New York, Feb. 16, 2016 | View as Webpage | Order Your Vision Quest Reading
This Week on Planet Waves FM
Conservative Guru Makes His Exit; End of the Anti-Sixties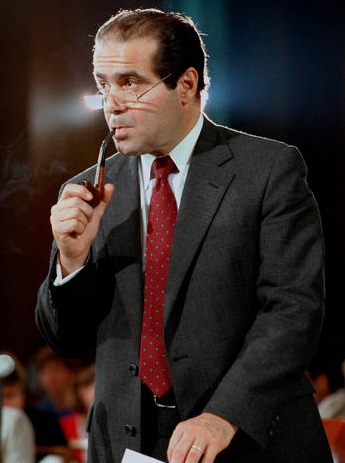 Antonin Scalia during his Senate confirmation hearings on Aug. 6, 1986. Photo by

Lana Harris

.

Dear Friend and Listener:

As the Sun reaches the brink of Pisces, Mercury is now in Aquarius, and Venus is on its way there. In tonight's edition of Planet Waves FM [play episode here] I examine the astrology of this moment, and continue last week's exploration of Aquarius as a sign.

Most of the show focuses on Antonin Scalia's life and legacy, and the potentially crucial consequences of his death on Saturday. I discuss how the arch-conservative and "constitutional originalist" associate justice impacted life in the U.S. during his 30-year tenure on the Supreme Court bench.

My guest tonight is Stephen Bergstein, a civil rights attorney I've collaborated with for many years. He appears in the third segment. Musical interludes are three classics by the ever-excellent Bob Dylan, friend of Planet Waves.

Planet Waves FM is producing a new program for the Pacifica Radio Network called The Miracle Hour [hear latest edition]. The program is based on A Course in Miracles. This week the program was picked up by Black Sheep Radio, WOOL, in Vermont. Here is an article about Planet Waves FM written by the Pacifica Network.

With love,


---
Vision Quest, our beautiful 2016 annual edition, is available for immediate access. Listen to a free audio sample or read a written excerpt for your sign.
---
I've just finished the
Aquarius birthday reading
. My birthday readings are like a course in self-therapy, guided by astrology. The reading is designed to tune you into several levels of thought -- your "unconscious" level, your identity level, your values, and your point of exchange with others. The result is a truly helpful set of perspectives, priced to be affordable. You may play it in any format, and the reading is designed for busy people -- divided into three 30-minute segments.
Listen to free samples here:
Sample 1
|
Sample 2
|
Sample 3
---
Coming soon! Intro to Tarot and Divination class, taught by Eric Francis. Check your email or Facebook for an announcement this week.
---



Planet Waves on Scalia, the Week's Astrology, and More



Dear Friend and Reader:

Mercury is finally 'in the clear' in Aquarius. Tonight (Wednesday in some time zones) Venus joins it for what Eric has described in the Monday Astrology Diary as 'agape', the Greek word for brotherly love -- though in the style of the goddess. It's finally time to move forward with anything that has been on hold the last couple months.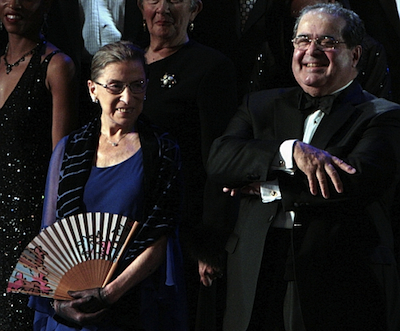 Agape, goddess-style? Good friends Ruth Bader Ginsburg and Antonin Scalia -- despite their contrasting SCOTUS opinions -- enjoying some opera together as on-stage guests at the Washington National Opera's 2009 opening of "Ariadne auf Naxos." Photo by Karin Cooper/Washington National Opera, via

Opera Chic

.

Of course, the big news this week for anyone who follows U.S. politics is the death Saturday of Chief Justice Antonin Scalia. In addition to Eric's Planet Waves FM discussion of Scalia this evening, several Planet Waves writers have joined the conversation.

Judith Gayle followed up her regular Saturday column (delving into what's making the voters tick, and what the establishment is missing) with an article-length comment on Scalia that we've published in its own post. Amy Elliott has offered a brief examination of Scalia's natal chart, in the context of his judicial record.

Fe Bongolan describes in her column how Scalia was exactly the formidable 'enemy' progressives needed to make them stronger in their pursuit of true justice. And last but not least, Eric exercised his wit covering the 'beatification' of Scalia by Pope Francis.

Elsewhere on Planet Waves, Amanda Moreno juxtaposes seemingly conflicting symbols for the recent New Moon, and asks: How do we prioritize authenticity and creative self-actualization, while still remembering to step out of the subjective and consider the collective?

Sunday Eric touched on the Valentine's Day astrology by noting that it takes maturity for people to recognize that they are autonomous beings, and that a relationship is nothing if not about respect for the individuality of your partner.

And in Len Wallick's column today, he covers Venus entering Aquarius tonight. His take: If you offer cooperation rather than competition to others, you'll likely receive the same in turn.

Len will be back in the Thursday issue with horoscopes and also on the website Friday with his column; my own column on the weekend astrology will post Thursday morning.

Yours & truly,



Amanda Painter



Planet Waves (ISSN 1933-9135) is published each Tuesday and Thursday evening in Kingston, New York, by Planet Waves, Inc. Core community membership: $197/year. Editor and Publisher: Eric Francis Coppolino. Web Developer: Anatoly Ryzhenko. Designer: Lizanne Webb. Office Manager: Lauren Gdovin. Astrology Editor: Amanda Painter. Astrology Fact Checker: Len Wallick. Copy Editor and Fact Checker: Jessica Keet. Client Services: Amy Elliott. Media Consultant: Andrew Marshall McLuhan. Eric's Assistant: Whitney Beecroft. Research, Writing and Editing: In addition to those listed above, Planet Waves is produced by a team consisting of Fe Bongolan, Judith Gayle, Kelly Janes, Amanda Moreno, Carol van Strum, Len Wallick.






To unsubscribe,

click here

. To unsubscribe from all future Planet Waves emails,

please write to

cs@planetwaves.net Copyright © 2016 by Planet Waves, Inc. All Rights Reserved. Other copyrights may apply. >>
Some images used under Fair Use or Creative Commons attribution.