The Sun is nearly midway through creative, emotionally rich and intuitively open Pisces. Today, however, this symbol of our consciousness encounters Chiron, an astrological body that might provoke second-guessing of your creativity, or a fear that your abilities might be limited or 'broken' in that realm — and stepping out against or beyond that sense could feel like a very charged action.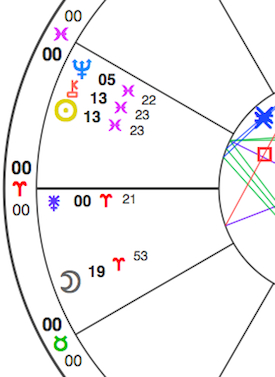 The thing to remember, as with most fears, is that the sense or idea of such a thing is no proof of its validity. Far more likely it's something you can treat like an indicator light on the dashboard of your car: it's a reason to open the hood to see what's really going on, and then deal with it. With Sun-Chiron (exact at 8:26 pm EST), one part of your psyche to check out is anything heavily influenced by your father and the dynamics of your relationship to him.
Was your father himself limited in ways you fear you might be? Was something about your relationship to him injured — and have you internalized that?
Sun-Chiron can also represent that sense of injury getting energized in a way that allows one to overcome whatever liability it represents, gathering power around it and turning it into an asset. This describes a healing process. (For more in-depth coverage of Sun conjunct Chiron in Pisces and these themes, see Planet Waves' 2012 coverage here and here.)
This year, with Chiron near the middle of Pisces, the conjunction it's taking from the Sun today is also square the Great Attractor. The GA is a deep-space point pulling our entire galaxy (and more) toward its location in the direction of mid-Sagittarius.
Squares feel like inner tension urging you to take some kind of action to resolve it. But what kind of situation might Sun-Chiron square the Great Attractor describe for you? Here are some key GA themes to ponder, suggested by Eric:
— Situations/aspects that feature the GA often involve people and situations far beyond what is normally perceived.
— The GA tends to polarize situations, but those situations/people cannot really hurt you. In this case, someone might be onto the 'maverick' quality of Chiron, which would mean stepping out and having an opinion, but public opinion of them matters little.
— The GA in an aspect pattern is compelling; it can add charisma and some star quality ('you cannot get near me') to a person who has it prominent in their natal chart.
Is there something about stepping out beyond your father's limitations that feels like it will polarize those around you? Are you feeling the influence of someone not in your immediate environment (and perhaps feeling that influence on subtler-than-normal channels)?
No matter how much your creativity might feel like it's gone into hiding this week, try seeing what happens if you allow your conscious awareness to look under the hood, and step out anyway.
Curious to know what all this means for your sign specifically? Planet Waves was built on Eric's horoscopes, and our members swear by them as an essential tool for co-creating their lives. Sign up for a six-month membership and receive weekly and monthly horoscopes, plus more.