GET ON OUR MAILING LIST for C19 AND PLANET WAVES FM.

Welcome to Covid19 News, published by the nonprofit Chiron Return and edited by Eric F. Coppolino and Patricia Gallagher with additional research by Claudia Mansbach, Cindy Ragusa, Ro Dann, Loreen Costa and others. We also publish Planet Waves FM. Our professional news gathering and reporting efforts are sponsored exclusively by our readers. Thank you for your participation and generosity. Call if you like — Chiron Return, (845) 331-0355. If you in any way appreciate or depend on this service and can do so, please make a donation tax deductible in the U.S. If you have something to report — news, science news, or a check-in from your local area — please send to editors@planetwaves.net. Stay in touch and please help out everyone mutually by sharing this resource with others.

---
Vaccine mandate issues 18,000 new shots to New York City school employees | added October 4
New York's requirement that virtually everyone who works in the city's public schools be vaccinated against the coronavirus compelled thousands of Department of Education employees to get at least one dose of a vaccine in the past week, leading to extremely high vaccination rates among educators, according to preliminary data released on Friday
At least 98 percent of principals and 93 percent of teachers as well as 90 percent of non-education staff members had been vaccinated by Friday, city officials said. The figures are likely to change by Monday, the deadline for meeting the requirement, because more employees are very likely get shots or provide proof of vaccination over the weekend.
The Department of Education reported that more than 18,000 shots had been given to staff members since Sept. 24.
---
Supreme Court Justice Sotomayor refuses to block vaccine mandate for N.Y.C teachers | added October 4
Supreme Court Justice Sonia Sotomayor late Friday refused to block an order requiring New York teachers to have at least one Covid vaccine dose before returning to the classroom Monday.
Without comment, Sotomayor denied an emergency application filed by the teachers Thursday. She acted on her own, without referring the case to the full court or seeking a reply from New York.
The teachers said thousands of public school employees would be forced out of work by the vaccine mandate, violating their fundamental right to pursue an occupation.
---
Fauci says it's still too early to let down our guard against Covid-19 and vaccination remains the key | added October 4
The US is "turning the corner" on its current Covid-19 surge but vaccination remains key to ensuring cases continue trending downward ahead of the holiday season, Dr. Anthony Fauci said Sunday.
---
Alaska starts to fact check case trends with Covid-19 death rates and masks | added October 4
Alaska is at a critical point in the pandemic. Twenty health care facilities across the state are now operating under crisis standards of care, a reflection of the added pressure facing hospitals that are contending with scarce resources and high COVID-19 patient counts — and bracing for worse. Alaska's recent per-capita case rate is the highest in the U.S., and higher than that of any country in the world.
At the same time, recent statements from public officials paint a much different picture of the pandemic, warranting closer scrutiny.
In Anchorage over the past week, a divided city debated whether to implement a mask mandate, and Mayor Dave Bronson touted a debunked medical treatment, pointed to data that he said showed Alaska's case counts were actually declining and questioned the effectiveness of masks
---
Warrior Andrew Wiggins receives Covid-19 jab after being denied religious exemption | added October 4
Warriors coach Steve Kerr made the revelation on Sunday after practice. The team was getting ready to head up to Portland to play a preseason game against the Trail Blazers. Wiggins will be eligible to play in all games and will not have to forfeit any money for missing games over his vaccination status.
Wiggins' media day was a bit contentious as he was getting peppered with questions about his vaccination status.
"I'm just going to keep all that private right now. … Anything that has to do with my status, vaccination, I'm going to keep it personal, private," he said, via The Athletic. "Back is definitely against the wall. I'm gonna keep fighting for what I believe. What's right to one person isn't right to the other and vice versa."
---
Union asks for extension to Gov. Lamont's Monday night deadline on vaccine mandates  | added October 4
The state employee union wants a 20-day extension of Governor Ned Lamont's mandate. Lamont's office says the negotiations will continue, but if no agreement is reached, the mandate will be enforced.
RELATED: Frontline state employees request extension of Lamont's vaccine mandate Monday deadline
A warning letter has been sent to 8,000 workers that they will be furloughed without pay if they don't comply by Tuesday.
As of 4 p.m. on Sunday, Lamont's office said about 23,000 are fully vaccinated, which is about three-fourths of the state workforce, about 5,000, or 15 percent, will get tested weekly, and only about 3,000 aren't complying with the mandate at this time.
---
California doctor sounds alarm on new vaccine mandate that targets school-age children | added October 4
A California doctor sounded the alarm Monday on Governor Gavin Newsom's new vaccine mandate targeting school-age children, saying his decision was "not based on clinical evidence" but fueled by politics.
"The decision that the governor made is one that's really based on his personal beliefs that's based in politics," said Dr. Houman Hemmati on "Fox & Friends First."
"As a physician, the one thing that I'm taught, the one thing that we should all practice is evidence-based medicine, and the evidence-based decisions need to not just extend to the doctor-patient relationship, but also to policies that are made by politicians and public health boards."
---
New Zealand lifts pandemic restrictions after lockdown fails to halt the spread of virus | added October 4
WELLINGTON, New Zealand—New Zealand is ending its effort to keep Covid-19 out of the remote South Pacific country as the economic costs mount and after its latest lockdown failed to halt the spread of the virus.
Pandemic restrictions in the country's largest city, Auckland—in place after a Covid-19 outbreak in mid-August—will be eased in stages starting this week, New Zealand Prime Minister Jacinda Ardern said Monday.
New Zealand, with a population of around five million, was an early success story of the pandemic, adopting a version of China's aggressive lockdowns and closing its border, which initially halted the spread of the virus.
---
More college students withdraw from school among vaccine incentives  | added October 4
For some college students, the Covid vaccine is a price they are not willing to pay for a degree.
Justin Mishler, a 29-year-old junior at Northern Illinois University, is one of them. After serving in the U.S. Marine Corps, Mishler enrolled in the state school in 2016 through the GI Bill, which helps cover the cost of tuition, books and housing.
During the pandemic, he took time off to work rather than attend school remotely.
---
J&J prepares to seek authorization for booster shot vaccine | added October 4
The report follows an FDA announcement on Friday indicating its Vaccines and Related Biological Products Advisory Committee (VRBPAC) on Oct. 15 will discuss the administration of the J&J COVID-19 booster shot for individuals 18 years and older, a day after similar discussions are planned for the Moderna COVID-19 booster shot among people ages 18 and older.
J&J did not immediately respond to FOX Business' request for comment.
---
Breaking News


Unvaccinated United flight attendant confident she can get work on medieval plague ship
BOSTON—Explaining that she felt more firm standing by her principles given the healthy job market, unvaccinated United Airlines flight attendant Erin Collins told reporters Thursday that she was confident she could get work drifting between European ports aboard a medieval plague ship. "Yeah, I figure all I need to do is learn how to drain blood and work some animal cures and I'll be a shoo-in for a position on a quarantined merchant ship overrun with the Black Death," said Collins, stressing that her easy-going personality and mastery of Italian and French meant she would be "very simpatico" with the bird-mask wearing plague doctors, barbers, and physicians as they fumigated bad air, balanced humours, and administered poultices to the heaped bodies of the sickly and dying.
---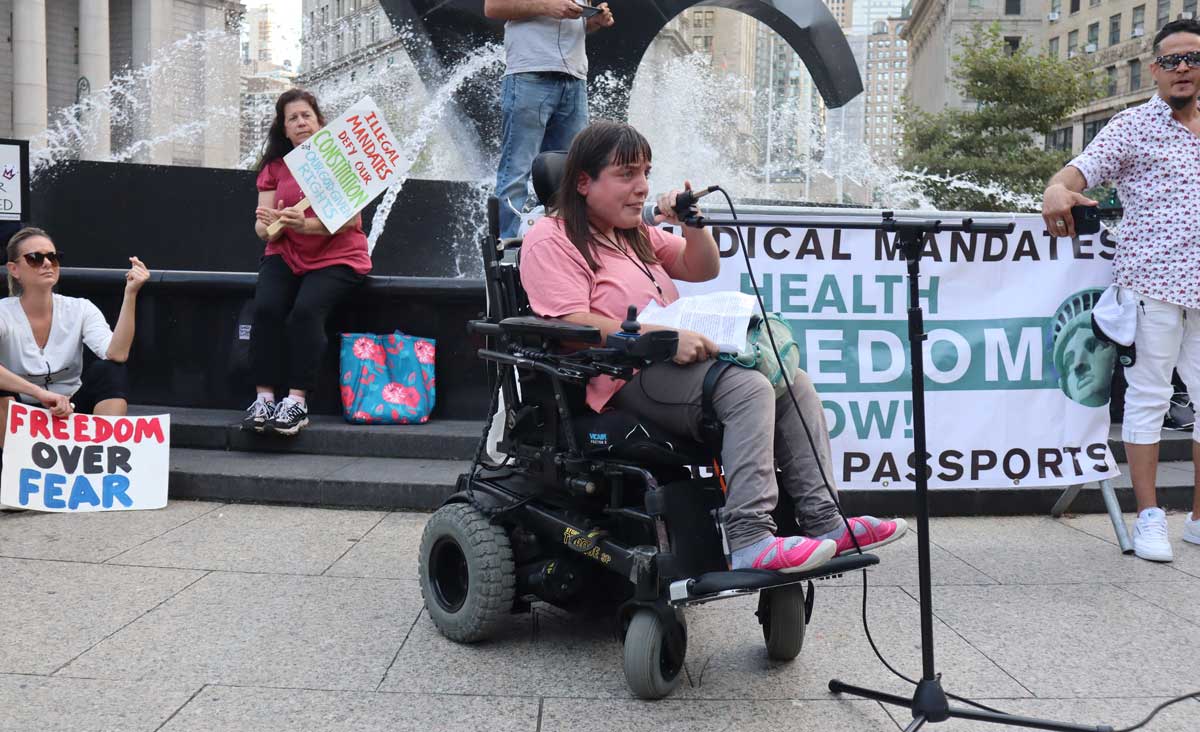 The Collapse and Rebirth of the American Idea: Remember the United States Pluto Return
Dear Friend and Reader:
Why is a New Yorker with cerebral palsy my nomination for the face of the United States Pluto return? And what is that transit? Meet Julie Maury. In my view, she is the Paul Revere of the New American Revolution. Her "midnight ride" was aboard an electric wheel chair Monday in Foley Square Park.
Until recently, we all agreed that society needed to make accommodations for people with disabilities. We all agreed that there should be ramps and wheelchair-friendly bathrooms and doors. That's because someone with cerebral palsy is a person too. We didn't used to think so, as a society; it was just too darned bad if you couldn't walk up one step and get into the store, or fit your wheel chair in the bathroom stall.
Society slowly changed. Now we all understand why we must protect the rights of those whose bodies are not up to the task of the old-style urban environment. Maybe only 1 in 100 bus riders needed wheelchair access: I don't know anyone who would say they should not have it.
In her presentation, Julie says that everyone she knows, with or without cerebral palsy, has had an adverse reaction to the injection. But they still have to take it in order to enter a restaurant and many other public accommodations in New York City: in order to eat. No exceptions are being granted. Doctors are having their licenses threatened for advocating on behalf of their patients.
---
Next Thing: Merck Covid pill!
Merck announced Friday that an experimental pill it developed to treat covid-19 reduced the risk of hospitalization and death by nearly half in a clinical trial.
An independent board of experts monitoring the trial recommended the study be stopped early because of the positive results, a significant and telling step in a pharmaceutical study.
Merck and partner Ridgeback Biotherapeutics said in a news release they would apply for emergency use authorization for the drug, molnupiravir, in the United States as soon as possible. It would be the first antiviral pill for covid-19.
---
New York Times claims Covid has killed as many as Spanish Flu
Nearly 700,000 people across the United States have now died of the coronavirus, a milestone that few experts had anticipated months ago when vaccines became widely available to the American public.
An overwhelming majority of Americans who have died in recent months, a period in which the country has offered broad access to shots, were unvaccinated. The United States has had one of the highest recent death rates of any country with an ample supply of vaccines.
The new and alarming surge of deaths this summer means that the coronavirus pandemic has become the deadliest in American history, overtaking the toll from the influenza pandemic of 1918 and 1919, which killed about 675,000 people.
---