We're all being called to take better care of the world and communities -- but to do that we must first take care of our souls, and of our relationships.

New York, March 5, 2017 | Read on Web

Dear Friend of Planet Waves:

Last week, a colleague sent me a video by a young artist pleading with the architects of the internet to give us something that's not designed merely to waste our time, trap us in drama or pump our money in exchange for next to nothing.

I felt both vindicated and grateful, as one of those architects, to faithfully offer a service that's designed to enrich your life, take minimal time and be genuinely affordable. Working with passion, intention and experience, I design my astrology to be worth far more than we charge, and to provide you with more than you're expecting -- when you need it.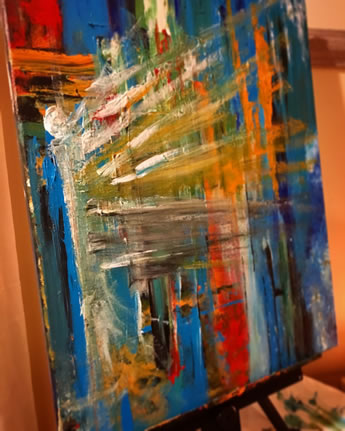 Painting and photo by Alison Billings.

One idea that reminds you who you are, that shifts your thinking, or that sparks your mind into action, is priceless -- and that's what my astrology is designed to offer.

The world is in an extremely stressed-out state right now, and many people are feeling this as fear, anxiety and uncertainty. Subscriptions to newspapers and public radio are up, because people are concerned and want to stay informed.

Yet "the news" is all about the outer world -- not your inner world; not your feelings; not your relationships; not the mystery of existence. The news is about the problem, not the solution.

This is where Planet Waves comes in. We're all being called to take better care of the world and our communities -- but to do that we must first take care of our souls, and of our relationships.

Right now it's necessary to do this without burying our heads in the sand or denying the events of the world around us. There is nothing spiritual about denial, and we know that the problems of "the world" are really the sum total of what many individual people are going through.

I'm here to invite you back to Planet Waves. You know the care, love and devotion that I put into the work that I offer you. You know that I'm one of the few writers who do that rare thing: integrate global developments with your inner life with astrology. I write for intelligent, sensitive and caring people, who experience life as connected to the environment around them. I am writing for you.

Planet Waves is a guide through these times we live in: excellent horoscopes, original news analysis, detailed and soulful readings, an understanding of the internet, and passion for human potential: all of this defines what we do. We have professional editing, fact-checking and proofreading, which is about both our integrity and your reading pleasure.

You get the benefit of my being the only astrologer who entered the profession after a 12-year career covering governments, corporations and education, experience I put to work in my articles and broadcasts. We're also part of the Pacifica Radio Network, carrying Democracy Now! daily on Planet Waves, to help keep you informed.

We provide this bold and creative service on a modest budget, and every single membership matters. Every dollar you invest goes right back to our readers, listeners and viewers.

We at Planet Waves do what we do for you -- and we also do it with you. You, exclusively, have sponsored us since 2002. We don't sell your data, we don't interrupt your experience with obnoxious ads and we don't have corporate sponsors pulling the strings.

We offer a clean and honest exchange, providing a service you trust and depend on -- and we've been reader-sponsored since 2002. After 19 years doing this, we're supposed to have sold out and gone downhill -- nothing like that has happened.

Please reactivate your subscription today. You'll get the full advantage of what we offer, and do your part to keep Planet Waves online, healthy and fulfilling our mission at this crucial time.

Become a Backstage Pass holder quarterly or for a full year and get an astrology self-study kit. Or join our Core Community monthly or for a full year and get a Planet Waves diary.

Thank you for investing your time, thought and trust -- and a few dollars -- in a service that will pay you back many times over.

with love,



PS -- Here's that video I reference in the first paragraph. I'm curious what you think. And I'm eager to have your companionship and offer mine as we keep the internet safe for human experience.