The horoscope page is where you look for something more intimate: an idea about your relationships, or why you feel the way you feel that day.

New York, March 14, 2017 | Read on Web

Dear Friend of Planet Waves:

Our membership drive has breathed new life into Planet Waves, and revealed that our reader base is alive and well. Hello!

We can now afford things like a PHP programmer to chase down database errors, and extra hands-on-deck in customer service. This is truly amazing. I've been walking on clouds. Thank you for making this possible. If you have not already done so, please renew your membership or make a donation -- we are close to our fundraising goal.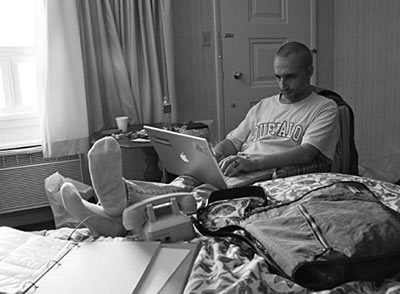 Not sure if I'm writing an investigative piece or the weekly horoscope. It's the same to me. Photo by Danielle Voirin, taken
in New Paltz, NY.

Today's letter touches on a subject dear to my heart: how the horoscope column is journalism in the truest sense of the word -- or at least potentially so. As the world's only horoscope writer who carries international press credentials, I have a clue.

I've written for just about every section of newspapers and magazines except the sports pages. (And I have a high opinion of sports writers -- they can't bullshit their readers; they've all seen the game.)

When I got my first job as a cub reporter, covering municipal government in New Jersey, the editor of the the newspaper -- my editor -- was an astrologer. I really didn't know what that meant. I had no idea what astrology actually was. But I was given a desk with an astrological calendar hanging over my computer.

In hindsight, this was a quantum phenomenon. Think of the odds; it seems like a miracle, and reminds me I was born to do what I do.

I would sit there at my little desk writing articles about the Sewerage Authority or the Planning Board, with astrology looking over me. At the time, I was living in a spiritual community called Miracle Manor; and about six months later, the Harmonic Convergence was approaching. I remember staring at that day's aspects, wondering what all the triangles meant.

This began my long and ongoing relationship between astrology and journalism.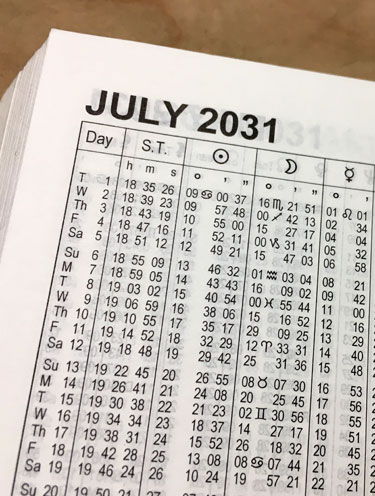 I used an astrological ephemeris like this to crack the Patric Walker horoscope. The ephemeris tells you where the planets will be on any given day. It's the basic astrological tool -- and it's being lost to antiquity. Many young astrologers don't have one.


I probably wrote 500 news articles in the next few years, covering everything from the American Medical Association to dioxin-contaminated dormitories to Seagrams' acquisition of Tropicana.

Then one day, I discovered the Patric Walker horoscope in the New York Post. I read his column every day for a couple of years, till I could not stand it anymore: I had to know how he did it. It was so mysterious to read such helpful, philosophical and well-timed information in the back of a tabloid newspaper.

I bought an ephemeris and studied it every night, till I started my own column a year later. That's what you read in Planet Waves.

I think that newspaper journalism and newspaper astrology have three things in common. One, you have to condense a lot of data, and choose what's relevant. Two, you must be driven by curiosity. Three, you have to tell a good story.

Editors struggle to personalize stories: how this government action impacts your budget; why you should worry about PCBs in school window caulking; a spaghetti sauce recipe you can make while the water boils; where to go for a fun night out; how to decorate YOUR Halloween pumpkin. You have to give them credit for trying. They're reaching for a personal connection, and they sometimes succeed. (The place to really do it is on the editorial and letters pages.)

Yet the horoscope page is where you look for something more intimate: an idea about your relationships, or why you feel the way you feel that day. By my reckoning, it's the only place in a newspaper or magazine where you can turn for directly personally relevant information. That is, when it's done well: ethically, and with some warmth, and some skill (in that order).

Yet who really notices the strange contrast between what's so vastly impersonal, or downright horrid (on the news pages), and a few words of wisdom designed to cheer you up or point you to some possibility you had not considered?

Many who think of themselves as proper professional astrologers like to slam the horoscope column. What they don't account for is how many of the very best astrologers have written Sun sign columns: Robert Hand, Melanie Reinhart, Dane Rudhyar, Evangeline Adams, Howard Sasportas, and of course Patric, to name a few.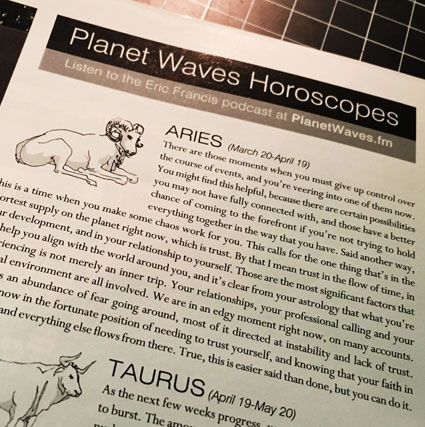 Planet Waves has run in Chronogram every month for 21 years,
since March 1996. The horoscope is an actual journalistic tradition, especially in the UK.

What they don't account for is how many people are exposed to astrology for the first time through the horoscope column. Some of those readers get curious and take up dedicated study.

Critics kind of miss how, if I say something about Saturn and 100,000 people read it, that puts an idea about Saturn into the culture. It's the very same Saturn they use, and the very same culture as they're in. It's just in a different format.

Horoscopes are real journalism; or rather they should be treated as such. Shelly von Strunkel, the best spokesperson for our profession, once said we work as hard and as fast as war correspondents. 

The horoscope is closer to a personal journal than anything on the news or opinion pages. Actual spiritual subject matter is permitted in. And a good horoscope writer is always looking out for your best interests. They should write to you in the tone of a trusted friend, who's there for you every day. And it must be ethical. The horoscope should never over-promise, never predict a negative outcome, and never, ever frighten the readers.

That's my approach, anyway -- and starting today, I'll be appearing on the pages of the New York Daily News, as its daily horoscope writer. I'm beginning this new gig with the confidence that I am supported and appreciated by my subscribers of old -- you who co-created Planet Waves with me.

When you do business with Planet Waves, you're endorsing this view of both horoscopes and of astrology. This is what we do, and this is what we teach by example. Please support our membership drive, and let's tell a new generation about this approach to astrology.

Thank you for your business, and for trusting me as your astrologer. Here are some fun options.

With love,



PS -- Since we have such excellent momentum, I have set a fundraising goal of an additional $25,000 for this drive. It would not take many renewals to do that -- just 250 or so. If we can reach that goal, I can pay some bills, solve some technical problems and have a cushion left over. Please join with me to make that happen. Thank you. Here are your membership options. You may write to me if you want to become a Galaxy Pass holder.

PPS -- If you're already a member or subscriber and would like to make a donation, here's a link where you may do that. Thank you.