New York, Sept. 2, 2014 | View as Webpage | Customer Service: Chelsea (206) 567-4455


A Gift of Support and Inspiration -- Your Virgo Birthday Reading by Eric Francis Publishes Soon

Dear Friend and Client:

You might know that Eric has a special place in his heart for Virgos (after all, his adorable dog, Jonah is a Virgo!). If you are looking for a meaningful and thoughtful gift for your favorite Virgo, why not get them a reading from an astrologer who has a deep understanding of their sign? A reading that offers inspiration, support and clear guidance to help avoid unnecessary challenges?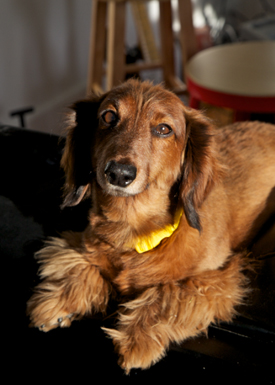 Jonah Kelly Francis, Virgo Moon, Sun, Juno. Photo by his Pisces human, Eric Francis.

Right now, you can pre-order the Virgo birthday reading from Eric at an amazing price -- just $29.95 (the price will go up to $34.95 tomorrow and $49.95 after we publish within the next week).

These readings morph the best of Eric's work as a Sun-sign astrologer and a professional counseling astrologer. Eric speaks in plain language, in studio-quality audio -- it's like he's sitting right in the room with you. His readings take a deep and introspective look at things you've been questioning, thinking about or trying to work out.

Here's what some of Eric's listeners have said about their readings:

"I can't tell you how much this reading has helped me make sense of myself and my life right now!"

"I stayed up LATE last night to listen to my reading. Very spot on, juicy and compelling!!"

Eric's birthday readings now include a live question and reply forum where Virgos can ask Eric questions directly, which will be held a week or two after the reading publishes (archived for those who cannot make it). We also include access to last year's reading, to review and check Eric's accuracy, plus an extended written birth sign description.

This is one of the most affordable and useful reading packages in the entire astrological profession. It will make an awesome gift for you or someone you love who has Virgo Sun, Moon or rising. And if you order now, you'll save $20 off of the published price -- just $29.95. At that amazing price, why not order one for all of the important Virgos in your life? I know they'll benefit from Eric's reading just as much as our clients have.

Thanks, as always, for supporting Planet Waves.

Yours,



Chelsea Bottinelli

PS -- Are you looking for a reading for a different sign? We've got some great options to choose from and you may find more readings in our audio store.

PPS -- The new edition of Planet Waves FM, covering Virgo-Pisces, is ready. If you're born under either of these signs you will love this edition.





To unsubscribe,

click here e Wiki

|

Friends

|

Editors Contact Us Copyright © 2014 by Planet Waves, Inc. All Rights Reserved. Other copyrights may apply.
Some images used under Fair Use or Share Alike attribution.