New York, June 26, 2014 | View as Webpage | Customer Service: Chelsea (206) 567-4455




You Can Have It All -- the Planet Waves All Access Pass



Dear Friend and Reader:

Astrology is one of the most powerful self-help tools that I know of. It combines the best of psychology, spirituality and science into a modality that has astonishing potential for healing and growth. And it's like most things that are designed to help you -- the more you use astrology, the more you tune in, the more benefits you receive.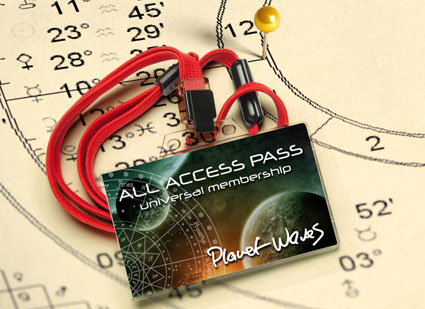 The All-Access Pass includes everything -- an extension to your current subscription, one annual edition, all birthday readings, special reports (such as the Spring Reading) and lots more besides. Graphic by Liz Webb.

In the 20 years I've been doing this work, I've seen there are two ways to use it -- to open and enlighten the mind, or to close and darken it. I offer astrology as a tool for gaining self-awareness, the power of choice and as a way of providing your own answers. Yes, the more challenging path -- and the valid path.

A few years ago, I began offering a comprehensive, personal level of astrology service called the All-Access Pass. It's designed for people who want the most from astrology -- those who would consult a professional astrologer, who want to keep up with the movements of the planets in detail, and who want to read all of my updates.

You might think of this as having the benefits of being an astrologer without all the years of preparation. You get the foresight, the insight and the strategic power of astrology right in your hands.

All of my audio products are part astrology reading and part motivational talk. They are reassuring and remind you of your potential. My intent is to use astrology to show you your opportunities, clarify your decision-making and get you excited about your life.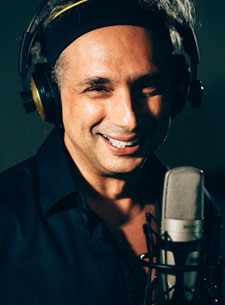 Eric's audio readings have set a new professional standard for the astrology industry -- one that has yet to be equaled. Photo by Jeff Bisti.

Right now, I'm offering a special half-price rate on the All-Access Pass -- $179. This initiates or extends your membership to my weekly and monthly readings by six full months. Plus you get all Planet Waves products published from January through December of 2014, including The Mars Effect, the recent 12-sign spring report and the forthcoming 12-sign midyear report.

If you've already purchased The Mars Effect, you'll get access to the 2015 annual.

Using one password for everything, which you choose yourself, you'll have easy access to every product, including birthday readings and special audio recordings, our weekly email service, the annual edition, plus astrology text updates and a daily astrology email. 

This half-price All-Access offer includes:

• Access to a full six months of my weekly astrology readings (or a six-month extension for current Planet Waves members) 
• My extended monthly interpretations 
• Learn about your Moon, which is your "other sign" with Moon sign readings. 
• Daily astrology updates delivered to your inbox 
•Up-to-the minute SMS service gives you real-time professional astrology updates right to your mobile device. 
• All in-depth birthday/ascendant sign readings for 2014. This is almost like getting a personal consultation for yourself and any loved ones whose astrology you track.  
• All in-depth special readings for 2014 including annual readings, spring readings, and mid-year readings. 
• Special live, online members-only conference events that are part of Core Community Membership.

This is more than $900 worth of products and services for just $179, expiring Dec. 31, 2014.

If you have questions, please give Chelsea a call at (877) 453-8265 within the U.S. and (206) 567-4455 from anywhere else in the world and she will be glad to help you.  

Thanks for being with us. It's great to know that together, we're building a truly unique source of astrology wisdom in a time of profound change. 

Lovingly, 


To unsubscribe,
click here
e Wiki
|
Friends
|
Editors
Contact Us
Copyright © 2014 by Planet Waves, Inc. All Rights Reserved. Other copyrights may apply.
Some images used under Fair Use or Share Alike attribution.