New York, Feb. 22, 2016 | View as Webpage | Pre-order This Reading




For Pisces, an Excellent Time to Know Your Astrology



Dear Friend and Reader:

The Sun is now in Pisces, and if you're born with this as your Sun or rising sign, this is an excellent time to check in with your astrology. I was born with the Sun in Pisces, and I've been reading charts a long time -- and this year's Pisces charts are impressive on a lifetime scale.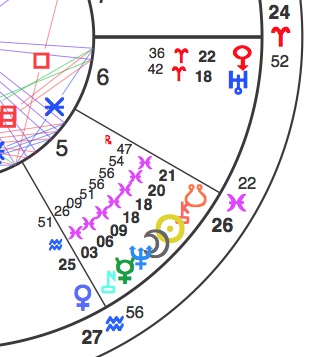 That's quite a cluster you have there. Chart section of the forthcoming solar eclipse in Pisces, showing Venus in late Aquarius; then (in order) Nessus, Mercury, Neptune, the Moon, the Sun, Chiron, the South Node, and then Uranus and Eris in Aries. When the South Node (the orange horseshoe) or its opposite is close to a New or Full Moon, that means it's

eclipse time

.

Said simply, this is a potentially brilliant moment for you, one where you can make up for lost time, retrieve things from your past, and clear old goals out of the way.

All those planets with the little pink Pisces glyph next to them are in your sign or rising sign, or will be any moment now.

They include fast-movers like Mercury, the Moon and the Sun; as well as slow movers that set the feeling tone of a generation or era in history: Neptune, Nessus, Chiron and several others not shown here.

At the center of this alignment is a total solar eclipse in Pisces, on March 8.

Eclipses translate to acceleration, concentration of events, and a sense of being transported from one place in your life to another. You might say eclipses are before and after moments.

Yet how you think of "before" is vital, as is the way you think of where you want to be, where you're going and who you are becoming. Eclipses are magnifiers of experience. They set patterns.

So that miraculous effect of taking you somewhere else is dependent on how you think of where you are now. Said another way, to get anywhere you must start from your present location -- and that includes how you feel about that place.

This eclipse is conjunct Chiron, the planet of awareness, healing and teaching. Chiron has been in your sign since 2010; though this event is a kind of checkpoint, which will help you see your progress and show you how much remains on your current agenda of wholeness, personhood and spiritual growth.

Before this event, I'll be recording your Pisces reading. This is your solar return or birthday reading for Pisces Sun, and a rising sign reading for Pisces rising (similar to how natal charts are read).

Bringing two decades of work on Chiron to the reading, I will help clarify the healing themes of this planet, as they influence you today. Chiron's presence is distinctive in one's life, and it helps to have experienced information available. Chiron transits are some of the most meaningful and helpful a person can experience, ever.

I'll be doing your reading before the eclipse, so you have it to work with, for the purpose of setting intentions. Think of this reading as a one-hour meditation on your life, complete with custom music. Then I'll add a half-hour tarot reading that looks at the themes from another viewpoint.

You can get your reading now for just $19.97 -- an hour of astrology, half an hour of tarot, Pisces music and additional resources.

Lovingly,


To unsubscribe,
click here
. To unsubscribe from all future Planet Waves emails,
please write to
cs@planetwaves.net
Copyright © 2016 by Planet Waves, Inc. All Rights Reserved. Other copyrights may apply.
Some images used under Fair Use or Creative Commons attribution.