New York, March 2, 2014 | View as Webpage | Customer Service: Chelsea (206) 567-4455




Pre-Order Your Pisces Birthday Reading Now For Best Price



Dear Pisces:

Happy Birthday sweet fish! We've made another trip around the Sun, and that means your favorite astrologer (and fellow Pisces) has just recorded your birthday reading, which will be available tonight or tomorrow. This is the perfect gift to give to yourself -- one that will guide and support you through your next birthday. And if you pre-order now for $19.95, you can save $10 on the published price.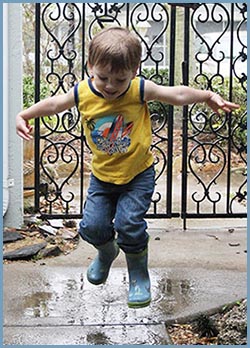 My Pisces son, Arlo, celebrating his third birthday in the rain.

Pre-order your astrology reading now to receive:

- Your hour-long astrology reading in audio format, with option to download the mp3 files

- An audio tarot reading with pictures of the spread

- Extended sign description for Pisces

- Access to last year's reading so you can review and check Eric's accuracy

We always receive the best responses to Eric's birthday readings because they are so on-target. One listener wrote, "I just listened to this report and I am stunned at how close to my life you have just described."

Another commented, "Your style of reading, knowledge and connection to higher realms gives so much reassurance and comfort." 

Speaking of connecting to higher realms: the Pisces New Moon we just experienced blended the best of Neptune's visionary, creative power with the more practical focusing ability Chiron brings to our healing path. This sets the tone and opens the doors to your year -- and chances are, if you pause a moment to take stock, you'll see how much more nourishment you're able to receive from the world these days than you ever have before.
 
This Pisces reading really is one of the most significant and substantial gifts you can give to yourself; one past listener has described Eric's tarot reading as, "right on the center spot with observations, intuitions and thoughts I have had for myself going into this birthday anniversary time."

Eric's birthday readings are closer to a personal consultation (at a fraction of the cost) than just about anything else you'll find on the Internet. I know this one will help you make important decisions, navigate challenges and embrace opportunities throughout the year.

Pre-order your birthday reading now  -- I guarantee you'll love it.

Yours,



Chelsea Bottinelli




To unsubscribe,

click here e Wiki

|

Friends

|

Editors Contact Us Copyright © 2013 by Planet Waves, Inc. All Rights Reserved. Other copyrights may apply.
Some images used under Fair Use or Share Alike attribution.