New York, May 31, 2015 | View as Webpage | Join our Core Community




Gemini Preview, Last Chance for Pre-Order Price, and an Awesome New Class on Retrogrades



Dear Friend and Reader:

The Sagittarius Full Moon is approaching, and I'll have a new blog post up in a little while. Check the front page of Planet Waves for that by around 8 pm EDT (I am about to post it).



Gemini Birthdays, and Gemini Rising Reading



I've finished the Gemini reading -- it's all mixed and on the server, and I've also recorded an audio preview for you. I introduce this kind of reading and give three short samples of what I've presented in the full experience. Anyone can listen -- just click through.

You can now get it for the published price of $39.95. The reading is posted, which means you get instant access when you place your order. (Note that orders placed through PayPal take an additional day or so to be processed.)

This includes a three-part reading (two of astrology, plus tarot). I've also included the Gemini chapter from the Mercury retrograde reading because I think it's integral to Gemini birthdays. 

You'll also have access to what I'm calling the Gemini Workshop next week -- the live call-in where you may ask about this reading or elements of your natal chart. Those who purchased the reading (and All Access Pass holders) will get an announcement about that soon.

Yesterday I announced a new astrology class, called Retrogrades, Reincarnation, Re-Membering. This will be June 20. You may learn more about that here. The class is a benefit for Planet Waves, and is the third in my series of very successful classes this year.



The Ultimate Mercury Retrograde Reading



The Mercury retrograde reading is still available -- a work of astrological art that will help you understand this retrograde, focusing on spiritual and psychological themes that differ for each of the signs. You get all 12 signs -- covering your Sun, Moon and rising, and those of people you care about. I have one more section to add, called The Writing Crisis. That will be available by Tuesday.



Generations: Understanding Millennials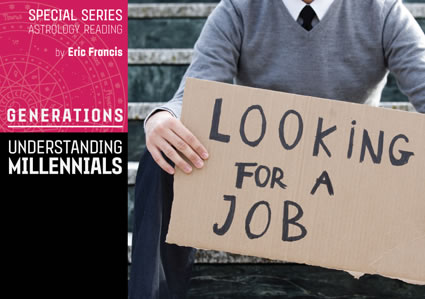 Generations: Understanding Millennials is the first in a series. I use astrology to explore the plight, the potential and the unique position of young people today. Image by Lizanne Webb.

Finally, we are still offering the Millennials reading (called Generations: Understanding Millennials).

It's an astrology program devoted to people born between 1981 and 2001, and their families, covering many topics and lasting more than four hours.  

I begin with a summary of 20 years of astrology, and then cover vocation, education, debt and careers, the impact of the digital era, and sex and relationships.

The result of many years of work, this is the first in my Generations series. The reviews have been fantastic. There is an upcoming Millennials workshop that we will be announcing soon.

Your purchases of my readings directly support all the work we do at Planet Waves, from our vast selection of current free content, to Planet Waves FM and many other projects we make available to the community.

Thank you for participating in your life, in the world, and in Planet Waves.

Lovingly,




PS -- These readings provide an excellent service to our customers, and (along with your Core Community memberships) fund everything we do at Planet Waves. We do this without corporate sponsorship or advertising -- Planet Waves is created with you and for you.






To unsubscribe,

click here e Wiki

|

Friends

|

Editors Contact Us Copyright © 2015 by Planet Waves, Inc. All Rights Reserved. Other copyrights may apply.
Some images used under Fair Use or Creative Commons attribution.