New York, Sept. 17, 2015 | View as Webpage | Make a Donation




Now Is the Time: Planet Waves Readings and Classes for the Eclipse Zone



Dear Friend and Reader:

We're in 'the eclipse zone': those two weeks between eclipses when unusual opportunities emerge, and we can set new patterns to help us get where we want to go. Eclipses ripple out for a good six to twelve months after the main event, which means it helps to know what you want.

That is, you have to look where you want to go if you want to maximize your chances of getting there.

Rather amazingly, this eclipse zone contains an unusual number of major astrological events that you may be feeling as profound shifts, subtle tugs on your psyche, or full-on crises. Energy is moving swiftly.

You've come to trust Planet Waves for Eric's uncanny, thoughtful and often therapeutic horoscopes. The audio readings and recorded classes he has created share those same qualities, yet take you even deeper into the core issues you're encountering within yourself and in relationship to those around you.

These astrological products are like nothing else you'll find on the Internet. We guarantee them fully, and we love to hear what you think. If you've been wondering about the 'right time' to get your life moving in a clear direction, there's no better time than 'the eclipse zone'.


---
FEATURED READING: Libra At Full Strength
Libra Birthday Reading available for pre-order!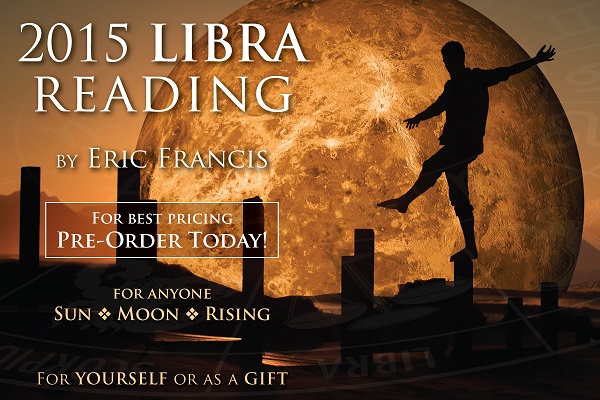 Artwork by Lizanne Webb

"Thank you so much for sending this wonderful birthday report. It is fabulous and I was so astounded at Eric's completely intuitive and amazing 'feel' for a much more deep and meaningful explanation of the approaching transits. He never ceases to amaze me with his very unique ability. I thank my lucky stars that I found Planet Waves!" -- Vicki, describing a recent Libra reading

Eric is aware these have been challenging times for Librans -- with the Uranus-Pluto square passing through your chart, and with Chiron in Pisces compelling you to focus on your health and wellbeing.

Here's what you need to remember about yourself, especially if you've gotten caught in a back-and-forth of the scales in your mind (or in your heart): Eric has a really cool theory about Libras, which he'll expand upon in your 2015 Libra Birthday Reading. He likes to call you "the human blowtorch."

Yes, you are diplomatic, elegant and all about your relationships. But consider for a moment the following people who have a Libra Sun or Libra rising: David Bowie; Bruce Springsteen; Thom Yorke; John Lennon; Julie Andrews; Gwen Stefani; Bob Geldof; Sting; Linda McCartney.

They all share an ability to light up a stage with their entire being -- igniting a spark that stirs anyone within earshot. Even if you're not a rock star, you possess something of this mojo. You just need to learn how to recognize and harness it.

Your Birthday Reading includes: two sessions of astrology of at least 30 minutes each, a tarot reading using the Voyager Tarot deck by James Wanless, and an extended written description of your sign. Eric will also provide images of the charts and tarot spread he uses, and access to last year's reading.

With so much wonderful detail to help you through these interesting times, we know you'll love this reading. Pre-order today for just $24.95.

Please note we have current readings for all 12 Sun signs and rising signs available. Click here to find your sign.


---



Virgo Birthday Reading: Are You Ready to Make Real Progress?



Some of the information in this report is nothing less than uncanny. You are a very talented man, Eric Francis. Thank you for doing what you do. -- Mallory Sanders

Eric has a crucial question for you in your 2015 Virgo Birthday Reading:

Are you truly satisfied with where you're going in life, or do you want to make more progress -- focused and tangible progress?

The last few years of astrology have pushed a lot of dramatic change for everyone.

Now that you see your world and your life (and the people close to you) differently -- now that you have new information and a new vantage point from which to look -- you can finally see there's a lot more ground you're yearning to cover.

Seeing that ground clearly is how your birthday reading will assist you. Eric pours himself into these readings to help you orient yourself in a way that allows you to keep your goals in view, while staying flexible enough to roll with the inevitable surprises and synchronicities.

If you're ready to co-create your life, you are ready to listen to this stunningly accurate and nuanced reading, aimed straight for that spot where your dreams of what you could be run up against the 'shoulds', criticisms and fears that have perhaps kept you circling in place.

You can read more about what you'll get with this reading here. Note: this audio reading is suitable for Virgo Sun, Virgo rising, and Virgo Moon.

Order your 2015 Virgo Birthday Reading today for just $29.97.



The Art of Living / Astrology for Artists



We are excited to announce that the the 2015 Midyear Report, The Art of Living / Astrology for Artists, is a beautiful success. The theme is how to live artfully; how to turn your life into a creative project; and how best to integrate conscious creation into your life, as a way of life.

This is a 12-sign audio reading plus an introduction, which will move elegantly through the astrology of the second half of the year.

Details Eric covers will include Venus retrograde, the two additional Venus-Mars conjunctions, the two additional Venus-Jupiter conjunctions, and Jupiter ingressing Virgo. You may order it here.

You may also listen to Eric describe the project in detail, along with his personal commitment to the subject matter, in the last segment of the July 7 Planet Waves FM. In addition, he warmed up the themes of the astrology he's investigating in The Art of Living / Astrology for Artists in the July 23 members' edition of Planet Waves, called Where the Art Studio Meets the Healing Space. Artist Jeeyon Roslie had this to say:

"Being an artist/designer & going through a host of challenging times for the past few years, I have been calling out to the Universe for guidance more than ever. One of the beautiful and timely answers to this calling came in the form of Eric's generous midyear report, aptly titled Astrology for Artists."



Cosmophilia :: Half-Price Midyear Special for All 12 Signs



Planet Waves' magnificent annual edition this year takes the concept of biophilia, or the love of life on Earth, and broadens it to the cosmic level. Alongside truly motivational, in-depth (yet easy to understand) material by Eric Francis on each of the 12 signs, you will receive a set of articles on the theme You Belong Here.

We are now offering a special half-price midyear sale on all 12 signs of Cosmophilia -- so you can check your progress on your goals for 2015, step back and see the astrological big picture, and contextualize your experience during the last six months.

Each sign includes more than 60 minutes of audio and a 4,500-word reading. Our customers say these are better than private astrology readings by other astrologers.

One reader, Diane Agustsson, said earlier this year, "OK, I have historically highlighted in red the things that were most significant me in your yearly reading … always with a sense of awe at your ability to read the energy. And, then watching other things unfold during the year with support of monthly readings which aid focus. This year, the entire paper is red! You are definitely a clear conduit for thousands of people who can accept."

Cosmophilia aims to offer a place of universal welcome in the increasingly clinical environment of the Internet, as well as the top-notch astrology and analysis that's a hallmark of all of Eric's readings. You can still benefit enormously from this rich source of wisdom and warmth. You may preview the 2015 annual edition; you can purchase the full edition for the incredible price of only $39.95, or choose any combination of the individual signs.



Learning Astrology with Eric Francis: Three Astrology Lessons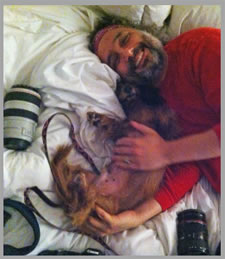 Eric in an alternate incarnation, on his studio bed, with Jonah and gear.

If you missed Eric's initial live classes but are itching to learn directly from your most trusted astrologer, you're in luck: we've bundled up the recordings for three of Eric's most popular classes into one package, for only $97.00.

Included are: Introduction to Reading a Natal Chart (core ancient astrology rules and foundational tools, modern interpretation techniques, plus a special section on Chiron in natal charts, demonstrating a technique he uses in professional work).

Become Your Own Astrologer, Part 1 (essential power tools for your astrological work bench, including the astrological interview); and Be Your Own Astrologer, Part 2 (how to identify, feel and work with your Sun, Moon and Rising sign -- plus much more).

** These three classes contain hundreds of secrets, tools, techniques and ideas that Eric has gathered and tested from 20 years as an astrologer, being coached by some of the very best minds in the business. It is a goldmine of resources.**



Retrogrades, Reincarnation, Re-membering :: A Hot Astrology Class



Eric's latest live class (and one of his most popular) was held June 20, and we're now offering Retrogrades, Reincarnation, Re-membering as a recording or download for only $37.

For that price, you not only get unlimited access to the nearly three-hour class, you also receive additional class resources and the opportunity to join an email list to discuss the ideas further.

Retrogrades can be one of the most challenging things in astrology to understand, but Eric puts them within your reach by discussing such themes as: what retrogrades point to in our early childhood relationships to caregivers; what they say about our way of expressing ourselves; and the potentially controversial connection between retrogrades and reincarnation. He also explains how to use the progressed horoscope to decipher retrogrades using sample charts, and more.

** Note, this class includes an extensive discussion of the progressed horoscope, and is Eric's only resource to date on that topic. He merges it with the topic of retrogrades to bring progressions to life. **

Generations: Understanding Millennials

"Parents and grandparents of the emerging Millennials -- and earlier members as well -- thank you for this critical information, Eric. If the world is confusing to those of us who've been around awhile, think how chaotic it is for those we've ushered in! A great idea and a much needed compass to help push aside the brambles on the path!" -- Planet Waves contributor Judith Gayle

This groundbreaking, first-of-a-kind reading is a Planet Waves special project, created by Eric Francis. Understanding Millennials is an astrological guide devoted to people born between 1981 and 2001.

To this work, Eric brings his 25 years as a committed youth and student advocate.

Understanding Millennials delivers 5 hours of audio recordings on the most relevant topics of the day: the impact of the digital revolution on our youth, sex in today's culture, education and vocation. This truly is a practical and inspiring mentorship for your children and grandchildren. This truly unique series of recordings -- providing mentorship for a new generation -- is available right now for $39.95.



Chiron in Pisces Reading



This special report for all 12 Sun, Moon and rising signs discusses Chiron's transit through Pisces, which lasts until 2018-19 -- and is having an undeniable, indelible effect on our collective and individual spiritual consciousness. This collection of short & sweet 12-sign audios is indispensible for understanding what Chiron is trying to get your attention about in your personal healing journey.

Eric also notes the relationship forged between this period and the Sixties, when Chiron was last in the sign of the sea. You may read about this further in Eric's 2011 article How to Cross an Ocean; How to Light a Fire. This unique audio report is still available, at just $19.97 for the complete package. Get it today, and benefit from Eric's astonishingly insightful guidance for this important Chiron transit.

Please note that we have current-year birthday readings available for all twelve signs here. If you have any questions about these featured readings or subscription memberships, we'd love to hear from you.

Yours & truly,



Amanda Painter
Planet Waves Astrology Editor




To unsubscribe,

click here e Wiki

|

Friends

|

Editors Contact Us Copyright © 2015 by Planet Waves, Inc. All Rights Reserved. Other copyrights may apply.
Some images used under Fair Use or Creative Commons attribution.