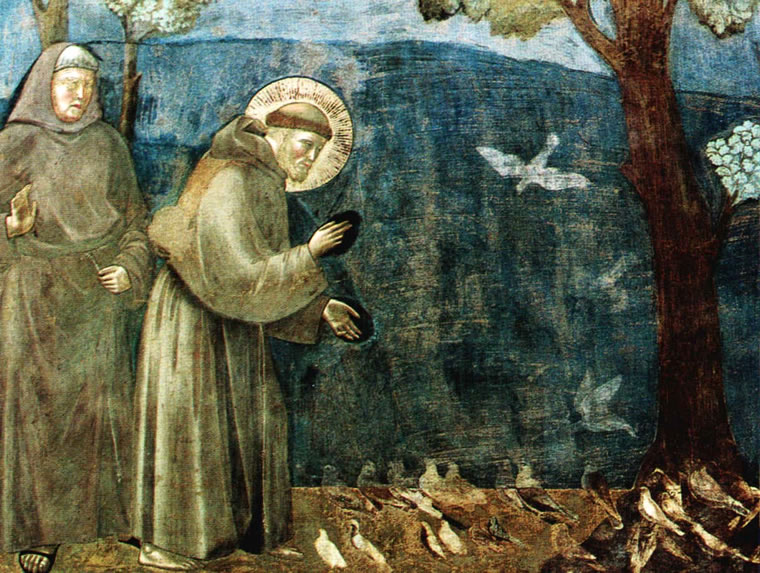 St. Francis of Assisi, patron saint of animals, the environment and Planet Waves, is one of the world's most popular saints. Roman Catholic churches often hold animal blessings on his feast day of October 4. In this fresco, he's preaching a sermon to the birds.

Animal Rescue Groups Operating in Texas



Dear Friend and Reader:

In yesterday's edition of Planet Waves FM, I asked our audience for referrals to animal rescue groups serving the Houston area. This is a full listing of what came back, compiled from your emails by Amy Elliott.

Rescue of critters is a profound concern in a disaster like this, and while billions are flowing to human relief efforts, I thought it important to help with the flow of resources to animal groups.

I cannot vouch personally for these groups; most of them tend to be smaller organizations, which I trust more than larger ones. If you know that one or more of these organizations is a scam or fraud, please contact us.

Please click some of these links and do what you can. We will, as well.

Thank you so much.

With love,



and Jonah Kelly Francis
Henrietta Saint Francis
and Saint Francis himself.

Humane Society
"The HSUS Animal Rescue Team is deployed in Texas, where we are working with local officials to transport, rescue and care for animals."

Code 3 Associates
"Code 3 Associates has deployed to Houston and is now setting up their base camp just north of the city. In support of Houston SPCA, Code 3 is coordinating efforts with BART (Big Animal Rescue Truck) and IFAW (International Fund for Animal Welfare)."

Austin Pets Alive
"Austin Pets Alive is doing work with Houston area animal organizations and have already brought lots of animals to safety. My Texas cousin suggested them to me today when I asked her where I could donate."

Wings of Rescue
"Wings of Rescue is flying animals already clogging up the local rescues to other parts of the country for adoption, to free up shelter space as quickly as possible."

Best Friends Animal Society
"Best Friends' disaster response team is deploying to Texas to rescue stranded animals, deliver supplies to hard-hit shelters, transport displaced shelter pets and support emergency sheltering efforts."

Poodle Rescue of Houston
No-kill shelter

Tiny Paws Rescue
"Both organizations are devoted animal lovers and care so very well for all their little clients."

Citizens for Animal Protection
No-kill shelter

Special Pals
No-kill shelter

BARC
"IMO, BARC needs the most help, and they're an exceptionally well-run organization. They often hold $1 adoption days to make sure animals get adopted rather than euthanized (because they're affiliated with the city, they're required to accept ALL animals and quickly run over capacity each month)."

Petco Foundation
"The Petco Foundation is donating 100% of the funds they raise via their All for Saving Lives Campaign through 9/10 to Animal Support Orgs in South Texas and Louisiana."

Animal Rescue Site
"The Animal Rescue Site is always working to help animals and they are taking donations to fly animals out of Houston."

Habitat for Horses
"Our Hitchcock Ranch, where we are caring for 70 horses, is now flooded. There are just two of us here because the roads leading to the ranch are impassable. We have enough hay for 3 days. FEMA expects the flooding to get worse."

Crossfire Equine Rescue
"I wrote to them to find shipping address. I believe they are legit. They have a fundraiser on their FB page as well. They will need hay, shavings, feed, $, horse blankets and sheets if there are any horsey folk out there. Ship to: Crossfire Equine Rescue, 13240 Cherry Creek Drive, Dayton, TX 77535."

Corridor Rescue
"This group actively goes into the various fringe neighborhoods and collect dogs from unlivable situations. They are an awesome group."

Rescued Pets Movement
"They have saved over 23,000 homeless pets in under 4 years. Again they are an awesome group. They arrange to transport pets to Colorado and other parts of the United States. They are reopening their boarding facility in Houston and require support for that project."

Midland Pets
"MASA, Midland Animal Shelter Adoptees. Their Facebook page has information on their efforts to deliver supplies and find fosters for those affected by the hurricane. This is a dedicated group of volunteers. Our local animal rescue works with them. MASA rescued, fostered and delivered our dog all the way to Colorado so I know they are reputable. Thanks for bringing attention to this!"

Audubon Society
"One place not mentioned is the Audubon society which is working with the Texas Wildlife Rehabilitation Coalition (TWRC). If you go to Audubon's website and scroll down you'll see all the necessary info. Birds cannot be ignored. Please give."

Some links with more information:

Morris Animal Refuge

Today.com

Harvey Relief



---
To unsubscribe, click here. To unsubscribe from all future Planet Waves emails, please write to cs@planetwaves.net
Copyright © 2017 by Planet Waves, Inc. All Rights Reserved. Other copyrights may apply.
Some images used under Fair Use or Creative Commons attribution.