New York, Sept. 14, 2014 | View as Webpage | Customer Service: Chelsea (206) 567-4455
Special Introductory Rate on the All Access Pass
You Really Can Have it All -- Our Full Line of Professional Services
Dear Friend and Client:
I know you're someone who uses astrology for growth, planning and self-understanding. Thank you for taking advantage of Planet Waves and helping us fulfill our purpose of offering the services you need and depend on. My readings, newsletters, horoscopes and updates are designed to bring you dependable astrology for an affordable price, available to you any time. 
You've seen many of these items offered separately, though there's a way
you can have everything that we offer -- including the 2015 annual edition -- for now, less than $25 a month. This is called our All-Access Pass. This includes a basic subscription plus all of the features that I'm about to describe.
Everything, All in One Place
What's better is you can
have it all on one website
, with a custom login and password, just like the big kids on the Internet. We are now completing a beautiful new Planet Waves site that includes five years of article archives (and growing), 15 years of horoscope archives, and makes all of my work easy to find and access -- something our customers have been asking for years.
The new website, developed over the past two years, includes
all of what we publish by every writer currently on the Planet Waves blog
-- including Len Wallick, Amanda Painter, Sarah Taylor, Judith Gayle and everyone else, all of whom are about to become part of our subscription service.
Our new website -- fully compatible with mobile devices -- includes all 
readings, horoscopes, The Oracle and years of archives
.
No more jumping around different sites! No more keeping track of different passwords! No promotional letters offering new services (except for my classes) -- just announcements when the new items are ready.
If there is Planet Waves paradise, this is it! We are very excited about this evolutionary step we are taking. It's taken time, resources, thought and plenty of patience.
Your All-Access Pass includes everything in a basic subscription
(email delivery of eight horoscopes a month, plus my weekly articles and Tuesday morning letters). You will also receive Daily Astrology mailed directly to you each morning (three to six times a week). You'll have access (web and optional email) to a
new relationship oriented weekly horoscope I've been writing since July
, called Sex By Sign. 
You'll get my
daily SMS messages about the current astrology
delivered to your phone, by mail or both -- in itself valued at $20 a month. You can read
samples of those messages here
.
Then there's one other juicy layer --
all of my audio readings
. Over the past 20 years as an astrologer, I have been developing my voice and my gift working with solar charts, which I use to write your horoscopes. I offer reading products like no other -- which are included with your All-Access pass. Though some of these readings are designated as "birthday and rising sign," they are really an excellent summary of the current astrology each month, on a depth that I never get to in my podcasts.
Annual Edition, Live Conference Calls and All Mailings
Your All-Access Pass includes the 2015 Annual Edition (titled COSMOPHILIA: You Belong Here), as well as my spring and midyear readings, birthday and rising sign readings, and anything else I develop during the course of the year
.
Plus, you get access to all of our live conference calls hosted by me (associated with products and what we call Core Community meetings). This is not some kind of theoretical community -- this is Planet Waves readers getting together and thinking, solving problems and sharing ideas.
Don't worry, we'll continue to send your Tuesday/Thursday editions via email -- we're just improving your online experience
. Plus this year we'll send my Daily Astrology directly to your email account.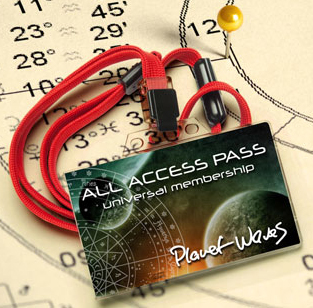 Graphic by Lizanne Webb.
We'd love to have you join us on this new and exciting chapter of our publishing adventure. 
You're invited to become an All-Access member now
 and save substantially on the price we'll be offering to the public.
We appreciate your commitment to Planet Waves and want to offer you the best rate for continuing to access our highest level of service
.
Your introductory rate is just $295
includes a full-year subscription, plus the 2015 annual readings, plus all of my astrology readings for the next 12 months.
We'll be raising the introductory price of the All-Access Pass incrementally over the next few weeks (beginning Friday, Sept. 19, until we reach the advertised rate of $495), so now really is the time to get the best rate on your membership upgrade.
Sold separately, these services tally up at about $1,500. You can now get in for a small fraction of that amount
.
We trust that this idea is a fun way to meet your needs, whether you use astrology for spiritual and therapeutic purposes, or if you are studying the topic -- my work is very, very good for astrology students, whether serious or hobbyist. 
The Best Customer Service and Tech Support
If you have questions or want to order by phone, please give Chelsea a call at (877) 453-8265 and she will be glad to help you.
As always, we offer top-flight customer service and tech support
.
Thank you for supporting Planet Waves and trusting me as your astrologer. It's great to know that together, we're building a truly unique source of astrology wisdom in a time of profound change.
We know you want to be part of that change, which means honoring your own growth and your community orientation. Planet Waves is a fine place to learn and explore, and we are excited to be here with you.
Yours & truly,

To unsubscribe,
click here
e Wiki
|
Friends
|
Editors
Contact Us
Copyright © 2014 by Planet Waves, Inc. All Rights Reserved. Other copyrights may apply.
Some images used under Fair Use or Share Alike attribution.