Planet Waves FM: Pleasure, Play and Healing
Dear Friend and Reader:
My monthly sign interpretations for August will be distributed Friday. I wrote the horoscopes last week, working slowly and carefully over four work sessions. My monthly horoscope is an unusually in-depth analysis of your astrology and that of the people close to you. I recommend reading your Sun and rising signs (at the least). You can find your ascendant by visiting
Astro.com
-- though you do need your birth time for that. It's also helpful to know your Moon sign, particularly given that we have a Moon sign horoscope that publishes monthly.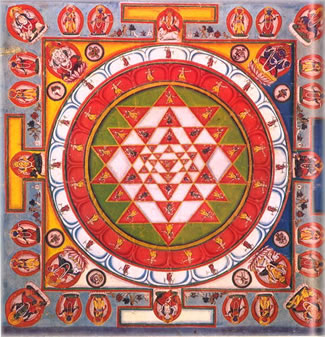 The Sri Yantra, which represents the co-mingling of the masculine and feminine divine. This one is from Nepal, c. 1700. Gouache on cloth 20 x 24 in.
Covering the current astrology we have two pieces from Daily Astrology & Adventure -- one on the
Sun's ingress into Leo
, and another on the
Sun's aspect to asteroid Kassandra
.
In today's short edition I'm here to preview tonight's Planet Waves FM (the first of a series of programs). For many years I've both wondered about the concept of 'tantric sex' and also been on the prowl for anyone who really understands the concept in a way they can relate it to others, shorn of jargon and pretense.
So I asked my friend and neighbor Sheri Winston, herself a sex educator and author, if she knew anyone and she recommended Patricia Johnson and Mark Michaels. I wanted not an academic description but rather a discussion with people who were both informed and living their path -- and I hit the jackpot.
Tonight, however, I start a special four-part series on sexuality with an interview with Sheri, who introduces the topic of pleasure, play and healing. This is a friendly, informative one-hour conversation that includes how to focus your quest for connection, pleasure and creativity. Look for that tonight on
Daily Astrology & Adventure
. In the intro I cover the current astrology and make contact with a few recent news events.
Next week, we'll move on to the somewhat more complex subject of tantra. That word represents a whole cosmology, not just a set of Eastern erotic techniques (that's called the
Kama Sutra
). In a 90-minute interview that I will divide between two programs, Patricia and Mark describe in an accessible way the ideas and life-path associated with this difficult-to-describe term. Speaking with them this past Friday afternoon, I felt like I was handed a missing key to my understanding of the world.
One other thing, from the recent past -- in case you missed our announcements, I went down to New Orleans in May and covered the United Astrology Conference (UAC), a once-every-four-years conference. While I was there, I did many interviews with some of the brightest astrologers I know, as well as healers and other thinkers. That's been posted to a
permanent archive on Planet Waves
, which I think you'll appreciate.
Thanks to your subscriptions and product purchases,
Planet Waves FM is presented without commercial interruption
. Use your imagination and consider what it would be like to be pelted by advertisements for 20 minutes out of every hour, then relax and appreciate the uninterrupted calm. Here is an
archive of recent programs
.
I will see you Friday morning with the monthly horoscope, a look ahead at the astrology of August and a short reading of the chart for the 2012 Olympic games, which begin Friday night.
Lovingly,