Beltane and Chiron Square Pholus
Listen to the new Planet Waves FM tonight at this link.
Dear Friend and Reader:
This year's Beltane chart had a most interesting feature: the square of Chiron and Pholus. These are, respectively, the first two discovered centaur planets, which opened up a new dimension in astrological thought. Centaurs are all devoted to healing, and they also tend to to have an edgy feeling.
When Melanie Reinhart called her book about the centaurs "
To the Edge and Beyond
," what she meant is that they take us beyond known boundaries and accepted definitions.
These two slow-movers hardly ever make an aspect. Saturday's square goes back to a conjunction on Jan. 24, 1956, when Chiron and Pholus (both undiscovered at the time) met in Aquarius. If you think of that as the New Moon, it took these two points 62 years to get to first-quarter phase.
And when it happened, it happened in grand style. To begin with, Chiron is in the first degree of Aries: it's holding the Aries Point, the first degree of Aries, which is the great intersection of the individual and the collective. In practical terms, the Aries Point serves as an amplifier, extending the range and the reach of any aspect that comes in contact with it.
Among other roles, Chiron serves as a reality check. Where there is Chiron, there is documentation. There is a process. There are limits. There is regulation of the flow of energy.
Chiron on the Aries Point is broadcasting the core concepts of Chiron to the world: the notion that healing exists; that it is possible; and that there is some issue that we need to address, as individuals and collectively as a society.
Chiron in Aries can run the gamut of feeling from "I must find out who I am" to the sensation of being agonizingly messed up and feeling alienated. It can also be aggressive; if guilt and resentment are not addressed, they tend to turn to attack.
Pholus, the second discovered centaur, is occupying the first degree of Capricorn -- which, as a cardinal point, is a direct extension of the Aries Point -- due to the exact 90-degree aspect. Pholus in that position is broadcasting individual/collective issues as filtered through a sign associated with family, corporations and government.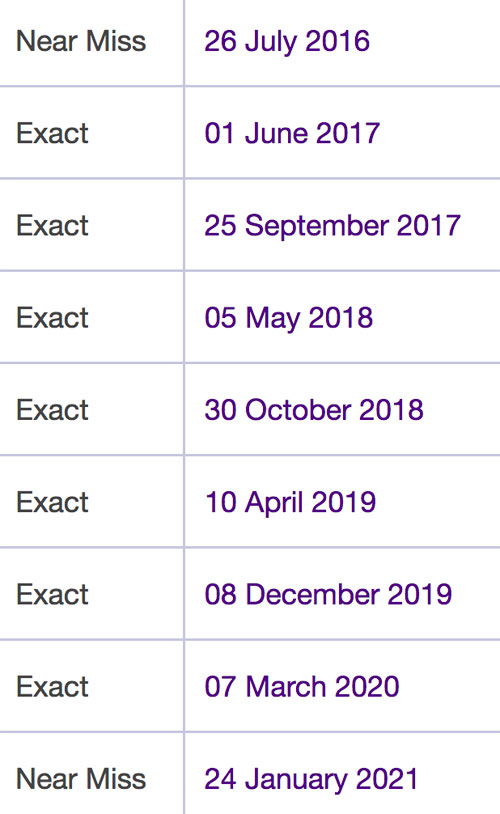 Dates of the current set of square aspects between Chiron and Pholus, courtesy of
Serennu.com
.
Among the manifestations of Pholus are sensations like: everything is about to go out of control; ridiculously small things have seemingly huge effects; and "this whole mess goes back for generations -- what the heck are we supposed to do about it now except get triggered over and over again?" Indeed, we could add 'triggering' to the very short list of key concepts for Pholus.
The torrent of nonstop controversy and scandal coming out of various government entities, which is probably running at its highest peak since the days of Caligula, is described in this placement.
Now let's put the two together. Chiron is serving as a kind of checkpoint for Pholus. As the master centaur, Chiron calls the shots. In this case, he represents an imposition of reason and rationality on what would otherwise be an insane situation. Yet this must be an act of will, not of happenstance.
Chiron is about the raising of consciousness, and this does not happen quickly, or automatically. There can be the long struggle -- which is the quest for becoming an individual. That is not easy these days, as the world devolves deeper and deeper into tribalism, despair and a post-fact reality: yet everything has its natural limits, even a tidal wave.
One last note on the Chiron-Pholus square. This phase (what we could call first quarter) lasts a little while, because of the retrograde motion of planets. There are a total of eight exact contacts, spanning between mid-2017 and early 2020.
Soon, a point called Salacia gets involved, and that's sure gonna be interesting. Remember that name -- Salacia -- and Chiron conjunct Salacia.
That, and happy Beltane.
With love,

Tonight on Planet Waves FM
Beltane, Chiron, Pholus and Eno
Dear Friend and Listener:
Tonight's
Planet Waves FM
-- the mellowest edition ever [
play episode here
] -- is the Beltane edition, with astrology focused on Chiron square Pholus [
see related article
].
My musical guest is Brian Eno, whom you may know as the creator of the Ambient series of records, or the producer of David Bowie, U2, Talking Heads and (at least on one occasion) just about every musical artist you love.
I describe Brian's influence on my creative process, play a few of his songs, and share some interviews with the members of U2 on their experience doing the Original Soundtracks album with him under the moniker Passengers.
In the last hour, I unravel the topic of masturbation, in what is now officially masturbation month (that would be May).
Planet Waves FM is part of the Pacifica Radio Network, distributed without profit by Chiron Return, an organization devoted to mentorship in journalism. I would be deeply grateful if you would
make a contribution
toward the admittedly modest production costs of this program -- and our other efforts.
We will soon be announcing Investigative Reporting from the Kitchen Table, our long-awaited class for aspiring journalists.
With love,

P.S. I forgot to read Brian Eno's chart for this episode.
You may view it here
.
Chiron in Aries: The Challenge of Individuating
Dear Friend and Reader:
Chiron is now in Aries, for the first time since 1977. This is about the quest for individuality in the most deeply personal way: the cultivation and growth of your soul. There are challenges associated with doing this, which I plan to address eloquently and in a way that you will find reassuring and helpful.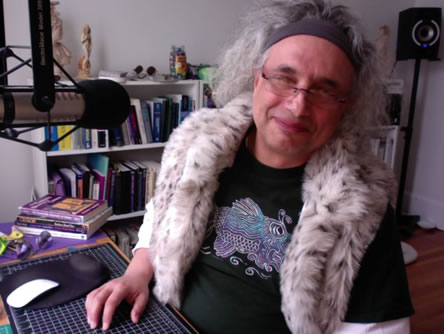 Eric Francis at his video desk, in Kingston, NY.
Chiron in Aries is good news for those who love learning about themselves, growing and living in a way that is fully committed to who you are. Following up on The Art of Becoming 2018 annual edition, I'm honored to offer you
The Sacred Space of Self
spring reading.
The Sacred Space of Self
will come in the form of 12 video presentations, each approximately half an hour in length. These readings will apply to Sun sign, Moon sign and rising sign. They are offered as a package, and will interlink with and support one another. 
One topic I will focus on is the special challenge of growing and evolving when you're involved in an intimate relationship -- and your partner is not growing as fast as you are, or does not want to.
The Sacred Space of Self
will cover Chiron's transition into Aries over the next nine months. I will also look back at Chiron in Pisces, which began in 2010. I will give a detailed reading of Mars retrograde in Aquarius (June 26-Aug. 27). And I will introduce Uranus entering Taurus. (NOTE: In the Midyear Reading over the summer, I'll further develop Uranus in Taurus, and give a detailed reading of Venus retrograde in Scorpio.)
Delivery is projected for the month of May. Given the complexity of the project, there's no way to give a better estimate, but May (as early as possible) seems doable.
Pricing Policy: Please Read Carefully
First, this is one purchase per household
. You may share with your significant other and relatives. This reading will contain useful information for both adults and children.
Planet Waves products are introduced at the lowest price, and then we increase gradually
. We are introducing all 12 signs of
The Sacred Space of Self
for $66,
which is $5.50 per sign
. Soon after, we will increase to $77, then $88, and then, right before publication, $99. Once we publish, the final price will be $111.
If you want the best bargain (nearly half price), please purchase early!
You may pre-order The Sacred Space of Self here.
Thank you for your business, and for trusting me as your astrologer.
With love,

---
Listen to Vision Quest on Live Stream
Planet Waves has an in-house music ensemble, called Vision Quest. We have a 38-hour loop of our music, which
you can listen to any time
. Included are finished pieces, rehearsals, live concerts, drum grooves, and spoken word recordings. I consider it a kind of musical divination. Click in randomly at different times of day and see what you discover.
---
Four Winds Almanac Now Includes Daily Horoscope
Planet Waves publishes a nifty daily astrology newsletter called the
Four Winds Report
. Designed as a fast read arriving early in the morning, we're now trying an experiment -- we're including the daily horoscope for everyone.
New York Post
.
I pack a lot of energy into each sign's 50-word write up. Part of the value of astrology is the timing, and daily allows for precision, as well as chronicling a narrative day by day.
Your almanac also includes information about Mayan astrology (long count and short count dates), several formats of the current date (including Hebrew and Islamic), a daily birthday reading, and special discounts on products and services.
Best of all, we take no outside advertising
.
Sign up free here
.
---
'Were You Reading My Mind?!'
Monthly Horoscopes and Publishing Schedule Notes
We published your extended monthly horoscopes for May on Thursday, April 26. Your extended monthly horoscopes for April were published on Thursday, March 29. Please note: we normally publish the extended monthly horoscope on the first Friday after the Sun has entered a new sign.
Aries
(March 20-April 19) -- You know who you are, and you don't need anyone dictating to you or holding you back. If someone demands that you step quietly aside, or into the shadows, ask them why -- or ask yourself what they fear. Many people feel most comfortable in a world where they can easily deposit other people into convenient boxes, and draw security from their prejudices. But you don't owe anyone the right to squeeze or shrink you. You don't owe anyone a neat package, nicely wrapped in a bow. Rather, consider being impossible to contain as something to celebrate and revel in. Then do just that, to the best of your ability.
-- by Amy Elliott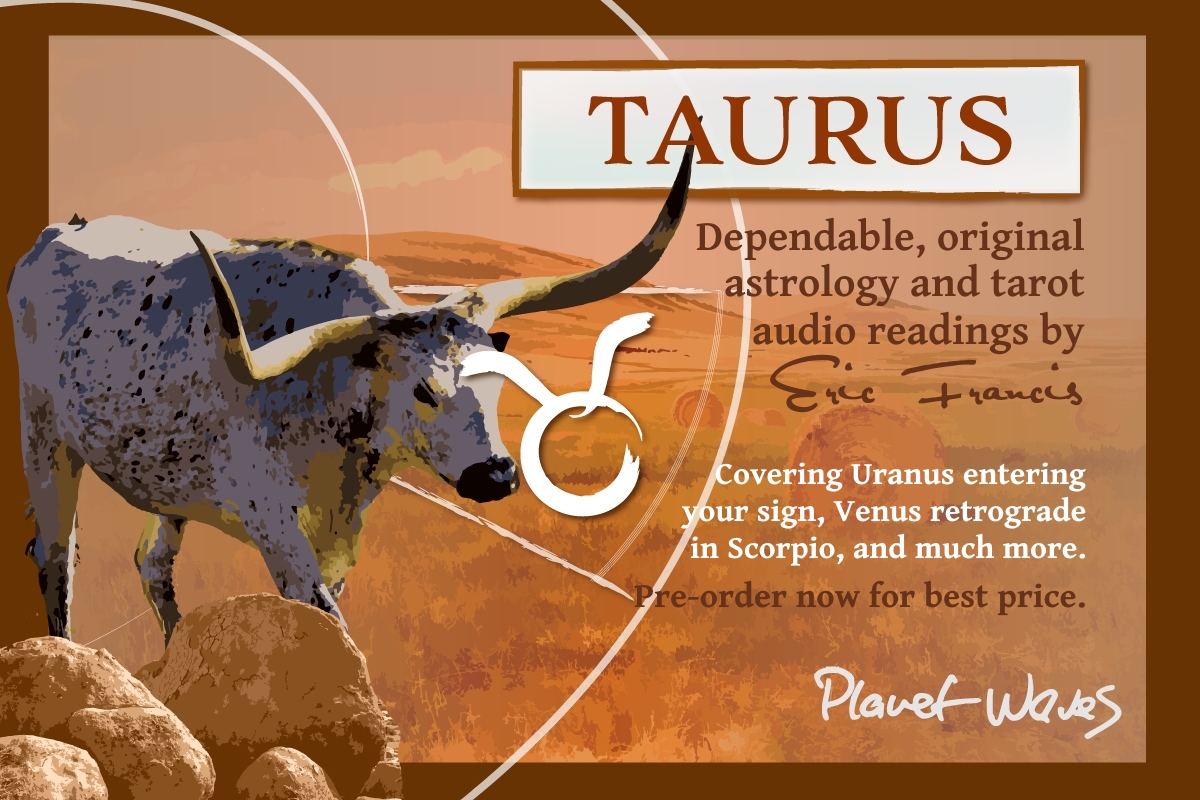 Taurus Birthdays 2018:
Zero In on Your Solar Year
"Just to compliment your marvelous work for Taureans again this year. What you write is supportive and comforting. It is as if you were right here, observing and knowing me."
-- Michael
Dear Taurus Sun, Moon or Rising:

You may already be feeling the reverberations as Uranus knocks on the door of your sign. Taureans are supposedly uncomfortable with change -- though, really, it's a lot subtler than that. When the changes are necessary, yours is the sign with the power to understand this, and to carry it through, from beginning to end.
In your forthcoming 2018-19 Taurus Birthday Reading Eric will help you harness that strength, and use it to forge the world you want to see. 

With two segments of astrology (at least 30 minutes each) you'll get the motivational coaching, insight, reassurance and practical tools you need. You can download the audio to listen as many times as you like, and you'll also get an extended Taurus sign description. 
"You have an uncanny knack and precious gift to be able to zero in on what is real and current in our lives, Eric. Thank you for being you."
-- Priya
Make the most of Eric's gift to focus your life for the next solar year and beyond. 
Pre-order your Taurus Birthday Reading today
 to secure the lowest price.  
With best wishes,

Amy Elliott
P.S. If you'd like to listen to what Eric had to say last year for your sign, you can 
do that here at no cost
. Note that this reading
also makes a great gift
for the Taureans you love.
---
Taurus
(April 19-May 20) -- This may be a good week for ensuring that the relationships you cultivate are as healthy as possible, both for you and for your partners. In particular, are you getting sufficient support to be able to express your personality? As well as considering the actions of loved ones, you might reflect on whether you are fully communicating your needs. If you've gotten into a habit of leaving such things unsaid, try to break through your reserve, even if a little at a time. You can be diplomatic if you're truthful. Doing this can help someone you care about also, by setting an example for them to follow.
-- by Amy Elliott
Gemini
(May 20-June 21) -- Don't be afraid to go a little against the grain in your social world or community. You have something unique to bring to the table, and it's time that gift was made visible. You may fear that some will disapprove. Well, it's impossible to please everyone, so forget that. If needs be, float your idea with people you trust, though don't allow anyone else to be the final arbiter. It may in fact help if you're somewhat spontaneous, mischievous or quirky. The sky is tending that way, and many people badly need a little novelty in their lives -- not to mention humor. You can afford to be creative.
-- by Amy Elliott
Cancer
(June 21-July 22) -- It's been shown that we remember challenging events far better than pleasant ones. This is supposedly an evolutionary trait that cultivated threat avoidance and thus promoted survival. Yet for modern humans it is something to tackle rather than encourage. This week, you would probably benefit from using your considerable creative gifts and resourcefulness to channel any tense or difficult memories. That may initially involve simply doing things you enjoy. Eventually, though, you'll want a project that requires more substantive, long-term work. Set a goal, and make plans in detail where possible.
-- by Amy Elliott
Leo
(July 22-Aug. 23) -- It's important to set healthy boundaries, especially in the workplace. Even if you're aiming for the top of the corporate tree, you should still have free time to enjoy at home and in the company of those you love best. Most people need some kind of sanctuary from the turbulent pace of the outside world: not necessarily four specific walls, but a space in which they feel comfortable and relaxed. If you think you need a few extra hours to yourself at present, consider how you could achieve that. It may be that you simply need your leisure time to be uninterrupted; that's also a good general rule.
-- by Amy Elliott
Virgo
(Aug. 23-Sep. 22) -- The next week may involve several sudden shifts of gear, or unexpected developments. In particular, when it comes to the people around you, you may need to hold space for them to be who they are at each moment. The closer you are to them, the more important that service is likely to be. Don't take anything too personally, and don't try to shoulder another's burden to the extent that you could wind up feeling overwhelmed. Rather, make a point of taking care of your needs, so that you are operating from a position of strength. Probably all you need to offer is kindness, openness and love.
-- by Amy Elliott
Libra
(Sep. 22-Oct. 23) -- You have a knack for providing honesty and fairness wherever it's needed, and just now it would seem to be needed in your relationships. There might be a specific issue you feel uncomfortable bringing up, or that is becoming more important to deal with. Barring risk to life and limb, I would encourage you to speak. Even if you don't necessarily get the response you were expecting, it's usually far better to communicate openly than to let something fester beneath the surface. You can be respectful, polite, affectionate and compassionate -- just so long as you are also clear and scrupulously truthful.
-- by Amy Elliott
Scorpio
(Oct. 23-Nov. 22) -- Life as a human involves a complicated dance of social rules and rituals, which exist for many different reasons. This week may see you reviewing some of these patterns and questioning their precise origins. A surprising number of the restrictions we place on our behavior are remnants of old-fashioned religious (one might say superstitious) moral codes that simply need not apply so rigidly in today's culture. Sex-negativity is one possible example; there are likely many others. The key here is anything that makes you personally feel either unhappy or boxed in. That's a sign it probably ought to go.
-- by Amy Elliott
Sagittarius
(Nov. 22-Dec. 22) -- Your sign is generally full of fun and this week would appear to be no different; yet the astrology suggests that something in your daily life is perhaps in need of sprucing up. If you're chafing somewhat, find a creative way to add a little spice, or to switch things around so that you feel a fresh sense of inspiration. You need stimulus. Don't listen to anyone who expects you to harbor guilt or shame over that. It's a necessary quality that drives innovation, and sets a worthy example for others who might get a little too comfortable in their humdrum routines. Show them all how to be more interesting.
-- by Amy Elliott
Capricorn
(Dec. 22-Jan. 20) -- It would seem you're getting a firmer grasp on what it means to express yourself without fear. Being an adult means that there's a point at which we must diverge from our early caregivers, and form our own opinions on our own terms. That may seem obvious, but it can be all too easy sometimes to revisit former patterns and to retain ideas that feel safe due to their familiarity, if not exactly pleasant. To apply critical thinking to what one might call 'received wisdom' is not the same as being disrespectful; it's a necessary tool of independence. You almost certainly see that. Don't be afraid to put it into practice.
-- by Amy Elliott
Aquarius
(Jan. 20-Feb. 19) -- We all have missed opportunities or mistakes that we regret. That doesn't necessitate constant self-flagellation, especially for the benefit of an audience. Instead, think of regret as a useful tool that you can shape into resolution -- that is, spurring you to up your game, so to speak, and to avoid repeating similar errors. You want to steer clear of any sense that you might be irredeemable (that is never true) or of resentful victimhood. Being practical and methodical should help enormously. Remember that you hold the reins of your life, which means you ultimately hold the power to determine where to head next.
-- by Amy Elliott
Pisces
(Feb. 19-March 20) -- Your resourcefulness and intelligence will likely be key to navigating this week's events. If there is any turbulence, you are more than capable of being your own anchor; though do seek out support and cooperation when you need it. You may listen to others, though it's vital that you rely most on your own judgment. Your instincts are pretty finely honed and just now you would seem to be attuned closely to them, perhaps as near as you've ever been. Whatever challenges you face will almost certainly offer valuable lessons about human nature, which you can easily and skillfully turn to good account.
-- by Amy Elliott
---