New York, May 14, 2017 | View as Webpage | Pre-order Your Spring Reading




Let Your Body Talk -- and Then Listen



Dear Friend and Reader:

We're now in the last several days of solar Taurus. Fittingly, this week's more prominent astrology is keeping some focus on the body; specifically, the role your body has in keeping you informed of the less tangible facets of your being -- and your body's ability to point you in the direction of healing and growth.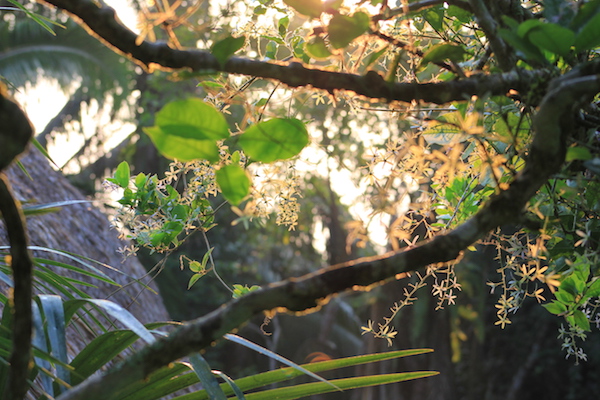 A Taurean's paradise. Photo by Amanda Painter.

For instance, your solar plexus might heat up or feel 'tingly' or tight in certain types of interactions -- such as when you're giving up your power; or when you're taking on someone else's emotional baggage via guilt, self-criticism or the need for their approval.

Or consider chronically tight trapezius and neck muscles: while it might be due to bad posture at the computer, this could also manifest from a pattern of living someone else's expectations and the tension that induces. Other examples abound, such as difficulty breathing or an upset stomach.

The Sun enters Gemini -- a more mentally oriented sign -- at the end of this week, on Saturday at 4:31 pm EDT (20:31 UTC). Gemini is the last sign of the current season. But before we get there, the Taurus Sun makes an auspicious and potentially very useful aspect to Chiron in Pisces.

As Eric suggested to me in an email, the Sun sextile Chiron suggests the ability to get traction on resolving something. That something could be spiritual, it could be a more literal physical ailment, or it could combine the two. To take advantage of a sextile you need to make some effort to activate the energy. With Chiron, it's also recommended to document the situation, the process and how you feel throughout it.

Looking at a couple of other elements in the Sun-Chiron chart, I'd say that even small actions done with the intention to pursue resolution could lead to larger developments down the road. And having compassion for yourself appears to be a key to the way forward.

Yet this week is also building to a peak, an encounter or a meeting of some kind: on Friday at 10:11 am EDT (14:11 UTC) Venus in Aries opposes retrograde Jupiter in Libra.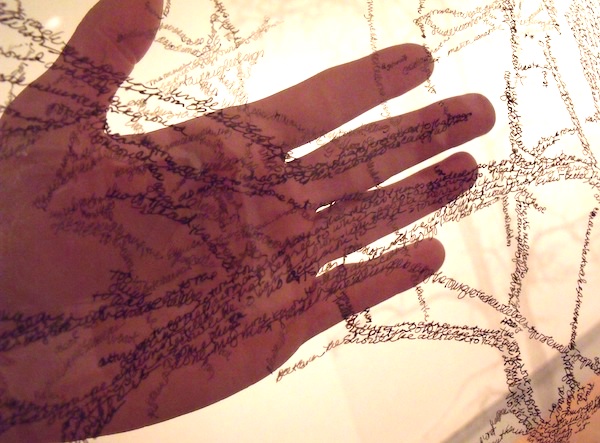 A handwriting 'tree', Portland Museum of Art, Maine. Photo by Amanda.

Nearly anything involving Jupiter is a reminder to consciously put energy toward the opportunities you'd like to see come your way, or toward the things you'd like to increase in your life. In short: work the luck factor. This means doing what you can to be prepared for the opportunity, the break or the windfall you desire.

With Venus involved, the theme of material objects and financial resources becomes even more emphasized. There's also a strong image of "the relationship as mirror" with Venus opposite Jupiter in Libra. If you're not so sure you like the reflection you're being shown in that mirror, remember that you have a choice. You can choose to be with people and in situations that help you to feel better about yourself, and which actually bring out the best you have to offer.

Easing you into the week is Mercury re-entering Taurus on Monday night (or Tuesday morning, depending on time zone). Shifting the mental landscape from impulsive, fiery Aries into slower, more grounded Taurus could feel quite welcome after last week's crazy news cycle.

Better still: Mercury's post-retrograde shadow phase ends on May 20 -- and it does so while conjunct Chiron's discovery degree. In short: let your body talk. More often than not, it can tell you what you need -- as long as you slow down and listen.

Yours & truly,



Amanda Painter
-- with Eric Francis
Dear Friend of Planet Waves:

Venus retrograde morphing into Mercury retrograde all spring was like one of those crazy jams at the end of a Grateful Dead concert. Nobody's really sure what's happening, only that something is.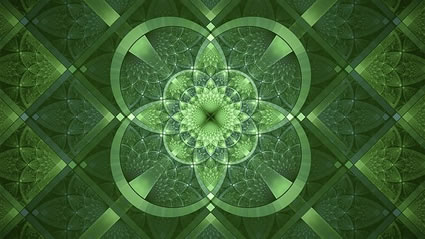 Fractals by Barbara Lane.

Amidst the swirling chaos, we had one amazing development that I'm eager to share with you: our nonprofit corporation was approved by the federal government.

This welcome news is wholly appropriate for us. Planet Waves has always put mission over money.

As we say in our Editorial Policy, "We function as a community trust, on the level of sharing ideas, information, contacts, resources and images. We recognize that we are serving an international readership in a time of global transition."



Serving a World in Transition -- And in Crisis



When I say "global transition," I'm being polite. I really mean global crisis, one result of which is rampant fear and disorientation, and countless people struggling to get a spiritual bearing, or struggling to get through the day.

This is why so much of our work is available without a subscription, particularly Planet Waves FM. We want to be accessible to anyone who may need us.

When I write and record, I'm thinking about the people who have nowhere else to turn, no reliable friends, no real community, and little other exposure to a conversation that could shine some light on what they're feeling or thinking. That approach, in turn, makes my work accessible to many other people.

Read more...





Your Monthly Horoscopes -- and our Publishing Schedule Notes



We published your extended monthly horoscopes for May on Thursday, April 20. Your extended monthly horoscopes for April were published on Thursday, March 23. We published your Moonshine horoscope for the Scorpio Full Moon on Thursday, May 11. Your Moonshine horoscope for the Aries New Moon was published on Thursday, March 30. Please note: we normally publish the extended monthly horoscope on the first Friday after the Sun has entered a new sign.



Aries (March 20-April 19) -- Take a calm and observant approach to relationships, and stay out of conversations that you don't understand. Whether in intimate personal matters or the most serious professional ones, remember that everything in life is based upon relationships. At the moment, people around you seem unusually sensitive. There's a thirst for justice in the air; though, over the coming few days, it could be easily misdirected at anything anyone casually perceives as 'wrong'. This is why you can take a step back and answer all questions with other questions, preferably after a delay. Mercury, the planet of mind and communication, leaves your sign and enters Taurus this week, which will give you a better sense of where you stand with yourself. Until then, make sure you don't get brushed aside by the overly ambitious approach of people around you. Take care of yourself and stand up for your own cause. Taurus (April 19-May 20) -- This week the Sun in your sign makes a helpful aspect to Chiron in Pisces. This calls attention to the extent to which so many people (including technology-averse types who appreciate the physical world, such as yourself) have become their own publicists. You now have an opportunity to align your actual being with whatever it is you broadcast or in any way present to the community. Practice being real, starting now. That may mean saying less rather than more. Consider cleaning up anything that weakens your integrity; for example, secret identities, needless aliases, or whatever you may deem even vaguely deceptive. The result of this public integrity tune-up will be the feeling of being more solid and more honest. What you're doing over the next few days is part of a much longer-range adjustment of your image and your reputation, which will last clear through late 2018. Gemini (May 20-June 21) -- Mercury, the Gemini planet, has spent an unusually chaotic spell in Aries, and that's about to end on Wednesday. You've likely settled down some from the teacup ride of the past few weeks, though there's one matter that you need to focus on. You may not be aware what it is yet, though you'll figure it out soon enough when Mercury joins forces with Mars in your sign, and helps you drive one specific priority to conclusion. It's fair to do this to the exclusion of just about all else. If this involves a professional goal, you can take a more assertive and devil-be-damned approach. If it involves a matter of finances in an intimate relationship, it's essential that you be more tactful and circumspect, though never forgetting your goal. Give people the space and time to decide that yours is the best way of doing things. Cancer (June 21-July 22) -- You may be re-evaluating the role of intimate relationships in your life. That would be a healthy thing to do, whether you're single, committed or somewhere in between. Relationships are usually entered into on a reflex, as if it's the only option. Yet you need an understanding of your desires, your needs and your motives when it comes to your encounters with others, so that you can make better decisions than you've made in the past. You know this cannot be a 'business as usual' time in your partnerships: you must proceed with a high degree of consciousness; in particular, about the changes you're going through. Now is a better time to ask questions than it is to come up with answers. You don't need a false sense of satisfaction. Rather, you will benefit from getting underneath your own assumptions and figuring out where they came from. Leo (July 22-Aug. 23) -- Mercury is about to enter the career and reputation angle of your chart, which is likely to revive a goal that you had to set aside earlier in the year. Make sure you know what you're working for; it will be beneficial to refine your thinking and focus on what really matters. Once you know that, the way to your objective is through communicating with others. This won't be about brute force, time-consuming labor or lots of money. Rather, you need to make sure that you say what you need to say clearly and in a compelling way. Be diplomatic, and speak the language of others whenever you can. Do your best to verify that you're understood and that you know the concerns of others who are directly involved. Certain individuals have more influence than you may think, so be respectful to everyone. Virgo (Aug. 23-Sep. 22) -- Here's some good news: The lunar nodes have moved away from the Virgo-Pisces axis after 18 months. This has been a time of enforced changes, upheavals and, ultimately, getting a handle on who you are. Change after change has, if nothing else, helped you get your priorities in order. Toward the end of this phase, over the past month or two, you seem to have progressed with a degree of obsession and determination unusual even for you, which frankly was getting tired and had served its purpose. It was necessary, though, to help you clear the fog that had come into your life through certain relationships that seemed to demand more from you than they were offering to you. You now have the confidence to be on your own, or to be in a relationship that actually works for you. There's nothing in between. Libra (Sep. 22-Oct. 23) -- One metaphor for your life this year is the True Mirror -- the kind that reflects the correct orientation rather than a mirror image. It's often said that relationships are mirrors, but the question is: what kind? Do you see yourself the way everyone else sees you, or do you see a disorienting and distorted version of your image that nobody else sees? Venus is working its way into an opposition aspect (that is, a face-to-face meeting, reminiscent of a mirror) with Jupiter in your sign. Here's a clue how to determine what reflection is real: choose the one you want. Choose to be around people you feel good around. Someone healthy for you is someone around whom you feel stable, strong and positive. Different people bring out different qualities from your psyche -- and you have a choice. Scorpio (Oct. 23-Nov. 22) -- You'll need to tread carefully in discussions on joint financial issues, taxes and sex. Beware that the money discussion may be clouded by underlying or unresolved sexual feelings, so you'll need to keep an eye on that. Here's a simple way to avoid misunderstandings: set aside all of your expectations. That means entering the discussion as if it's a clean slate, focusing on where everyone is coming from now, and what everyone's needs are, now. If the discussion veers into the past, and past commitments, it's likely to get messy. So you might set aside as many of your concerns, demands and seeming necessities as possible, and actually address what is of actual relevance today. Be careful with the idea that anyone owes anyone something, or even that anyone was supposed to be someone they turned out 'not to be'. Expectations are the very thing that's least friendly to relationships. Sagittarius (Nov. 22-Dec. 22) -- You may need to assert yourself or work extra diligently at your job this week, though it will be worth the effort. The one thing not to stress over is money. Your assessment of your financial position may not be accurate; it's likely to be driven by an emotional point of view rather than a mental one. So the first thing to do if you have questions about money is check your balances. Then you can decide what to do about what you discover. Put most of your energy into your creative and work processes, taking advantage of your abundant energy and what promise to be some exciting opportunities to get your work out to the world. Keep a positive attitude every moment that you can. Don't sweat the small stuff, because it'll only get in the way of your creativity and overall brilliance. Capricorn (Dec. 22-Jan. 20) -- You seem to be obsessed with a partnership issue, as if it's necessary that you mark the score right down to the inning. You might want to back off on that approach, if this applies to you, given that it's not going to lead to anyone's happiness or any progress in the relationship. In all aspects of your life, you're being called upon to take a more spiritual approach to existence. Spiritual means loving, forgiving, seeing the big picture and, most of all, putting your own growth ahead of any growth that you think someone else needs. Much of what you're experiencing now is connected to your early family history, which has, through much of the year, come up for an intensive review. It's typical of your sign to remain heavily invested in your family of origin, which is one thing; anything that mandates that you give up your adult power, prerogatives and responsibilities is another. Aquarius (Jan. 20-Feb. 19) -- Early in the week -- Sunday through Tuesday -- monitor your anxiety level closely, rather than trying to stuff or ignore it. Remember that anxiety is not a sign that something is actually wrong. It's often connected to a particular person or subject, but that rarely bears out in reality. Therefore, take it easy on yourself, and see if you can figure out what's really up. A few things will help: among them, getting enough rest; getting your body in or near water, whether a bathtub, a lake or an ocean; and taking care of the needs that you might think should be provided by a partner. Also, you can help yourself substantially by prioritizing your most important projects and aspirations and focusing your energy there. You will reap what you sow. If you foster love and cooperation, you will get that, and as the Grateful Dead used to say, if you plant ice, you're gonna harvest wind. Pisces (Feb. 19-March 20) -- You're bigger than anyone's opinions of you, and the sooner you stop concerning yourself with this elusive thing known as 'what people think', the sooner you'll be free to take charge of your life. You can safely assert yourself in the world, even if you get any noise or static. Make sure you honor your personal commitments, and any contractual agreements you may have that are related to your professional life -- and then do whatever you want. It can take some courage and adaptation to live this way, though if there was ever a time you could make the leap that time is now. The more you take full responsibility for yourself and your affairs, the less power any authority figure will have in your life -- whether we're talking about bosses, partners, the government or anyone else.



---