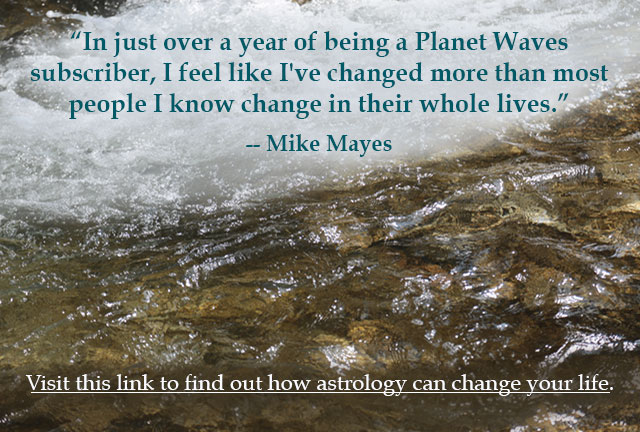 Astrology can help you figure out your relationships, your work and make some peace with the crazy state of the world. Planet Waves by Eric Francis is the premier astrology service designed to give you the information you need to make the most of your life.
Eric does not do predictive astrology but rather provides analysis, facts and insights into what we are all going through in this challenging moment of time, when there is so little certainty and so much to be worried about. Reading Planet Waves will help you feel better, make better decisions and understand yourself.
At Planet Waves, we don't tell your future — we help you create it.
I was a charter subscriber when Eric Francis started this a decade ago. I am continually amazed at how his weekly horoscopes DON'T predict my life, but OPEN MY MIND to what is possible in my life…. and the information never fails to enrich me, to support me, and to cause me to wonder what is possible for me in the next week, the next month, and through the year.

– Donna M., The Woodlands, TX
Planet Waves by Eric Francis is our premium subscription service delivered to your email account twice a week. Subscriptions to Planet Waves by Eric Francis include:
Friday email delivery of the Eric Francis weekly horoscope, with depth, observation and inner awareness that only he brings to the work;
Friday email delivery of a weekly article on the topic of Eric's choice, which usually takes an introspective look at an important news event, astrological development or personal growth theme;
A monthly horoscope column, delivered to your email account on Tuesdays when available;
Bonus information delivered to your email account on Tuesdays when the monthly columns have been distributed
Access to more than six years of complete edition archives;
Complete researchable nine-year horoscope database and Divination Oracle;
The first offers on the best possible price of new products, such as the annual edition.
Subscribe to Planet Waves by Eric Francis:
To subscribe by phone or for assistance, please call: (877) 453-8265 or (206) 567-4455 or email for support (response within one working day) info@planetwaves.net.
Prefer to pay by check or money order? Simply send payment made out to Planet Waves to PO Box 350039 Palm Coast, FL 32135. Be sure to include your email address with your payment.
"Eric is knowledgeable yet humble. I admire his ability to open my mind with his insights without having to impress me with his expertise. He's the kind of teacher I like best — specific and authoritative in communicating what he has discovered even as he pushes ahead into the unknown with relentless curiosity."

— Rob Brezsny

Weekly horoscope columnist, Free Will Astrology (since 1978), author, The Televisionary Oracle and Pronoia.