Dear Friend and Reader,
The 3-D video revolution is happening right now — and no, this isn't a Daily Astrology and Adventure version of Back to the Future.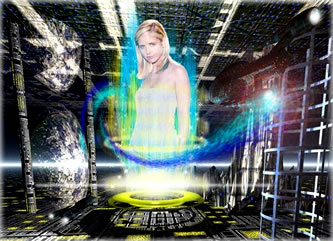 The interactive 3D virtual sex simulator.
The technology is improving, not just in the movie theaters, but for our televisions as well. Uranus is the planet of technology and invention. Pisces is the planet of adventure. In the remaining couple of years of this transit, we will see the Fantasy Revolution: developments so realistic and imaginative, they seem perfectly real. Real, that is, in the imaginary sense.
"Last year both the NBA All-Star game and a Dallas Mavericks game were broadcast on a closed-circuit feed using equipment from Pace, the company that Cameron helped start and whose equipment he uses to shoot in 3-D," according to an article from CNN. And if you think the sports fans are excited, wait till you hear from the porn enthusiasts.
Quentin Tarantino, for one, is stoked, even wanting to direct one himself: he's just waiting for the green light. Here's what he had to say on the matter:

I could do an erotic film, I wouldn't mind doing a women-in-prison or a cheerleader movie. But I wouldn't cast someone like Gwyneth Paltrow. It would have to be a cool, trampy actress who says, 'OK, let's get the cameras rolling – here we go!'
Personally, I don't see why porn enthusiasts should stick to more standard video techniques when we have something like this in our hands. Why not go interactive? We could go to a whole new level of creating virtual intimacy: holograms of gorgeous people that will appear to have sex with you, without all that messy conversation, touching, kissing, smelling, fluid exchange, emotional risk or intimacy.
Exotic dancers could project themselves on stage and give lap dances without being touched by the clientele (actually, that could be a great breakthrough for the safety of sex workers: put the tips into a slot and strip in front of people that can't follow you into the parking lot afterwards?)
This time of year, the porn industry could make a fortune, using look-alikes of major electoral campaign figures and their partners, acting out our favorite combinations of sex and politics.
I'm getting carried away with myself…