Dear Friend and Reader:
OVER THE LAST four years, whenever I felt unsure about the political state of the nation, I'd run and grab for my Casey fix. My friend Casey, met while volunteering for the Kerry-Edwards campaign as a blog moderator in 2003-4, is a political strategist and communications consultant who has worked for local representatives in upstate New York as well as for Tom Hayden here in California.
It's been said about Casey, with all due respect and admiration, that you can count on her to bring the perfect knife to use against the opposition in a political fight. Thank God she's on our side.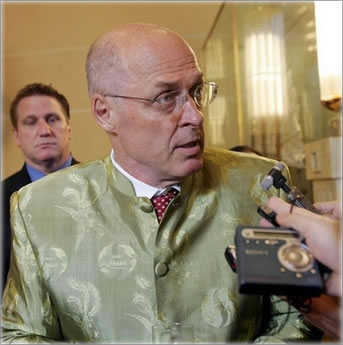 Henry Paulson, Secretary of the US Treasury, in Asian garb for some reason. Maybe his mom bought it for him.
Whenever that sense of overwhelm grips and I feel so fearful that I can't quite read the portents, I call Casey for my fix of real political straight talk, take the load from our minds on what's happening, and laugh our asses off over the strange kabuki that American politics has become.
When I asked about the credit crisis on Wall Street, Casey quipped: "First of all, Fe, you have to do a 'what's up?' with Hank Paulson's resume. He's formerly the CEO and Chairman of Goldman-Sachs. (Paulson joined the Bush White House as Secretary of the Treasury in 2006.)
In the heat of Wall Street's shakeup two weeks ago (described in full here at Planetwaves) Goldman-Sachs seems now to be relatively safe, quietly announcing their new role while competition roiled and fell in the midst of the "economic crisis." Do you think Goldman-Sachs might have been working off of insider information? Does this remind you of how a certain Vice-President we know, formerly of Halliburton, whose former company benefitted from no-bid contracts from the Iraq war and reconstruction?
Using the name that's now a verb in popular culture: Was Paulson Cheney-ing the country's economy? Was the over-hype of the crisis a cover to protect Goldman-Sachs while they re-structured and allowed other larger banks free reign to swallow up their smaller-sized competition?
On another front, losing in key battleground states on the issue of the economy, the McCain campaign's strategy now is to use its most recent shiny object, VP candidate Sarah Palin, as our latest distraction. She reminded us at Thursday's debate how dangerous a nuclear Iran was, and that Obama's 'naive' plan for Iraq was tantamount to "the white flag of surrender". Not that I am sure she understood what she was saying, but yes more military, more threat, more outside incursion. No common sense. No communication. Just four-inch heels and boogeymen.
The last eight years we've been besieged by a coup on the mind of the American public complete with government sponsored terror and its glamourization by the media. We've seen how it operates from that shocking threat to national security from dark-skinned foreigners and color-coded warnings. We've seen it in the tragically-flawed judgement of Iraq's "Mission Accomplished", the subsequent 4,177 US dead, and the eighty or more thousand of Iraqi civilians killed. These numbers still grow. We have croneyism and corruption with Jack Abramoff and corporate corruption unchecked on Wall Street.
Instead of doing journalism's job of giving us the facts, a cowed press gave us just enough information to sensationalize and tittilate, frightening and deadening us into accepting what was given for us to consume and believe. Regardless of its defiance of logic or common sense. If they lied, they repeated lying until it became truth, without accountability.
As Casey said: (They) "lie, repeat, rinse."
If it wasn't for the internet infrastructure allowing the grass-roots their own network of communication, giving us the ability establish a nationwide effort to connect the dots, we wouldn't be nearly as informed as we are. I certainly wouldn't be. Because we've been lied to, we care enough to fact check ourselves and each other on each and every blog we post, as well as write letters to the editor, or establish campaigns to slam a reporting less than honest or carrying freight for the Administration. We've become a virtually-armed resistance movement to "the coup" on our minds.
The internet's power is such that mainstream media need it to "mix it up" with those of us on the ground to retain credibility and connection with their audience. MSNBC's "Countdown" anchor Keith Olbermann posts diaries on Daily Kos, while weeks ago, former Clinton advisor and DC pundit Paul Begala wrote his first Kos diary.
While living in a space of anxious anticipation for this election, I also feel soul exhaustion. I'm exhausted with the hype and the drama we've become accustomed to these last eight years. My mind can't handle another maddening economic situation or more lies bound to come out of a politician's mouth.
In eight years we've been made so numb we now need that bright shiny object or totally scary thing to keep us conscious. So saturated with fear we've lost the sense of being in control of our lives and minds. So angry that before discourse can begin, we need to excoriate anyone outside our political tribe as a personal pre-requisite. I've experienced all of these symptoms of "the coup". Distraction as drug, an entire nation under its addiction. America needs to be in recovery from "the coup".
I want the leaders I vote for to deserve my respect, not contempt, and leaders who will treat us as adults. I want to function in a society that runs on FACT, not lies. I want to be able to understand how much I've been closed off so that I can reach across to others who don't think like me. I just want to trust people again.
I want to work to get our country to regain the trust the rest of the world had in us, before we got psycho with the addiction to fear and violence, self-pity and greed. I'm willing to work hard even when times are tough. Because I sense that's exactly what they're going to be. Most of all, I just want to laugh with Casey about books, great theater or the latest HBO series instead of obsessing about politics. I'd rather we talk about her son's school, improving our osso bucco recipes, sending energy and love out to all of us here on this little whirling orb.
I want the coup to be over.
Thirty more days.
Yours and truly,
Fe Bongolan in San Francisco