We are grateful for the stunning work provided by artist Lizanne Webb and will be posting her bio on the site soon!
RAEchel Running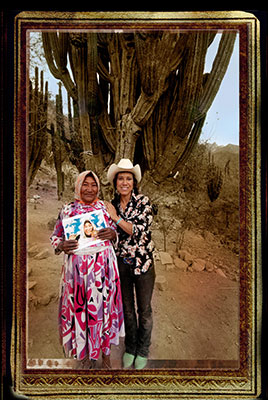 Arizona photographer RAEchel Running's first memories were looking at pictures: the book Family of Man and the Vietnam War on TV. Raised in her family's darkroom she started shooting black and white film at the age of 15 and has worked as a freelance photographer for over 25 years. She spent the last five years living in Chihuahua, Mexico, as an artist-in-residence documenting the life beyond the border, and now calls Tucson's Barrio Viejo home.
RAEchel's documentary and fine art photo-based explorations are contemplative, symbolic expressions of visual poetry; like the spices of the culturally diverse landscape inspired by her Caribbean heritage and the southwest U.S./Mexico borderlands, her imagery reflects her interests in history and in social and environmental concerns. The visual alchemical inspirations in The Mars Effect are based on portraiture and reportage tradition.
A freelance photographer, assemblage artist, designer, internationally published essayist and fine artist, RAEchel is available for assignment anywhere in the world.
Please visit her website:
www.amazonaid.org/connect/artists-for-the-amazon/raechel-running/
About the work:
It's in the eyes. An unflinching gaze. A story unfolds within the frame of a doorway and the studio backdrop. Life is a stage and the players look back. The blinding light of deserts and the painter's light of the west reflect the white light of desert bone and the western blue sky catches fire. A fence rises and the Sun goes down. RAEchel's work comprises scenes and characters from a Wild West road trip: portraits and pieces of life; dried flowers and broken glass; an old photograph. You've driven by them on Route 66 — concrete tipis and abandoned '57 Chevys. Small towns and wide open expanse, the Wild West just down the road past the dashboard Jesus; homeboys, Historic Indians & Coca Cola cowboys, Native punks; a strong pair of hands; a tattooed black and white teardrop falls. A lady sings the blues and fights cancer; lamenting angels and pregnant angels, pin-up icons with halos, Sacred Hearts, Hail Marys preside over plastic faded roses next to worn crosses casting memories like long shadows asking you to remember and not forget what happened here. These visual musings celebrate life and death and the spiritual threads that connect us to our human experience and our relationship to the changing times.