640
true
dots
bottomright
432
true
true
800
http://planetwaves.net/2012/wp-content/plugins/thethe-image-slider/style/skins/white-rounded
---

"I'm definitely ordering the 2013 horoscope – all the others have provided me with great information and support."
"I just love the truth and empathy that comes through in every word."
Dear Planet Waves Reader:
When was the last time you had a moment to stop and think about your life and where you're headed — a moment to listen to yourself? A moment to sort through the static, and focus inwardly?
If it's been a while, I'm not surprised. Nobody seems to have time to listen anymore, to ourselves or to one another. You may sense that this is a big moment in your life, at the same time it feels like the wave of history is about to crash over our heads — though there seems so little we can actually do about it.
The mental and emotional environments, both inner and outer, are more chaotic than they've ever been, and I am sure you're feeling the strain. It's that sensation of there being no quiet place, nobody who really understands, nobody who has time to listen to you.
I've been listening to your astrology, which, as I use it, is a way into your emotional and mental worlds. I've created a reading for you that provides a sanctuary for you to be introspective. It's called "Listen," and it's my 2013 annual reading for your sign or rising sign. Yet listen is more than a reading. It's an environment, a space to open up, a space to both discover yourself and make peace with your journey.
In your reading, I offer an extended audio meditation, in the form of an in-depth description of your astrology and what it is saying. And I've crafted a written interpretation that focuses the most useful themes: your mental and emotional peace of mind, your relationships, your creative life and work, and financial themes.
The result is space to seek self-understanding, a space where you can relax and be yourself for a while, and come away not only with useful guidance but also self-guidance. These readings will be ready in January, after the holidays, though you can pre-order now.
Right below this letter are samples of my audio presentations. Each comes with original music, composed and selected by Renee Blue O'Connell. Your 2012 reading also includes access to articles by the Planet Waves writers that focus on growth, relationships, astrology and spiritual awareness.
By Eric Francis
Something happens this year that's never happened before in American history: Mercury stations retrograde on the day of a presidential election.
Everyone who follows astrology has heard the term "Mercury retrograde" — the astrological manifestation of Murphy's Law. This is an approximately three-week spell, happening three times a year, wherein Mercury appears to move backwards through the zodiac. It's a visual illusion, a little like the train next to yours appearing to move backwards because it's moving more slowly.

Dear Friend and Reader:
Welcome to Planet Waves FM's coverage of the 2012 United Astrology Conference in New Orleans, which is was held May 24 through 30. What follows is a series of interviews with conference attenders and presenters. By the time we're done there will be about 25 of these interviews posted here as well as on a parallel site at Planet Waves FM. In effect what we've created is a parallel conference that is available to everyone.
If you want to read a bit about the conference rather than listen, visit our special website devoted to UAC. That page includes my suggestions for how to do an astrology conference better — which was a topic of many conversations during the past week.
Audio production on these recordings is by Sarah Bissonnette-Adler, the theme music is by Yasa and website management by Anatoly. Note, we are starting to archive the recordings on or page at YouSendIt. They are in a second format at Planet Waves FM.
Planet Waves is a subscriber supported service. We are funded by our readers, not by advertisers, so all of the content you're about to hear is free from commercial interruption.
We are offering this coverage of UAC 2012 to all site visitors as well as our subscribers. Reading our subscription service is an enriching experience that provides horoscopes and articles about astrology, personal growth and world events that will deepen your perspective on life. We offer not just astrology but a refreshing alternative to mainstream media, always informed by the astrological perspective. Find out more about subscribing here. You can also read a sample of our subscription magazine at this link — our recent one about Adam Yauch of the Beastie Boys (and Tibet).
We trust you'll enjoy our coverage of the people of the 2012 United Astrology Conference. Note — there is more to come, as we finish editing my class and that of Donna Woodwell, and add several Free Speech classes. Note — if you taught a Free Speech class and can provide us a recording, we will host it here where many people can see it.
lovingly,


Kingston, NY 12401
PS, if we did not get to you at UAC or you didn't get to us — contact me about being a guest on Planet Waves FM in the future. And I am truly happy to make guest appearances on other podcasts. –efc
Thursday, May 24, 2012
Welcome from United Astrology Conference – Introduction from Eric Francis
Audio clip: Adobe Flash Player (version 9 or above) is required to play this audio clip. Download the latest version here. You also need to have JavaScript enabled in your browser.
Interview with Ravi Shanker Joshula, Vedic astrologer. Ravi is an actual Vedic astrologer from India who trained for many years and who has been practicing for 20 years. He describes a non-Westernized version of Vedic astrology: in other words, the real thing.
Audio clip: Adobe Flash Player (version 9 or above) is required to play this audio clip. Download the latest version here. You also need to have JavaScript enabled in your browser.

Ravi's lecture —
Audio clip: Adobe Flash Player (version 9 or above) is required to play this audio clip. Download the latest version here. You also need to have JavaScript enabled in your browser.
More interviews are below the jump!
Audio clip: Adobe Flash Player (version 9 or above) is required to play this audio clip. Download the latest version here. You also need to have JavaScript enabled in your browser.
Today's edition of Planet Waves FM looks at the shooting of Trayvon Martin. It's a look at the situation from several angles — political, legal and astrological.
I cover the concept of the Stand Your Ground law, which is based on an earlier idea, the Castle doctrine — the one that says "a man's home is his castle" — that is the basis of Stand Your Ground. However, it would seem that with everyone pretty much agreeing that the Stand Your Ground law does not apply in this case, from the lead investigator to the bill's sponsor to Jeb Bush himself, clearly something is wrong.
There is one idea I left out of the discussion: the duty to retreat. That's the alternative to Stand Your Ground. In New York, for example, you have a duty to retreat from an attacker if you can. If you're cornered by someone who is going to do you harm, or someone you're protecting, your first job is to get to a safe place — then you can defend yourself if necessary. The purpose of this is so that people claiming self-defense don't automatically get a license to kill. You can read more about that at the Wikipedia page on the Castle doctrine.
I include four charts below — the event, the two main players, and the event that started off Arab Spring from late 2010, published on Planet Waves or the first time.
Additional research on this edition provided by Carol van Strum, Nikko Merrell, Amanda Painter, Fe Bongolan, Genevieve Hathaway, Adam Gainsburg and Sarah Bissonnette-Adler.
Here is your program in the old player, where you'll find the full archives and a downloadable zip file.
Thanks for tuning in.

Audio clip: Adobe Flash Player (version 9 or above) is required to play this audio clip. Download the latest version here. You also need to have JavaScript enabled in your browser.
"OMG — thank you thank you thank you — just spent this morning listening to my [Spring Report] info, and am so blown away by the accuracy (and relief!) in this experience. Thanks so very much for your part in supporting this work and for showing up in the way that you do!"

With great appreciation,
Donna

"Whoa, I just listened to the Aries and Aquarius reports, and was blown away. I've been feeling this for a while but now it's coming in loud and clear. Can't wait to see how it all manifests, right now it's all in motion. Get ready to rock and roll."

Thanks
April
Spring 2012 is the wildest season I've ever seen in 18 years of doing around-the-clock astrology [listen to short audio preview here]. It fits the 2012 pattern of 'everything, all at once', even making that sound like an understatement. I am working on the report even as we edit this issue, and it's coming out beautifully — every sign is coming through loud and clear and distinctive.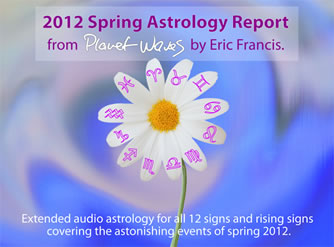 We have retrogrades of all three inner planets involved — Mercury, Venus and Mars. There is a rare Venus transit of the Sun — an exact conjunction of Venus and the Sun that you will be able to see if you have a clear view during daylight hours (you will need special equipment to protect your eyes). There are eclipses of the Sun and the Moon. And then, just four days after the Cancer solstice, we have the first exact square of Uranus and Pluto.
In honor of putting all this action to work for you, I'm preparing a special Spring Report for all 12 Sun signs and rising signs, as well as an introduction to the astrology that will be useful to everyone. This is a package of all 12 signs for one price. I'm designing it so that you can actually put many of the signs into use — for example, Virgo will be able to use the Gemini report as a career reading. Pisces can use Virgo's report as a relationship reading, and so on. I give suggestions at the end of each sign, and will do a detailed description so you can get maximum use from this product.
We are now offering all 12 signs for $24.95, which is still an incredible value for the depth and breadth of material offered. We're already getting rave reviews from customers who pre-ordered the report, which you can read below. Here is the link to order. Thanks for signing up. Please let me know how you like it — I had a lot of fun creating this report.